QuoteWerks User Summit: Pre-Day for IT and MSP Professionals
It was a big day for IT and Managed Service Providers at the 2020 QuoteWerks User Summit. We got a step-by-step view into the process of integrating QuoteWerks with some other platforms. It was a day to discuss best practices for integrations including ConnectWise, Autotask, distributor and vendor integrations. We finished with a discussion on how to optimize procurement processes.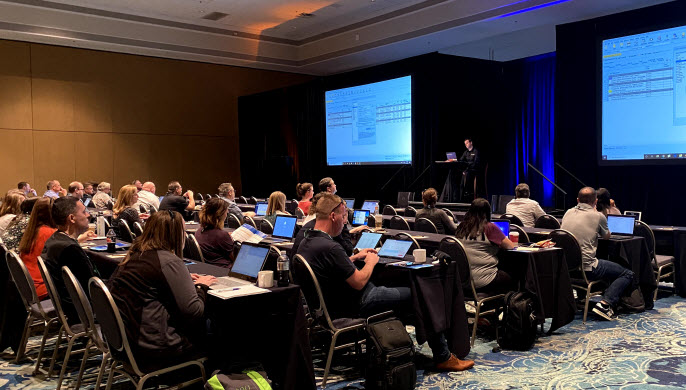 ConnectWise Integration Best Practices
In this session, we heard tips and recommendations for ConnectWise integration. Brandon Grant, Sales and Marketing Director at QuoteWerks, walked us through setting up the ConnectWise integration.
Here are some highlights of things we learned about ConnectWise integration. We learned how to:
Set the CRM integration mode for a secondary CRM in QuoteWerks (in case you use a CRM other than ConnectWise). Tip: Most people will use the option, "Primary CRM".
Set which system will manage your purchase orders (Tip: Normally this would be ConnectWise for ConnectWise users)
Set up notifications so that events you specify in QuoteWerks will show up on your QuoteWerks dashboard
Set up integrations that will allow you to create projects in ConnectWise from QuoteWerks
Create / update individual product items created in ConnectWise when the item is created in QuoteWerks.
Set up mapping between ConnectWise and QuoteWerks
Automate the creation of a project from QuoteWerks to ConnectWise
Autotask Integration Best Practices
The second session with Brandon included tips and recommendations for integrating QuoteWerks with Autotask.
Some highlights of things we learned about Autotask integration include:
A view into the flexibility that exists when integrating Autotask and QuoteWerks
When completing a sales opportunity in QuoteWerks, you still need to run the Autotask One Opportunity wizard to make sure everything is set up properly.
How to map Quote Items Type, Allocation codes, and Shipping codes
How to set up purchase order integration with Autotask. (You could also designate other programs like QuickBooks.)
How to have QuoteWerks notify you if any opportunities have a specific status set
We learned how to change the mappings between QuoteWerks and Autotask
With Datalink, you can push/pull additional field data to/from Autotask and QuoteWerks
How to force the creation of the opportunity in Autotask when it's created in QuoteWerks.
Distributor and Vendor Integrations
In this session, Brandon gave us an overview of the Real-time and Etilize integration.
Using Real-time, we learned:
Find Real-time pricing set up under Options. Some of the major vendors include D&H, Ingram Micro, SYNNEX, Tech Data, Dell, and Amazon (additional real-time vendor data is also available).
With extended sources like CDW, Amazon, Dell, and Staples, you can see how much each of them is charging.
The Real-time Module has direct integrations with UPS and FedEx.
Remove manufacturer part number from Etilize Description. This can prevent customers from seeing manufacturer part numbers. Tip: Brandon recommends you check this, otherwise the customer will be able to see the part number.
Etilize Integration
Here are some highlights from things we learned about Etilize:
You can use it to narrow down your selection by features and benefits
Customize columns in Etilize allows you to pick the columns that are available
You can compare product features in Etilize. To do this, you select multiple items and compare product features in Etilize. It will show you the product features for each of the items. You can also remove items with 0 availability.
With Product Lookup, you can search for products on the vendor site (i.e. Amazon). When you select an item, it will tell you if it is in Etilize. If so, you will be able to compare prices for other vendors.
Manufacturer part number is required for the Etilize integration to work.
Best, Latest, and Compare buttons at the top will allow you to pull up the list in Etilize
Tip: In Etilize, there are two important checkboxes you should consider checking; these are:
Limit to my distributors
In Stock Recently (this is a new checkbox that users have been asking for)
According to Brian Laufer, Vice President at QuoteWerks, Product Lookup will show you regular Amazon pricing, not Amazon Business pricing. QuoteWerks is working with Amazon on this.
Once you have picked a specific item, you can see the real power of Etilize in the panel at the bottom of the screen. This panel will show you:
Which distributors normally carry the item
Auto-retrieve real-time – when you have this set, it will automatically grab the pricing for the item
Automatically show you the best cost
Accessories, similar items, upsell items, and spec sheets for a specific item
Optimize your procurement process
This session, hosted by John Lewe, covered electronic purchase orders, free shipping minimums, vendor sourcing, tracking numbers, serial numbers, and receiving.
John started with the concept, "Purchasing is not as easy as placing an order. A purchase is all about what happens after that process."
The purchasing module is meant to handle what happens afterwards.
Some of the highlights from things we learned include:
With the QuoteWerks purchasing module, all of the information is in one place. The status of orders can be tracked. Placing electronic orders can be a huge time saver.
A purchase order can be exported to QuickBooks, Sage 50, Autotask, ConnectWise Manage, etc
Everything can flow out of QuoteWerks into your other systems
You can bring up the Etilize panel from the purchasing screen. This will allow you to select the vendor with the best price.
The purchasing module is all about trying to catch all of the errors before it's too late.
Great comments and feedback
Several of the attendees had great comments and questions. One of them said, "The purchasing module is the secret sauce of the platform. The module helps you with working with distributors and to get the best prices."
Thanks to everyone for coming to this special IT and MSP day. We hope everyone that came received real benefit from it.
comments powered by

Disqus
The views and opinions expressed on this page are those of the original authors and other contributors. These views and opinions do not necessarily represent those of Aspire Technologies, Inc. QuoteWerks is a registered trademark of Aspire Technologies, Inc. Other trademarks referenced are the property of their respective owners.