From Toronto to Orlando: QuoteWerks' Journey of Excellence
Meet the QuoteWerks Team
At QuoteWerks, our commitment to innovation and excellence has led us on a remarkable journey across the globe, connecting with industry leaders, professionals, and enthusiasts at events and tradeshows.
We're excited to announce the events that we will be at for the remainder of this year, where we'll showcase the advancements we've made in both QuoteWerks Desktop and QuoteWerks Web based on the community's feedback and the needs of the industry.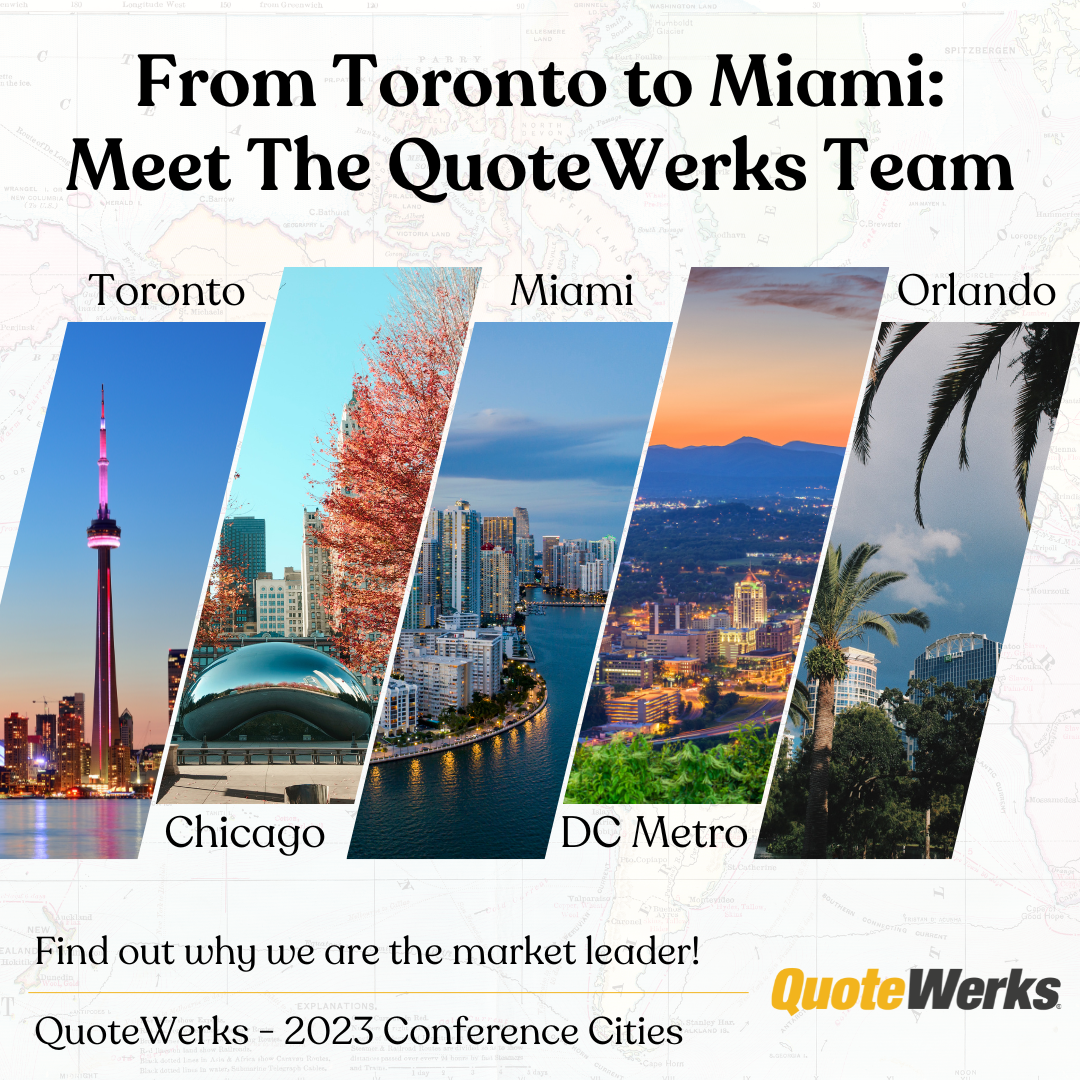 ASCII Toronto - August 30th and 31st
Kicking off our event tour, we're thrilled to be part of ASCII Toronto, scheduled from August 30th to September 1st. This event presents an incredible opportunity for us to connect with our Canadian clientele and introduce them to the cutting-edge features and enhancements we've integrated into QuoteWerks. Our team is excited to engage in conversations about streamlining quoting processes and optimizing sales workflows.
ASCII Chicago - September 20th and 21st
In the heart of the Windy City, we're gearing up for ASCII Chicago from September 20th to 21st. With the QuoteWerks software at the core of our discussions, we'll delve into the ways QuoteWerks has evolved to empower businesses across various sectors. We're excited to demonstrate how our software can help automate quoting, improve accuracy, and enhance collaboration among teams.
DattoCon (Miami) - October 2nd through October 4th
DattoCon in Miami, taking place from October 2nd to 4th, is an event that holds special significance for us. It's a platform where we'll not only showcase QuoteWerks' technical advancements with Autotask PSA and other integrations but also emphasize the importance of data security and integrity. As the world becomes increasingly digital, our software's ability to safeguard sensitive information while enhancing efficiency becomes even more crucial.
ASCII Virginia (Greater Washington D.C. Metro) - October 18th and 19th
October continues to be a busy month for QuoteWerks, as we head to ASCII Virginia from the 18th to the 20th. Here, we'll focus on how our software can cater to specific regional needs while aligning with global best practices. Our journey of innovation extends to diverse markets, and we're excited to share insights into how QuoteWerks can be tailored to suit various business environments.
ITNation Connect (Orlando) - November 8th through 10th
Wrapping up our event tour for the year, we're headed home with ITNation Connect in Orlando from November 8th to 10th. This event provides the perfect platform for us to engage with IT professionals and discuss the pivotal role QuoteWerks plays in the industry and simplifying complex sales processes for MSPs and VARs.
Find out why QuoteWerks is the top-rated CPQ solution on the ConnectWise Marketplace.
Additionally, we are one of the sponsors of the MSP Community Block Party again this year – hopefully avoiding any tropical disturbances. Get ready to make memories, connections, and unforgettable moments at the MSP Community Block Party in the vibrant city of Orlando, Florida. We are absolutely thrilled to be part of this exhilarating event, bringing you an evening that's sure to be the highlight of the conference.
Join us on November 8, 2023, and enjoy the electric atmosphere as you connect with fellow MSP professionals and industry experts. Enjoy delectable culinary delights, sip on refreshing beverages, and groove to the rhythm of the night, all in the heart of Orlando.
We are looking forward to seeing you "On the Road"
comments powered by

Disqus
The views and opinions expressed on this page are those of the original authors and other contributors. These views and opinions do not necessarily represent those of Aspire Technologies, Inc. QuoteWerks is a registered trademark of Aspire Technologies, Inc. Other trademarks referenced are the property of their respective owners.
Please be advised that Aspire Technologies, Inc. is not your attorney, and this information is not legal advice. This information does not provide, does not constitute, and should not be construed as, legal advice. The information provided was accurate at the time of publishing, but may not be all encompassing. It is for educational purposes only and is not to be acted or relied upon as legal advice. The information does not constitute legal advice and is not a substitute for competent legal advice from a licensed attorney representing you in your jurisdiction.
©1993-2023 Aspire Technologies, Inc.
407-248-1481 (9am-5pm ET M-F)