Why North Ridge Pumps Chose QuoteWerks
QuoteWerks is one of the most flexible and easy to use quotation packages we have come across, allowing us to seamlessly integrate across a range of world leading accounting and CRM packages.
This enables our company to utilise some of the best software available remaining efficient, competitive and punch above our weight without heavy investment into bespoke software which may not suit our long-term needs. We are not tied to a specific provider of CRM or accounting software, meaning as the business grows our software can grow with us.
QuoteWerks can be easily customised without extensive training and the direct support from both QuoteWerks and their UK partner Hilltops IT is second to none, with any minor issues experienced resolved same day or within a day. Not only do they provide great support, but they also listen to feedback from customers to make improvements, which is something we are not accustomed to from the software industry.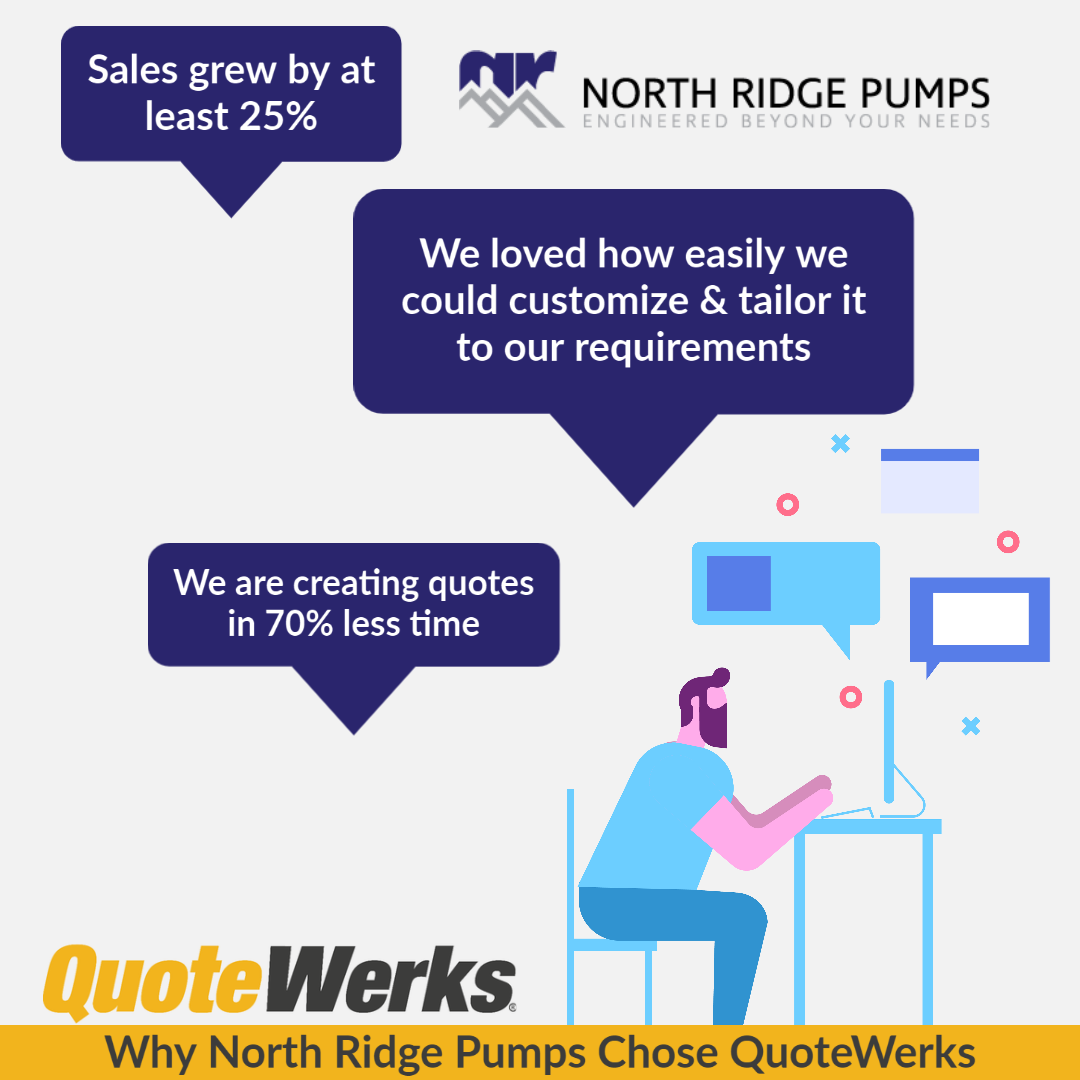 What results did you see after implementing QuoteWerks?
We have seen sales grow by at least 25% mainly due to the speed and efficiency in which we are able to issue quotations.
We can now quote a customer within 2-3 minutes where previously it would take in excess of 10 (creating quotes in 70% less time). Our team have become more efficient, and spend less time undertaking repeated data entry, enabling higher value tasks to be undertaken.
We can understand quickly the types of customers and regions where we are successful, enabling efficiency improvements to be made through each iteration.
Who are you and what products and/or services do you quote?
North Ridge Pumps are a UK Pump manufacturer operating worldwide across a diverse range of industries handling fluids from Seawater, to Oils, Sludge, and Slurries.
We act as a solution provider for a number of clients who are often experiencing issues with pump wear, difficulty in understanding how to undertake a process or how best handle a specific liquid.
Some users are looking to automate a process or simply improve on what they already have to increase output or efficiency. No two days are the same as each solution can involve a different pumping technology and method of achieving the client's goal. This can prove difficult to manage from a business perspective as there is not a single solution that fits many, with products configured to customer requirements on a daily basis.
What prompted you to look for quoting software?
We had a large number of manual processes and wanted to increase the speed and ease in which quotations were produced.
As each project can involve a specific solution and be subject to changes as the project evolves, we also needed a central system to record any changes and produce quotations with a full auditable trail.
All of the pumps we supply are built and configured to customer requirements meaning each product is often unique and we needed a flexible software solution where descriptions could be free typed and quoted without being formerly set up as part codes which would increase administration and not add value as such parts may never be ordered.
We needed the software to act like a project database which when opened all the relevant project files, drawings and correspondence could be viewed by multiple people across the organisation with ease. The software needed to provide management with live up to date information of quotations being worked on, orders being placed and enable them to easily see how business was developing.
What were you using to create quotes/proposals before QuoteWerks?
Prior to purchasing QuoteWerks, quotes were produced by hand to record enquiry information, perform project costing and calculate selling prices. Records were kept in 2-3 places both on and offline with a final quotation typed in Microsoft Excel.
What were your pain points before QuoteWerks or what problem(s) were you trying to solve by implementing QuoteWerks (The Challenge before QuoteWerks)?
Prior to using QuoteWerks our internal processes were very manual. Addresses had to be manually typed each time, with supplier records and point of contact not maintained in a central accessible location to all staff.
Enquiry references were logged in a central excel file which could only be opened by one member of staff. Easy reporting on current orders or quotes being worked on was not possible, with enquiry duplication occurring at times.
We needed to improve the speed at which quotes could be produced, the consistency of quoting, ensure certain fields were always completed with the correct formatted data for reporting and ensure project information was being recorded accurately.
Furthermore, we wanted to ensure large projects were monitored closely which was difficult if information was recorded offline or in a system not easily shared.
We did not have a database of clients making marketing difficult and the process from start to finish was inefficient and our business processes needed bringing into the 21st century.
What Integrations do you use with QuoteWerks (CRM/Accounting)?
We integrated our QuoteWerks package with Microsoft Dynamics CRM which allows us to easily create accounts and contacts from an email, track account progress, record important notes, easily schedule follow up to quotations and ascertain what progress had been made on key accounts.
For the accounting side, we integrated the package with QuickBooks Desktop Premium, enabling back-to-back document creation without manual processing from quote through to invoice, automating document processing and enabling company controls to be put into place and enforced.
Was there anything that QuoteWerks is able to do that you were surprised that it does (or unexpected results)?
One thing which surprised was that the package enabled certain fields to be programmable and enable formula to be used, meaning a bespoke pricing formula could be used by staff on products which are often priced on a case-by-case basis.
We loved how easily we could customise fields, and tailor the package to our requirements without extensive training, or needing a background in programming or outsourcing with additional cost to a software engineer.
The reporting functions enabled us to quickly determine the direction of the business and how enquiries were changing due to external factors and react accordingly.
QuoteValet enables us to check customers are receiving and opening the quotes sent to them in a time where direct communication has been difficult.
Training new team members has never been easier as we can set thresholds on quotations meaning projects over a set value must be approved by another member of staff prior to being sent to customers, something which we did not have full control over before. The bolt on data validation module reinforces training ensuring all required fields are completed with the right data, with custom messages facilitating training.
What "problem" does QuoteWerks fill in your organization?
QuoteWerks enables us to ensure data is entered consistently into set fields ensuring it can be reported on accurately. It ensures we spend time on the right enquiries and customers, and a key tool for providing a leading indicator on how the business is performing. It is easy to use, quick to complete a quotation and ensures documents are produced consistently across the business each time.
If you worked with a partner, who were they and what was your experience working with them?
North Ridge Pumps worked with Vivienne and Steve from Hilltops IT who have always provided us with first class support, advice, and insights into how to get the most from QuoteWerks. They provide a guiding hand during any upgrades, and if any bespoke reporting or programming is required, they can effortlessly undertake.
Responses and quotes provided by Simon Hooton, Technical Product Manager at North Ridge Pumps.
Are you ready to close more deals like North Ridge Pumps? Request a demo today.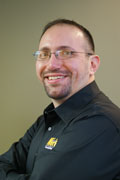 comments powered by

Disqus
The views and opinions expressed on this page are those of the original authors and other contributors. These views and opinions do not necessarily represent those of Aspire Technologies, Inc. QuoteWerks is a registered trademark of Aspire Technologies, Inc. Other trademarks referenced are the property of their respective owners.
Please be advised that Aspire Technologies, Inc. is not your attorney, and this information is not legal advice. This information does not provide, does not constitute, and should not be construed as, legal advice. The information provided was accurate at the time of publishing, but may not be all encompassing. It is for educational purposes only and is not to be acted or relied upon as legal advice. The information does not constitute legal advice and is not a substitute for competent legal advice from a licensed attorney representing you in your jurisdiction.
©1993-2023 Aspire Technologies, Inc.
407-248-1481 (9am-5pm ET M-F)