Creating Proposals &
Microsoft Word Merging
with QuoteWerks
Demonstrates how to create Microsoft Word based quotes and proposals from within QuoteWerks rather than using our built-in layout designer.

Word Merging II - The Links Tab

This video will expand on the Microsoft Word Merging Functionality found in QuoteWerks focusing on the Links Tab.
Word Based Proposals

Create Microsoft Word based quotes and proposals from within QuoteWerks or use the built-in layout designer.
Streamlined Microsoft Word Merging

Word Merging does not require Microsoft Word to be on your computer and the time it takes to generate the Word document is reduced from minutes to seconds.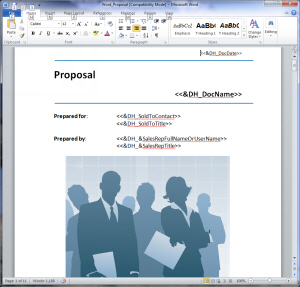 Microsoft Word is a great tool for creating proposals, but creating all the content from scratch is a lot of manual work.

You can build your proposal in QuoteWerks. Then QuoteWerks will insert al the proposal specifics into your Word document based on macros that in the word document.

Everyone knows how to use Microsoft Word. Word is more flexible than report designers and it is easy to design a Word based Quote layout since you already know how to use Word. QuoteWerks simply inserts the data into your Word document wherever you want it. After merging, it is easy to make changes or tweaks to the Word document providing you the best of both worlds - macro replacement and the ability to edit afterwards. To top it all off, QuoteWerks then automatically saves your data merged Word document as a PDF file and links it into the quote.
Advantages of Word Merging:
You can choose to insert only certain item types into certain areas of the Word document
You can have your service items on Page 2 and have your product items on page 5
You can have item type total summaries anywhere in the Word Document
You can include Line item Product Pictures in the the Word document
When you install QuoteWerks, you will have several Microsoft Word templates included. Additional
Sample layouts
are available for
download
.
QuoteWerks enables you to create Quotes and Proposals with Microsoft Word or with the built-in Layout Designer.
©1993-2023 Aspire Technologies, Inc.
407-248-1481 (9am-5pm ET M-F)