Rest Easy with the New ConnectWise REST API Integration July 7, 2017
Out with the old and in with the new! ConnectWise recently released their new REST API and will soon be sunetting their SOAP API. With these changes, the QuoteWerks Development Team has worked diligently these last few months to completely rewrite the integration. We were able to make major improvements and add new features to better streamline the workflow between QuoteWerks and ConnectWise.
NEW FEATURES & KEY IMPROVEMENTS
Agreements
Tracking agreements and ensuring contract information is accurate is vital to recurring revenue. QuoteWerks has the ability to send a quoted Agreement to ConnectWise as either an Estimate or as an Agreement Type product. This feature enables you to quote Agreement Products with recurring properties.
When QuoteWerks "Wins" an Opportunity in ConnectWise, there is now an option to convert the Agreement Products on the Opportunity to either a new Agreement or add to an existing Agreement. You have the ability to default this setting within the ConnectWise Setup page.
So whether you want to bill monthly, quarterly, annually (and more), you can make sure that you are always delivering on the promises of the agreement with your clients.
Recurring Products & Services
In the cloud age, many quoted items are not just one-time purchases.
QuoteWerks can retrieve the recurring properties from your existing ConnectWise Services in your ConnectWise Item List so you do not need to manually set them in QuoteWerks.
QuoteWerks recurring products can now be written to a ConnectWise Opportunity Item as a recurring product. Recurring services can also be written into the opportunity. Thus, recurring revenue flows seamlessly between the two solutions.
Inventory
Quoting an item that is out of stock is as useless as a contract without a signature. Now when quoting an item, you have the ability to view inventory count of items stored within ConnectWise before adding it to your document. You can confidently send a quote to your customer knowing that you have the items in stock!
Speed
The update from the SOAP API to the new REST API means a faster integration! Updating opportunities will be faster than ever before.
If you are interested in taking advantage of these new features, be sure to update to the latest release of QuoteWerks! ConnectWise users looking to go upgrade to 2017.1 or higher will need to update QuoteWerks with the latest release.
At QuoteWerks, we are committed to continually improving our solution so that your quoting and proposal process is streamlined, efficient and painless. If you have feature requests that you think will improve our solution, please email support@quotewerks.com.
Related: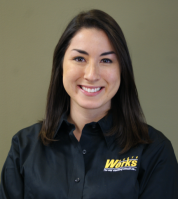 About the Author:
Jessie Devine
Community Engagement Manager
QuoteWerks
comments powered by

Disqus
The views and opinions expressed on this page are those of the original authors and other contributors. These views and opinions do not necessarily represent those of Aspire Technologies, Inc. QuoteWerks is a registered trademark of Aspire Technologies, Inc. Other trademarks referenced are the property of their respective owners.
©1993-2023 Aspire Technologies, Inc.
407-248-1481 (9am-5pm ET M-F)