Rockin'the QuoteWerks User Summit: A Full Day of Learning
Day One of the 2020 QuoteWerks User Summit
One of the nice things about the QuoteWerks User Summit is that it is 100% about QuoteWerks. There are no vendors exhibiting or presenting at this event. It is simply an opportunity for the QuoteWerks team to teach how to maximize your use of QuoteWerks.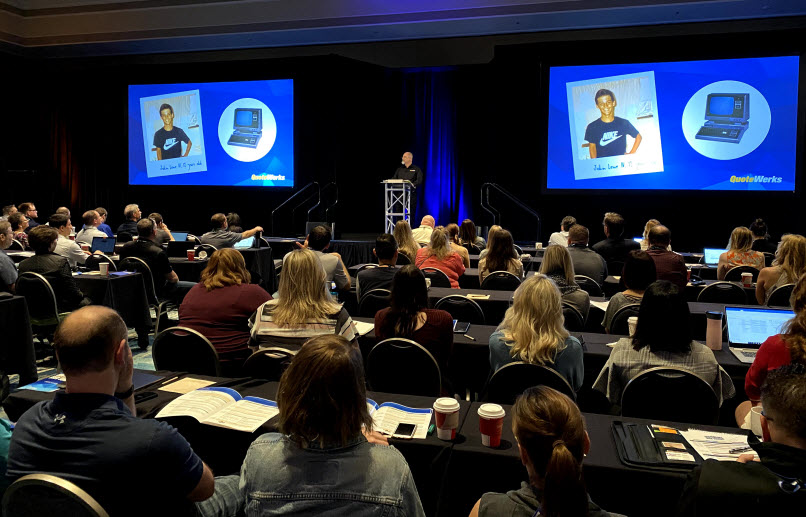 QuoteWerks History (as told by the founder of the company)
John Lewe, President and Lead Developer started the keynote with a fascinating story of how he started programming when he was 12 years old on a Tandy TRS-80.
Later, when he started using a computer for quotes and proposals, he used Microsoft Excel. Back then, TechData and Ingram only had thick catalogs. All of the info had to be typed into a spreadsheet. He had lots of formatting issues with the spreadsheets, and tracking pricing, part numbers, and more was a headache.
One day distributors stopped using catalogs and switched to floppy disks. Around the same time, Visual Basic 3 was released and it supported databases (exciting times!).
In 1993, John started QuoteWerks after experiencing the challenges of creating quotes and proposals.
QuoteWerks Today
Today, QuoteWerks has grown to 86,000 users spread over 101 countries. It is used in a wide variety of industries including IT, alarm security, AV, healthcare, and others. This year, QuoteWerks offered an IT/MSP day at the conference for the first time.
27 years seems like forever in the software industry. However, every year QuoteWerks continues to grow in user base and revenue.
QuoteWerks listens and implements many of the changes suggested by users. 153 new features have been added since QuoteWerks User Summit 2019. Lots of completed feature requests were covered.
QuoteWerks added a new monthly licensing. This allows customers to easily rent QuoteWerks by month. You can also easily add or remove the number of licenses.
A database hosting service has been added, offering Microsoft SQL hosting for companies that don't want to use their own SQL server. QuoteWerks is also working on a version of QuoteWerks Web, moving their database to Azure.
ShareWerks has been created, allowing a communication collaboration platform that can be used outside of QuoteWerks.
Back to Basics: Creating a Quote
This session, taught by Brandon Grant, Sales and Marketing Director, walked new users (and some existing ones) through how to create a quote in QuoteWerks. We learned several cool tips, including:
How to set up linked resources so you can add any type of file you want to add to the quote/proposal.
How to attach QuoteValet videos so it will be embedded in our QuoteValet quotes.
On My Summary Dashboard, you can see quotes and orders created this month, last month, 2 months ago.
You also have notifications if there are any quotes that need attention.
You have an option to auto-save. You can set whether it is active and how often it saves.
When searching for vendors in Product Lookup, we learned how to search across multiple databases to find the parts we need.
Price history provides a list of items that have been quoted sorted by customer. It makes it easy to stay consistent with your pricing.
Users should start every document with a contact. 95% of QuoteWerks users are integrated with a CRM or PSA, so this is already integrated with your other tool.
The price modifier is very powerful when creating a quote. In the price modifier field, you can use M for markup and P for profit. For example, entering "P20" in this field will give you 20% profit on an item.
QuoteValet
In the next session, we received an introduction to QuoteValet with Brandon. QuoteValet offers a customized quote on a web page you can send to your customer. With QuoteValet, you know when a customer views a quote. You have several options including receiving email and dashboard notifications. For example, this could allow you to email the sales rep, sales rep manager, person in accounting, etc. to make sure the appropriate people know the status of a quote.
Once received, a customer can update their quote in real time. A powerful feature within QuoteValet is being able to allow the customer to change the quantity for only certain line items. You can do all of the line items or select the ones you want to allow them to change.
If you want to share a quote with someone in your office, use peer review. Preview (for internal): doesn't count as a view from the customer. Using the "send email" button is how you will normally send the customer your quote.
Tip: One important feature in the options is the ability to white list your IP so that if someone sends and opens a quote internally, it won't send notifications to users that the quote has been opened.
If you make a mistake, you can recall a quote in QuoteValet. This is not possible with an emailed PDF file. You can also include a reason for why you recall the quote. (Careful, this comment is customer facing.)
In the QuoteValet Dashboard, you can see all of the docs your customer is interacting with. They are all color-coded. For example, orange means the customer has accepted, green means customer has paid. There are also icons that tell you how a customer has interacted with a document.
Tip: QuoteValet makes it simple to include leasing options into an easy choice.
We heard from our peers
In the peer network session, we heard some success stories about how users love QuoteValet:
One user said they had a quarter million dollar job they thought they had lost. After the potential customer clicked the QuoteValet link, they received an alert and called the customer. It turns out the customer was excited to hear from them and they were able to close the deal.
From another user, automatic reminders saved so many man-hours and also saved so many renewals.
Product and Service Management
In this session with Brandon, we discussed the differences between database types. You can set up native (all items are housed in QuoteWerks) or a linked list to an external database.
We learned how to set up product sources. For a linked database, the data is attached and you can only read from the database (i.e. QuickBooks). When you do this, you will find the mappings should already be there. It is also possible for Access, Excel and SQL, but a little more difficult and may require SQL credentials.
During the session someone asked, "What is the difference between vendor and manufacturer part number?" Brandon said typically the manufacturer made the item, and the vendor is selling the item.
The Edit Product screen in QuoteWerks is very powerful. However, it is important to note that if you make a change in the database, that actually changes the item in the database (as opposed to just changing information on a quote).
Creating Deliverables: Scope of Work, Customize Proposals and More
In this session, Brandon showed us how to create content rich proposals. You can find the templates folder within the resources folder using File Explorer. This is where you store your templates for QuoteWerks.
Tips:
When using macros, you need to have open and close brackets "<<" and ">>" and make sure the field names are spelled correctly for it to work.
Use "save new copy and merge Word document" instead of just using save. This is because you can't undo a Word merge and the customer might change their mind and you'll want to be able to create a new merge.
Don't email a Word document since it can easily be modified.
A great day of learning
It was a great day at the QuoteWerks User Summit. It was a day of learning about several features of QuoteWerks. In Peer Network, we got to hear from other users. They shared things they love about QuoteWerks as well as challenges they had before they used the product. There was also plenty of time for questions.
comments powered by

Disqus
The views and opinions expressed on this page are those of the original authors and other contributors. These views and opinions do not necessarily represent those of Aspire Technologies, Inc. QuoteWerks is a registered trademark of Aspire Technologies, Inc. Other trademarks referenced are the property of their respective owners.