8 Ways QuoteWerks Stands Out from the Competition
Building quotes manually using a spreadsheet or word processor can be a pain. First, you have to search the entire network for the information you need. The document will need to be correctly formatted – now where did that template go? Once you've created the quote, you'll need to have reminders that tell you when to follow-up.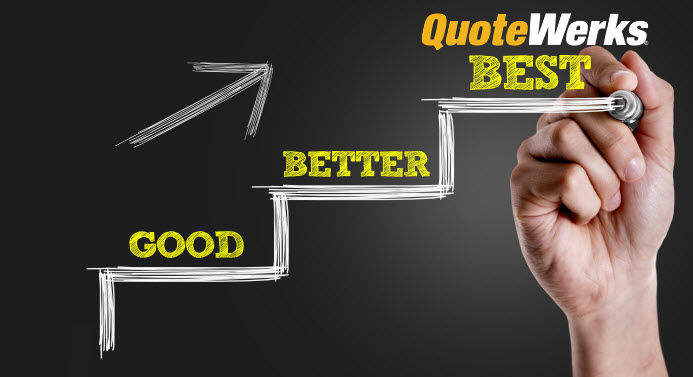 Using a tool like QuoteWerks can offer benefits such as:
A simplified sales process
Reduced errors
Improved close rates
A more efficient organization
A quote management system can automate the quote to cash process from quote through payments received.
1. Proposal vs. quoting software: Are they the same?
Proposal software can improve the beginning of the sales process, but it can't handle the full sales quoting cycle. In contrast, document signing software is an even smaller part of the solution. It doesn't cover the process as the quote moves through the entire quote to cash process.
Some companies that claim to have CPQ software actually compete more with document management solutions. They are closer to being document generators that allow you to build a document. Instead, using a quoting software, like QuoteWerks, covers the full quote to cash process.
2. Customized presentations
You have an opportunity to make a great impression when you deliver your quote through a presentation. With QuoteWerks, you can customize your presentation output so that your professional services team can show up with branded quotes from your organization.
Another option with QuoteWerks is to use an interactive web browser experience. With this, you don't need to create multiple quotes. You can have the customer use an interactive quote that will automatically recalculate. Once they select their options, you will be notified of their choices.
3. Integrate with distributors
With other quoting packages, you have to import a list of products or services into the quoting software database. This manual process creates a static copy of the data, which can quickly become out of date. To update it, you have to add the information manually again.
With quoting software, you can automatically use external sources for product data. QuoteWerks can link to any ODBC compliant data source and pull the product information it needs, so it will always have the most updated pricing available without the need to manually import the information. It can also connect in real-time to IT industry distributor databases such as Tech Data, Ingram Micro, and others. Other tools will not have this type of integration and lack real-time pricing and availability.
4. Procurement capabilities
Manually created purchase orders are not automatically updated with real-time information. With QuoteWerks, you have built-in purchasing capabilities and real-time information such as, tracking numbers, the status of things that are shipped, and the ability to mark items as received. Other quote software packages do not have these capabilities.
5. Order status made easy
You need real-time access to availability and pricing. This will help you deliver the product to your customer faster with lower prices. If you know when a product will ship or is on backorder, it will allow you to make better purchasing decisions.
With QuoteWerks, you have access to a real-time data module. Orders can be submitted electronically within the IT industry for companies like Tech Data, Ingram Micro, and D&H.
Another benefit of our quoting software is that you can send electronic online orders and then get order status information. This can also save time if you need to negotiate pricing with the sales rep, because you will already have the quantity, part number, and shipping information available.
6. Using the right tool for pricing
With complex pricing calculations, problems can arise quickly. For example, pricing can become out of date if you're using spreadsheets to maintain pricing from multiple vendors. This can be disastrous when it's time to make a quote and you have out of date pricing.
Some companies have their sales team use accounting software to create quotes. This creates challenges because sales reps can access the accounting system. From a security standpoint, it allows sales reps to view information that is not relevant to pricing for a job.
Training can also be an issue. Accounting software should be used by people who are well trained in accounting practices. It is not intended for sales reps.
With QuoteWerks, you get a dedicated quote to cash management system that is the right tool for the job, giving sales reps the information they need.
7. Customer phone support
Reaching technical support for your software products has become a challenge. You find out too late how frustrating it can be when you call their support line and reach a voicemail instead of a real person. Then you have to wait 24 hours for a call back. One way to work around this is to find out the types of support that are offered before you choose a quoting solution. If they offer voice or email support, find out how quickly they will respond to your request.
With QuoteWerks, you can pick up the phone and call us. Our customers have told us that we are very responsive for both presales and post-sales inquiries. We found that complex integration configurations can be quickly resolved with a simple phone call.
8. Pricing
Some enterprise software companies sell software for hundreds per month. This may indicate that they operate more like a consulting company than a software company. This higher price could also indicate they're not selling as many units. These consulting companies will frequently bill out their employees as high-priced skilled labor.
At QuoteWerks, our software is more cost-effective, starting at $15 per month. We offer both a one-time license and a subscription option, with a choice of monthly or annual billing for additional savings.
Want to learn more about QuoteWerks? Request a demo to find out more.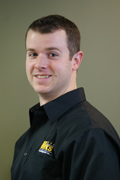 comments powered by

Disqus
The views and opinions expressed on this page are those of the original authors and other contributors. These views and opinions do not necessarily represent those of Aspire Technologies, Inc. QuoteWerks is a registered trademark of Aspire Technologies, Inc. Other trademarks referenced are the property of their respective owners.
©1993-2023 Aspire Technologies, Inc.
407-248-1481 (9am-5pm ET M-F)