2016 QuoteWerks Partner Awards December 20, 2016
"Every year we proudly recognize our top partners who have dedicated their time and resources to provide a local presence for QuoteWerks users around the world. These particular partners have demonstrated an exceptional commitment to users by offering training, customization services, and implementation assistance which only strengthens QuoteWerks' position as the market leading sales and quoting proposal software solution", says John C. Lewe IV, President and Lead Developer of QuoteWerks.

The "2016 QuoteWerks Top 10 Solution Partner" awards were presented to (ranked first through tenth):
Quintadena, Ltd. (United Kingdom)
Prestige Quoting (United Kingdom)
Hilltops IT (United Kingdom)
First Direct Corp (USA)
Wizard Systems (United Kingdom)
Relevant Automation (USA)
Perennial Software (USA)
Linked Systems (USA)
Gold Rush Technology Pty Ltd (Australia)
Tandem Training & Consulting (USA)
Bob Ritter, President from First Direct on being named a top 10 partner for the 13th year in a row, "We are proud to represent Aspire Technologies and QuoteWerks software! The quality of their products is a result of the quality of their organization. The relationship we have is built on trust and performance. We look forward to continuing to meet the business needs of our customers with the QuoteWerks line of business applications."

QuoteWerks also recognized the "2016 QuoteWerks Top Distributor" award recipient IT Microscope, the authorized QuoteWerks distributor for the United Kingdom and Ireland and the "2016 QuoteWerks MVP", Matt Rose of Prestige Quoting in the United Kingdom for his continued commitment and contributions to the QuoteWerks Community.

Matt Rose, Managing Director from Prestige Quoting added, "Prestige Quoting is thrilled to have come 2nd in the QuoteWerks Worldwide Partner standings and been named MVP for the 2nd year in a row. It's been a year where dozens of new clients have been introduced to the power and improvements QuoteWerks brings and my clients have commented how much more efficient their process has become."

Related: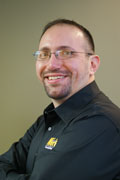 comments powered by

Disqus
The views and opinions expressed on this page are those of the original authors and other contributors. These views and opinions do not necessarily represent those of Aspire Technologies, Inc. QuoteWerks is a registered trademark of Aspire Technologies, Inc. Other trademarks referenced are the property of their respective owners.
©1993-2023 Aspire Technologies, Inc.
407-248-1481 (9am-5pm ET M-F)