Aspire Technologies, Inc. Releases Over 30 New Features and Enhancements in QuoteWerks Version 23 Build 2
QuoteWerks, The Leading Sales Quoting and Proposal Solution, Announces Latest Release
Aspire Technologies, Inc. completed significant enhancements to its award-winning procurement, proposal, and quoting software, QuoteWerks. Over thirty new features and enhancements were made in Version 23 Build 2 further refining key quoting and management processes. These features were based on requests made by the QuoteWerks Community and to adapt to the changes to the more than 55 integrations that QuoteWerks supports.
Key features in the latest release include:
Autotask as a Secondary CRM. QuoteWerks now enables sales representatives to create and manage quotes in a sales-team-focused CRM and then integrate the won order with Autotask to create the customer, opportunity, and products in the PSA. Sales teams can now add quotes, leads, and products that may never sell in a CRM like HubSpot or salesforce.com, and push actual orders, customers, and sold inventory into their PSA for invoicing and tracking purposes. This feature was previously exclusive to ConnectWise PSA users.
UI Changes with Enhanced Visibility. The Bundles, Required Items, Optional Items, and Substitute Items windows have been redesigned. In each window, when clicking on a particular grouping, an itemized list of the grouping's products will now be shown (like the items contained in each bundle or an item that is required when the parent item is added to the quote).

For maintaining these entities, there is now the ability to search for individual items contained within them making it easier to find bundles, items with requirements, etc. that need to be updated with new, additional, or replacement part numbers. Sales representatives will be able to take advantage of this new visibility when an item should be promoted on a quote. This re-design is particularly useful when items change frequently, there are supply chain issues, or even when there are promotions for specific items.
Updated integrations. The latest versions of Act! for web, Autotask, GoldMine, and SugarCRM are now supported in QuoteWerks.
"These changes were specifically designed to improve the quoting experience for both the front and back offices. What I appreciate most is that we took feedback from the community for one enhancement and applied them to other similar features to ensure greater reach and time savings," emphasizes QuoteWerks Vice President Brian Laufer. "The new efficiencies we designed into Version 23 Build 2 enable companies to focus their limited resources on other mission-critical goals."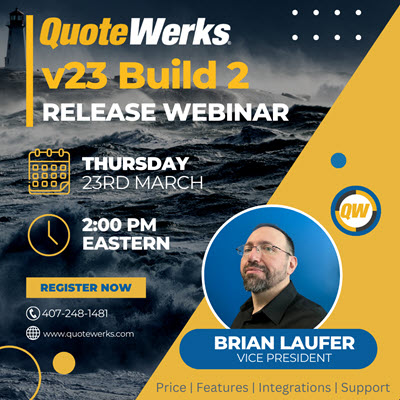 The QuoteWerks Team hosted a webinar on Thursday, March 23rd at 2 pm Eastern highlighting these new features and answering questions from the QuoteWerks Community.
Related: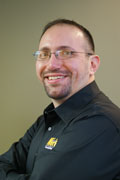 comments powered by

Disqus
The views and opinions expressed on this page are those of the original authors and other contributors. These views and opinions do not necessarily represent those of Aspire Technologies, Inc. QuoteWerks is a registered trademark of Aspire Technologies, Inc. Other trademarks referenced are the property of their respective owners.
Please be advised that Aspire Technologies, Inc. is not your attorney, and this information is not legal advice. This information does not provide, does not constitute, and should not be construed as, legal advice. The information provided was accurate at the time of publishing, but may not be all encompassing. It is for educational purposes only and is not to be acted or relied upon as legal advice. The information does not constitute legal advice and is not a substitute for competent legal advice from a licensed attorney representing you in your jurisdiction.
©1993-2023 Aspire Technologies, Inc.
407-248-1481 (9am-5pm ET M-F)