G2 Summer 2023 - CPQ & Proposal Category Awards
Simplifying Sales and Delighting Customers
In the fast-paced world of sales, efficiency and accuracy are paramount. A solution that can streamline the quoting process, enhance productivity, and leave a lasting impression on customers is an invaluable asset. QuoteWerks, the industry-leading CPQ software, has emerged as the go-to solution for sales professionals worldwide. In this blog post, we'll explore the remarkable features and benefits of QuoteWerks, highlighting why it's the ultimate choice for businesses. Whether you're a satisfied QuoteWerks customer or someone considering this solution, this article aims to affirm your choice and encourage you to share your experiences with others on review sites like G2.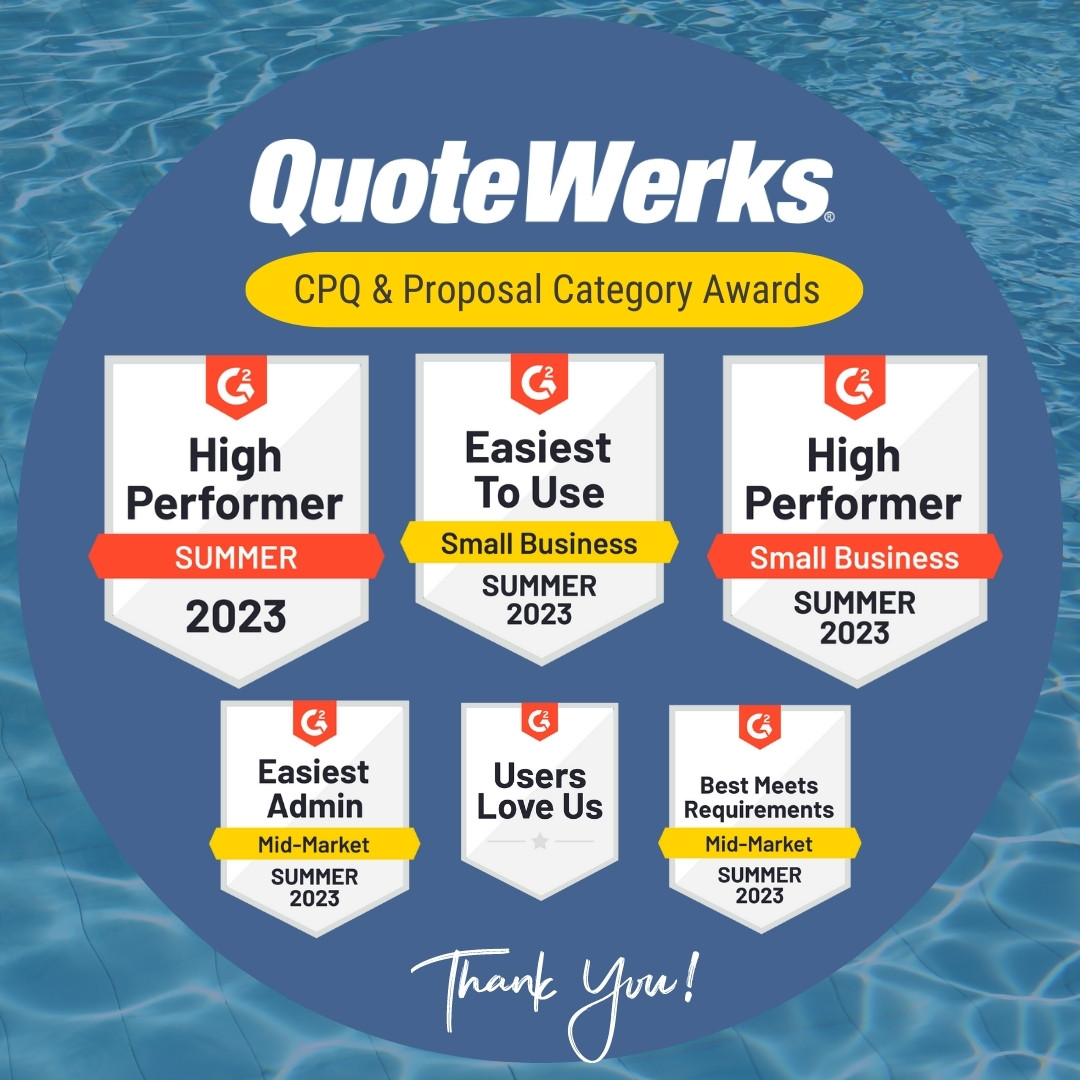 QuoteWerks: Your Sales Quoting Companion
QuoteWerks has revolutionized the quoting process by providing a comprehensive platform that seamlessly integrates with popular CRMs and accounting systems. Its intuitive interface and robust features empower sales teams to create professional quotes, proposals, and orders effortlessly. By automating repetitive tasks and eliminating manual errors, QuoteWerks saves valuable time and ensures accuracy, freeing up sales professionals to focus on building customer relationships.
Simplified Workflow for Enhanced Productivity
QuoteWerks simplifies the entire sales quoting workflow, from creating quotes to tracking them through each stage of the sales cycle. With its centralized database, customizable templates, and streamlined approval processes, you can generate professional quotes within minutes. The software offers integration with product databases, enabling real-time pricing and inventory updates, ensuring accurate quotes that align with your business's current offerings.
Tailored Solutions for Every Business
QuoteWerks recognizes that each business is unique, with its own specific needs and requirements. That's why the software provides a range of customizable features, allowing you to tailor the quoting process to match your business model seamlessly. Whether you operate in a B2B or B2C environment, QuoteWerks can be customized to reflect your brand, messaging, and pricing structures. This flexibility ensures that the software seamlessly integrates into your existing sales processes without disrupting your operations.
Integration and Collaboration
QuoteWerks understands the importance of collaboration and integration within sales teams. The software offers integration with leading CRMs, such as Salesforce, Microsoft Dynamics, HubSpot, and ConnectWise PSA, enabling seamless data synchronization and eliminating manual data entry. This integration ensures that your team is always up to date with the latest customer information, delivering a unified experience across the board. With QuoteWerks, your sales team can collaborate effectively, sharing quotes, comments, and revisions in real time, leading to increased productivity and better customer service.
Delighting Customers, Every Step of the Way
QuoteWerks not only streamlines the quoting process but also creates a positive and professional impression on your customers. The software's attractive quote layouts, branded templates, and personalized messaging help you stand out from the competition. QuoteWerks enables you to provide clear, accurate, and visually appealing quotes that enhance customer confidence and trust.
QuoteWerks has proven itself as the ultimate solution for simplifying the sales quoting process, enhancing productivity, and delighting customers. Its intuitive interface, customizable features, seamless integration, and focus on customer satisfaction make it an indispensable tool for sales professionals worldwide.
We would like to extend our appreciation to those who have shared their experiences and reviewed our software on platforms like G2. We are delighted to announce that, thanks to your invaluable reviews, we have recently been honored with six G2 badges in the CPQ and Proposal categories, signifying the exceptional quality and value of QuoteWerks. Your reviews have not only showcased the effectiveness and efficiency of our solution but have also empowered other organizations to make informed decisions based on real user experiences. Your reviews have highlighted the seamless integrations, streamlined workflow, and outstanding customer service that QuoteWerks provides. It is your stories and reviews that motivate us to continuously enhance and refine our software to serve your business' needs better.
QuoteWerks - G2 Summer 2023 Awards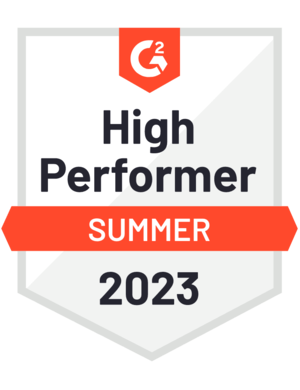 High Performer: QuoteWerks
Products in the High Performer quadrant in the Grid® Report have high customer Satisfaction scores compared to the rest of the category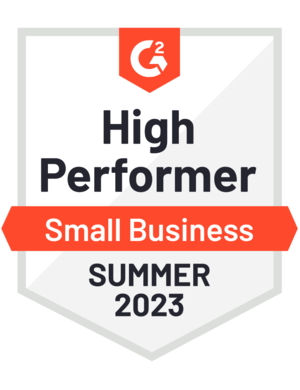 High Performer Small-Business: QuoteWerks
Products in the High Performer quadrant in the Small-Business Grid® Report have high customer Satisfaction scores compared to the rest of the category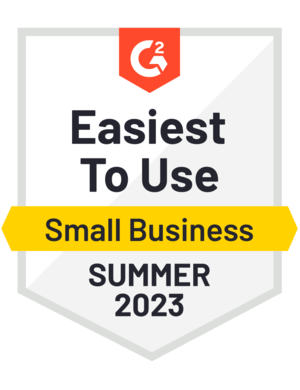 Easiest To Use Small-Business: QuoteWerks
The Easiest to Use product in the Usability Index earned the highest Ease of Use rating in its category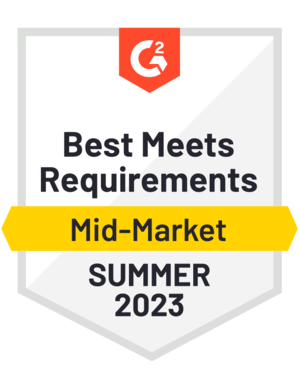 Best Meets Requirements Mid-Market: QuoteWerks
The Best Meets Requirements product in the Usability Index earned the highest Meets Requirements rating in its category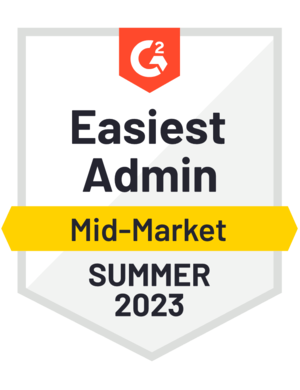 Easiest Admin Mid-Market: QuoteWerks
The Easiest Admin product in the Usability Index earned the highest Ease of Admin rating in its category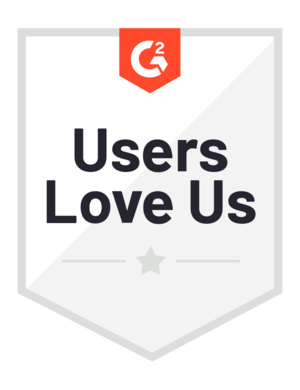 Users Love Us: QuoteWerks
The Users Love Us badge is earned after collecting 20 reviews with an average rating of 4.0 stars (We have far exceeded this - thank you to all of the contributors that made this happen)
Help the Growing QuoteWerks Community
Share your QuoteWerks experience and review us on G2: Let your voice be heard and help others make an informed choice!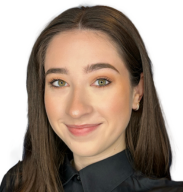 About the Author:
MaryGrace Adamson
Marketing Coordinator
QuoteWerks
comments powered by

Disqus
The views and opinions expressed on this page are those of the original authors and other contributors. These views and opinions do not necessarily represent those of Aspire Technologies, Inc. QuoteWerks is a registered trademark of Aspire Technologies, Inc. Other trademarks referenced are the property of their respective owners.
Please be advised that Aspire Technologies, Inc. is not your attorney, and this information is not legal advice. This information does not provide, does not constitute, and should not be construed as, legal advice. The information provided was accurate at the time of publishing, but may not be all encompassing. It is for educational purposes only and is not to be acted or relied upon as legal advice. The information does not constitute legal advice and is not a substitute for competent legal advice from a licensed attorney representing you in your jurisdiction.
©1993-2023 Aspire Technologies, Inc.
407-248-1481 (9am-5pm ET M-F)