Save Time Quoting Monthly Payments
Guest Blog
Over the past 15 — 20 years, technology has gone from helpful to critical. Technology is saving money, saving lives, and has become such an essential element of our day-to-day, we can hardly imagine life without it.
What is the first thing you do when you get into work? Boot up your computer, maybe grab a cup of coffee or tea, filter through your inbox. It is hard for me to even imagine doing business without a computer... or email.
But to me, what is even more critical than email are the applications that integrate seamlessly within the various platforms. Outlook is more than my inbox; through it, I manage my calendar (read: my life), contacts, and daily tasks.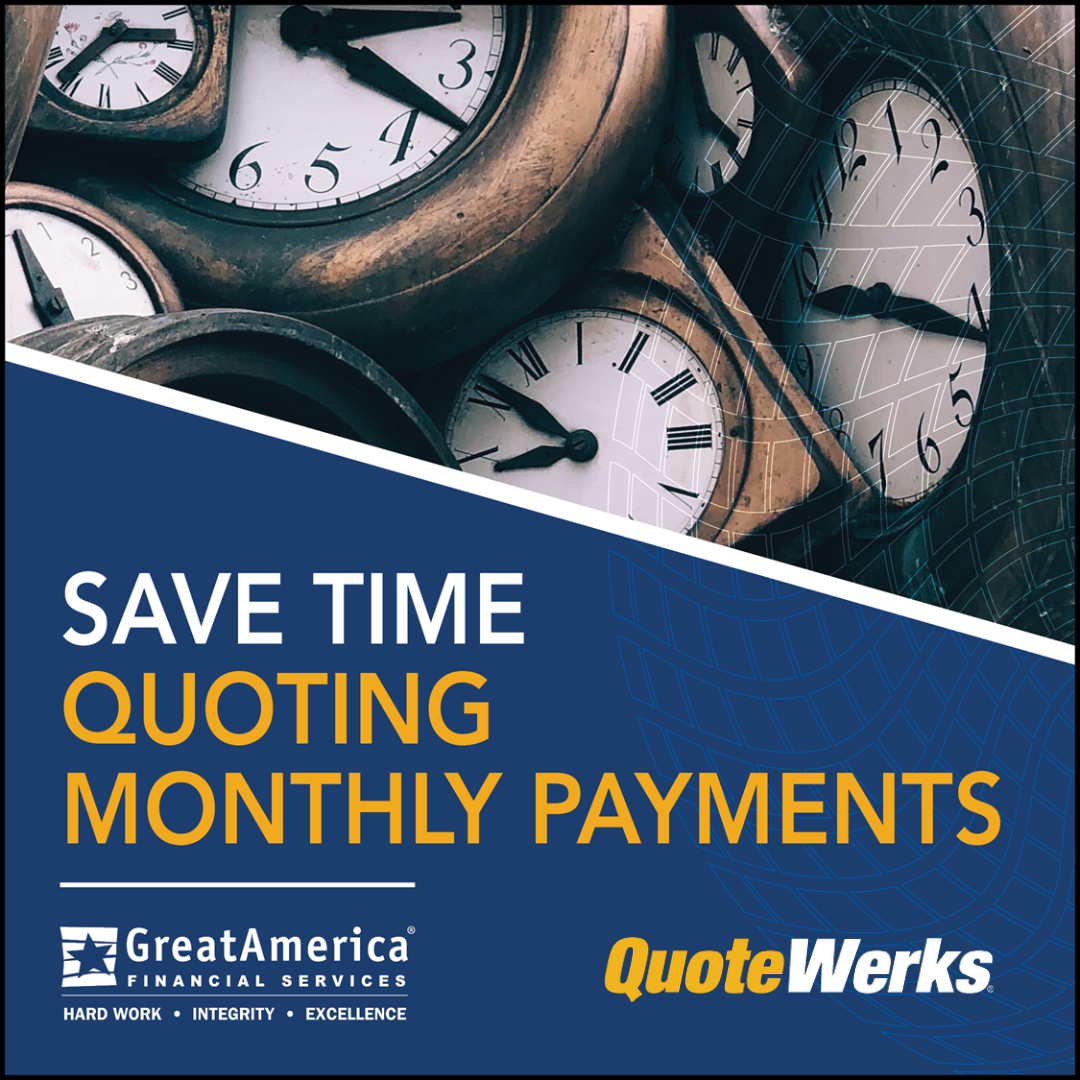 Building a Quoting Tool for MSPs That Integrates with Other Systems
My point is: users don't always judge a tool by how useful it is on its own, but rather how well it works with other applications and ultimately how much time it saves. Tech providers, like you, are well aware of this as they deploy solutions for customers. Does the phone system come with telepresence? Can a user on a virtual desktop still run a line of business tools? Can a user start a videoconference directly from their calendar?
Keeping MSPs, Resellers, and Technology Resellers at the Forefront of Our Quoting Integrations
When we started working with Managed Service Providers (MSPs), technology resellers and most recently with systems integrators and AV providers, we knew they wouldn't offer financing unless it was integrated into their processes and systems.
Back in 2014, QuoteWerks released version 5.0 which included the ability for our mutual customers to quote monthly lease payments while remaining in the same system they are already using every day. In 2016, QuoteWerks took the integration a step further by improving the integration with the ability to quote a single monthly payment for services, software, and equipment. This release of the QuoteWerks platform helped solution providers who are interested in offering an all-inclusive solution, such as Hardware as a Rental® or HaaR®. Finally, in 2018, QuoteWerks announced another upgrade to the integration; in addition to being able to calculate monthly payments and add them to quotes and proposals, users were now able to submit customers for credit approval to help streamline the sales process.
Cut Your Quoting Time in Half with Quoting Integrations
Most of the customers who responded to that same survey said the quoting integrations are saving more than 10 minutes per quote with financing. That is on top of the time savings you get just from using quote tools like QuoteWerks, who says their customers typically cut their quoting time in half when they go from manually preparing quotes to using QuoteWerks.
Ready To Streamline Your Quoting Tools?
These days seamless technology makes the difference. The return on investment of learning, implementing, and integrating technology is time back in your day. We know how hard you work to provide integrated solutions for your customers, and you expect the same from your business vendors.
Are you ready to close more deals? Learn more about Leasing, GreatAmerica, and QuoteWerks.
comments powered by

Disqus
The views and opinions expressed on this page are those of the original authors and other contributors. These views and opinions do not necessarily represent those of Aspire Technologies, Inc. QuoteWerks is a registered trademark of Aspire Technologies, Inc. Other trademarks referenced are the property of their respective owners.
Please be advised that Aspire Technologies, Inc. is not your attorney, and this information is not legal advice. This information does not provide, does not constitute, and should not be construed as, legal advice. The information provided was accurate at the time of publishing, but may not be all encompassing. It is for educational purposes only and is not to be acted or relied upon as legal advice. The information does not constitute legal advice and is not a substitute for competent legal advice from a licensed attorney representing you in your jurisdiction.
©1993-2023 Aspire Technologies, Inc.
407-248-1481 (9am-5pm ET M-F)