New Kid on the Block August 13, 2014
The past two weeks have been a whirlwind/Sharknado for me. I had the opportunity to attend two back-to-back tradeshows at opposite ends of the country, the first being ASCII Providence and the second being CompTIA ChannelCon in Phoenix, AZ. Note that these are the very first tradeshows/conferences I've ever attended in "the Channel."
As a newbie employee to QuoteWerks and new to the Channel, I wasn't sure what to expect. But I can tell you what I didn't expect: for everyone to be as friendly and welcoming as they were. Though the IT industry is big, it felt very homey and small at the tradeshows. In most industries, it takes a few meetings to really feel like you know the people, but in the Channel, you're an old friend being welcomed back with open arms. It was great. I felt like I'd entered an Olive Garden: "When you're here you're family." Perhaps it feels like family because I'll see some of the Channel vendors more than my own real family.
My initial introduction to the Channel was ASCII Providence. Nothing says "trial by fire" more than having to do an early-morning presentation (7:30am) in front of a group of Channel members. Many joked that they would throw tomatoes at me and wouldn't be surprised if I upchucked. But I only started to get the jitters when everyone told me I should be nervous! I'm starting to think this might have been Channel Hazing. Fortunately, it must have gone well, because we ended up winning the Best Software award at the event! I can't take full credit though, because the software really sells itself.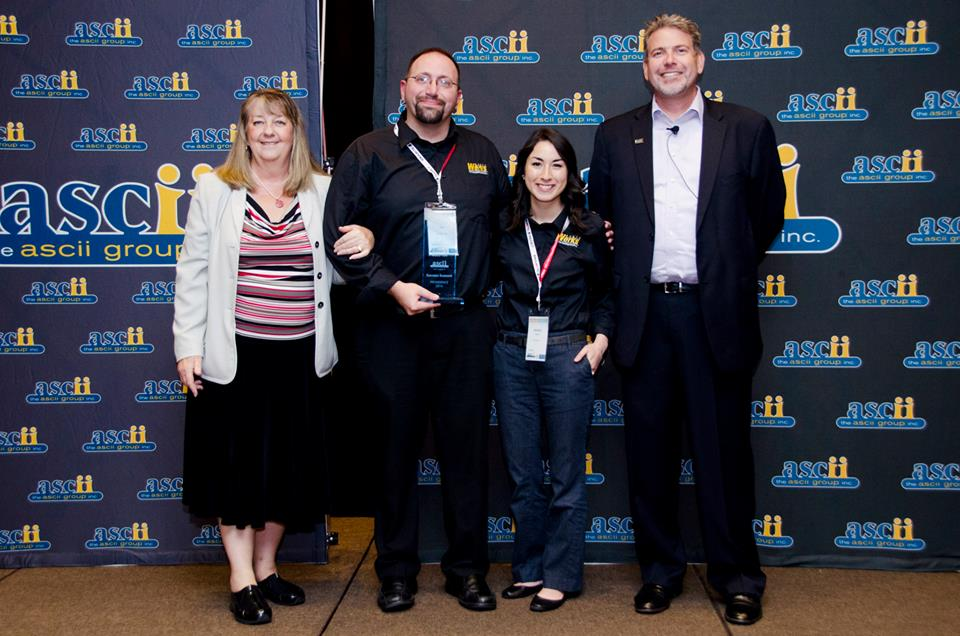 From left: Jean Alexander, Brian Laufer, Jessie Devine, Jerry Koutavas
Photo credit: The ASCII Group
By the time I got to CompTIA ChannelCon in Phoenix, I saw many familiar faces from ASCII Providence. What's great about us traveling pack of nomads is that it doesn't take us long to learn about vendor products or services, and figuring out whether there could be potential partnerships. Nonetheless, it makes it easier for you to refer other products or vice versa. It's just good business.
Maybe I'm lucky and not everyone gets as warm welcoming as I did, so just in case, here are a few tips that might help you get into the mix easier:
1. Don't be too serious.
Relax. People don't want to talk to someone who doesn't know how to take it easy. A lot of times when someone is too serious, it turns people away. People buy personality - not just the product. Good business is having a combination of these.
2. Be social.
Every tradeshow holds some sort of social event after the speakers and classes. By all means, GO! Business is not always conducted in meetings - a lot of times, it's done between or after meetings, when you aren't in "meeting mode." These events are also great times to get to know peers and vendors in the Channel. And more visibility is always good.
3. Be friendly.
This may be obvious, but always be friendly. SMILE! You never know if the person you're speaking to is a decision maker. At the last CompTIA ChannelCon event, there were several youths in attendance. Don't brush them off as if they may not know anything, or this is some pet project they're doing. Some of these "kids" are real movers and shakers. You never know if they could be your next partner or customer, and a little niceness can go a long way in finding that out.
Now that I've survived my first two tradeshows with QuoteWerks, I'm well prepared for the next few events. Make sure to stop by and say hello to us at ASCII Phoenix, ASCII Atlantic City, and IT Nation in Orlando, Fla.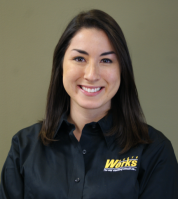 About the Author:
Jessie Devine
Community Coordinator
QuoteWerks
comments powered by

Disqus
The views and opinions expressed on this page are those of the original authors and other contributors. These views and opinions do not necessarily represent those of Aspire Technologies, Inc. QuoteWerks is a registered trademark of Aspire Technologies, Inc. Other trademarks referenced are the property of their respective owners.
©1993-2023 Aspire Technologies, Inc.
407-248-1481 (9am-5pm ET M-F)