7 Things You Need to Know About the
QuoteWerks Integration with ConnectWise Manage
Who wants to see a proposal go out the door with incorrect information? Maybe it has an incorrect customer name that was typed too fast in one system but is correct in the other.
When proposal and contract information flows between two integrated systems, you don't have to worry about those types of mistakes. Those are the kinds of missteps that can cost your company money. This is one of the advantages of integrating two systems. Doing so can help boost productivity and reduce errors by limiting the amount of dual entry.
Integrating systems can also improve speed and lower the cost of maintaining both installations. System integration can help improve customer satisfaction by reducing the time required to enter data on each system and enabling sales reps to respond faster.
The ability to share client and other information with ConnectWise Manage means you'll have all of your clients readily available in QuoteWerks whenever you need them. This can make it easier and faster to fill out proposals. It also ensures that your proposal is properly added to your sales pipeline. Once sold, it can also be part of your project management tool so you can watch the progress unfold.
The QuoteWerks integration with ConnectWise Manage is no exception. Discover the benefits of having an integrated system as well as some things you probably didn't know about the QuoteWerks and ConnectWise integration.
QuoteWerks and ConnectWise Have History
In 2005, ConnectWise saw that QuoteWerks was going to be the de facto quoting standard for writing proposals for IT companies. They wrote the initial integration between ConnectWise and QuoteWerks. The ConnectWise community found that they needed better integration with QuoteWerks. This resulted in the QuoteWerks development team creating our own robust integration solution with ConnectWise that is built-in.
Moving forward in time, Aspire Technologies, the creators of QuoteWerks, created a ConnectWise panel for the sole purpose of learning what the ConnectWise community needs and integrating that into QuoteWerks.
How QuoteWerks Integrates with ConnectWise Manage
The QuoteWerks and ConnectWise integration allows you to integrate many things between the two systems out-of-box, including:
Contacts
Sales opportunities
Products
Recurring items
Categorization for products and services as well as forecasting
Scheduled activities
Service tickets
Sales orders
Agreements
Projects
PDF version of quotes
Purchase orders
CRM information from other systems such as Salesforce.com or Microsoft Dynamics CRM
and more...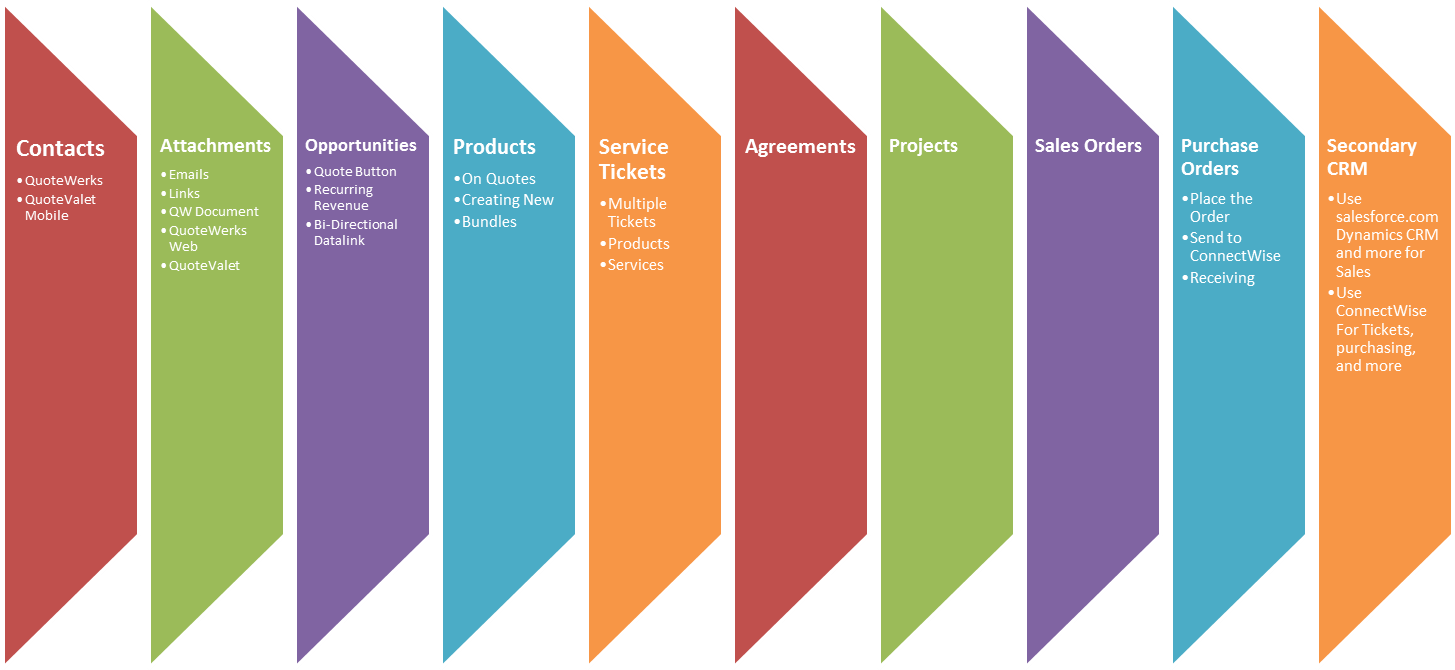 Take Note of These Features
ConnectWise Manage support: The good news is that when you are using a current version of QuoteWerks, it will automatically support the current version of ConnectWise Manage. QuoteWerks works to stay up-to-date so you're always comfortable knowing that the information is fully integrated.
Notifications: You can set up notifications on the QuoteWerks dashboard for a variety of events.
One-time data entry: When you pull the contact into QuoteWerks from ConnectWise it will provide a ConnectWise QuickLink within QuoteWerks to allow you to easily navigate between the two systems.
Customizable mappings: What happens if you need an additional piece of information moved over that isn't automatically included? Datalink is the solution. Datalink allows you to create new mapping and then pull and push additional information between QuoteWerks and ConnectWise. It allows you to map and then transfer fields automatically.
The right way to map parts: The manufacturer part number is the preferred way to maintain map parts between the two systems. You can map things like work roles or product types. You can set up categories and subcategories and map those as well.
Bundles can integrate as well: The QuoteWerks integration allows you to send bundles of items between QuoteWerks and ConnectWise. It will also automate the creation of an actual project in ConnectWise.
Integrate ConnectWise opportunities: When opportunities are created and updated in QuoteWerks, you can also force the software to create an opportunity in ConnectWise and keep it up-to-date. This is a setting within the configuration of QuoteWerks.
Integrations can save time, reduce errors, improve customer satisfaction, and more. Not to mention, they save your team from the mundane task of entering the same information in multiple places. The integration between ConnectWise Manage and QuoteWerks continues to improve as both products are actively being developed. It's just another way that QuoteWerks is making our customers look great.
Check out the QuoteWerks demo to learn more about QuoteWerks and how it integrates with over 55 other solutions.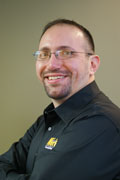 comments powered by

Disqus
The views and opinions expressed on this page are those of the original authors and other contributors. These views and opinions do not necessarily represent those of Aspire Technologies, Inc. QuoteWerks is a registered trademark of Aspire Technologies, Inc. Other trademarks referenced are the property of their respective owners.
©1993-2023 Aspire Technologies, Inc.
407-248-1481 (9am-5pm ET M-F)