November in Orlando for MSPs and the IT Community
Orlando, FL in November 2021 is home to one of the biggest events for MSPs, VARs, and integrators. We are looking forward to seeing you in our hometown!
Here are some great ways to interact with the QuoteWerks Team in person and things to look forward to:
MSP Block Party
November 10
What is the
MSP Community Block Party
? It's the biggest Channel party of the year taking place on Wednesday night, November 10th 2021 from 9:00 p.m. - 2:00 a.m.
After a long year of playing tug-a-war with in-person and virtual events, what better way to celebrate than coming together with your MSP peers in Orlando? Great company, two venues, live band, and drinks all night long.
The MSP Community Block Party is led by MSP Initiative and co-sponsored by QuoteWerks and some of your
favorite Channel vendors
. Don't miss the biggest party of the year!
Admission is free. Just click on the link below to get your tickets!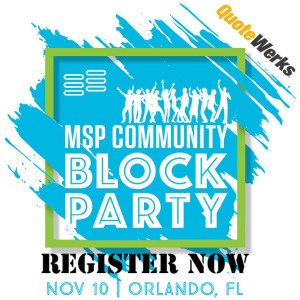 1-on-1 Consultations with QuoteWerks Team
November 10, 11, 12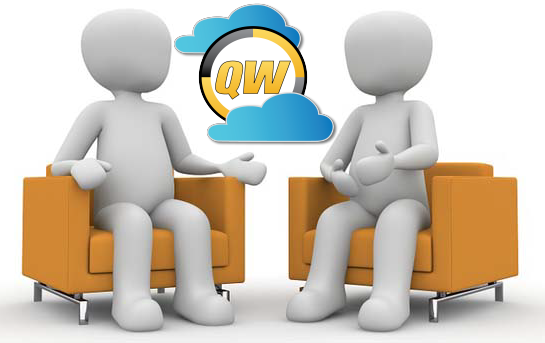 Throughout the week, there will be availability to schedule 1-on-1 meetings at the Hyatt Regency in Orlando.
Meet with members of the QuoteWerks executive or development team.
1-on-1 meetings
are perfect to learn what is new with QuoteWerks, see
QuoteWerks Web
, find out what is on the roadmap, and also learn how to use QuoteWerks more effectively in your business.
Send an email to Community@quotewerks.com to schedule a meeting.
What's Coming
December
This year, November is also the month before our next release. QuoteWerks v5.7 will be released in December 2021. Along with this release, we will be unveiling VendorRFQ which will revolutionize the way we interact with vendors. Look forward to hearing more from us about VendorRFQ and QuoteWerks v5.7 in the coming weeks.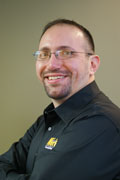 comments powered by

Disqus
The views and opinions expressed on this page are those of the original authors and other contributors. These views and opinions do not necessarily represent those of Aspire Technologies, Inc. QuoteWerks is a registered trademark of Aspire Technologies, Inc. Other trademarks referenced are the property of their respective owners.
Please be advised that Aspire Technologies, Inc. is not your attorney, and this information is not legal advice. This information does not provide, does not constitute, and should not be construed as, legal advice. The information provided was accurate at the time of publishing, but may not be all encompassing. It is for educational purposes only and is not to be acted or relied upon as legal advice. The information does not constitute legal advice and is not a substitute for competent legal advice from a licensed attorney representing you in your jurisdiction.
©1993-2023 Aspire Technologies, Inc.
407-248-1481 (9am-5pm ET M-F)