Proposal Software
Quickly and easily create interactive PDF proposals from templates, seamlessly integrating with your CRM.
If you are looking for the best proposal software for your business, we know you're overwhelmed with options. Searching for proposal software delivers hundreds of results, with very few apparent differences between all of them. You will see the difference below with QuoteWerks.
Manual proposal processes can take hours, and often different sales reps use different proposal templates, resulting in inconsistent information and branding across each of your company's proposals.
This is especially true if you are still manually creating proposals using Excel spreadsheets and Microsoft Word documents.
So, how can you create a professional proposal quickly with brand consistency? Proposal software can help you achieve both greater efficiency and allow you to deliver professional and branded proposals.
QuoteWerks has developed and refined our software over the past 29 years, with over 35,000 active users globally, across a wide range of industries. Companies have chosen our sales proposal software over other solutions because our software is robust, includes world class support, and has flexible pricing. Our solution enables you to sell more, close deals faster, and increase your profits.
Watch the QuoteWerks 4-minute Tour!
35,000 active+
Users Worldwide
What Is the Difference Between a Quote and a Proposal?
While quotes and proposals have similar elements, they are actually very different.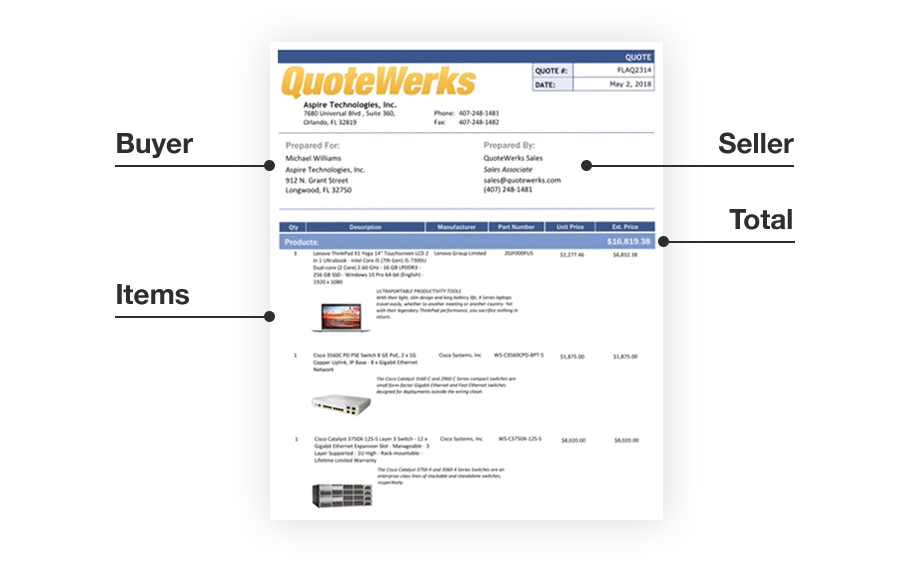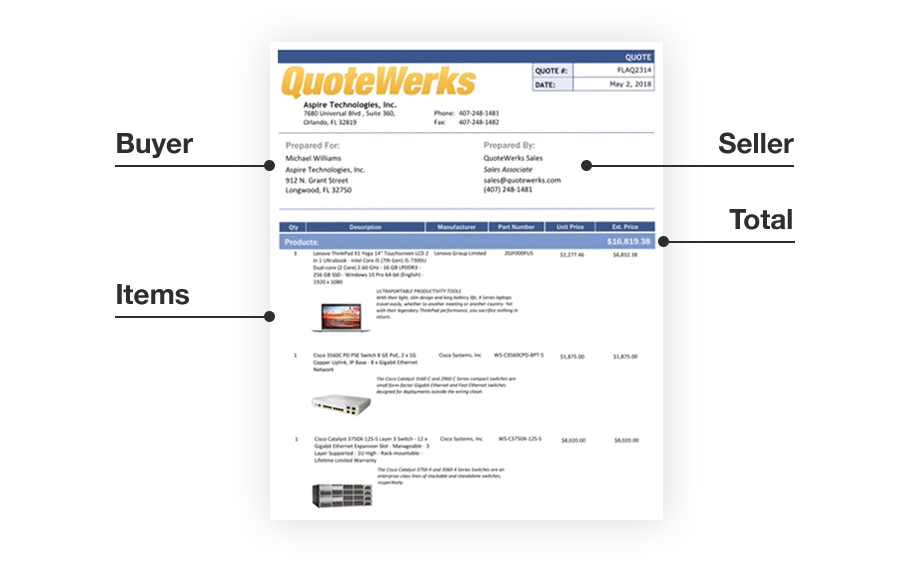 Quote
A quote is shorter and more to the point. A quote lists the seller, the prospective buyer and the items they are buying with a total. Sometimes the quote will include some specification sheet or literature about the products or services being quoted. Terms and conditions are sometimes also included. Often, companies sending out quotes are sending out lots of them that are very similar.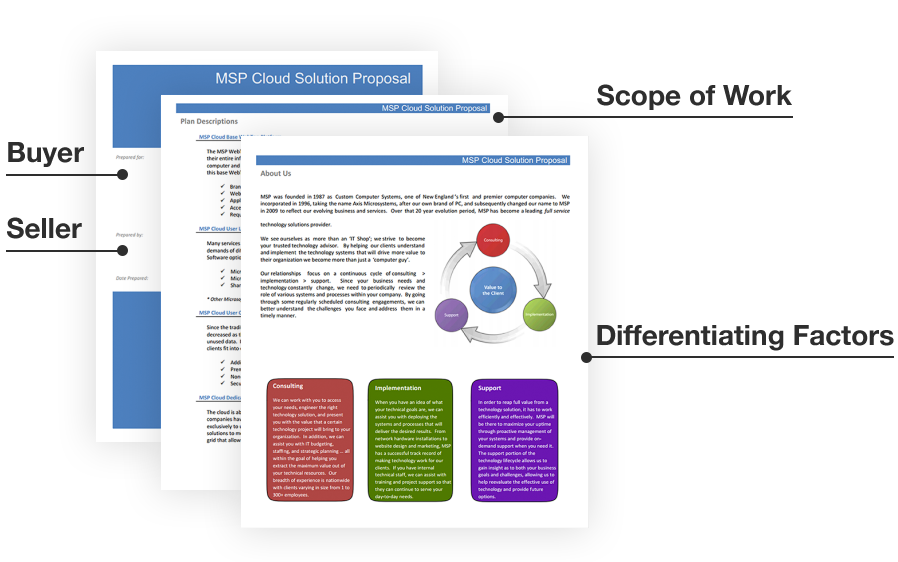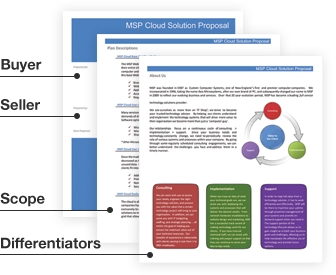 Proposal
Proposals in contrast are longer and more detailed. They will include information introducing the seller, differentiating factors of the seller vs the competition, generalized benefits to the solution being proposed, a scope of work, and a service agreement. It will usually just list a single price total for the entire solution, although sometimes it will also include line item detail similar to what you would see in a quote.
Sales Proposal Software Can Save Time and Increase Deals
As you search for the best proposal software, what are some essentials that will help your company succeed? Investing in the right proposal tool ultimately saves your sales team time and increases your company's revenue with benefits such as:

Branded and Professional Proposals
Brand proposals using professional layouts, include important documents such as statement of work, contracts, and terms and conditions.

Ability to Receive Electronic Signatures and Payments
Submit electronic versions of your proposals and provide your clients with an efficient way to electronically sign, accept, and make payments on your proposals.
Standardized Pricing and Workflows
Create item lists, templates, and bundles to standardize your company's product and service offerings, in a simple and efficient workflow for proposal creation.
Reduced Errors
Peer and management approval workflows ensure that every proposal created using QuoteWerks proposal software is accurate and consistent.

Centralized Proposal Storage
Store and manage all of your proposals in a central, searchable location so you can easily find existing documents, using filters such as date, company, sales rep, and more.

Sales Pipeline Transparency
A simple but powerful design offers sales team members an easy and efficient way to create, deliver, and track customer interactions all the way to closing the deal.

Integrated for Efficiency
With our industry leading CRM and accounting integrations, you can transfer essential sales data between QuoteWerks and any other solutions you're currently using.

Receive Real-Time Notifications
Receive notifications when your clients view, comment, accept, make payments, or engage with your proposals in any way.
How to Align Every Member of Your Team Using QuoteWerks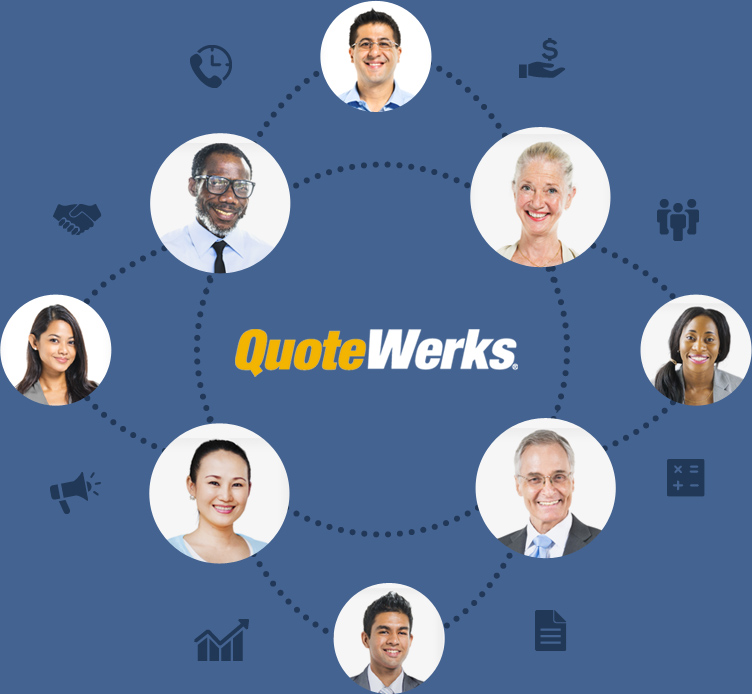 SALES MANAGERS
Our proposal software helps sales managers to easily see deals in the pipeline, how proposals are performing, and in turn, make any necessary updates to your process.
SALES TEAMS
Sales representatives can keep track of all of their proposals in one place without the need to go back and forth between systems. Our proposal software will integrate with your CRM so you have greater visibility of your customers.
Marketing Managers
Sales and marketing alignment can be challenging. With our proposal solution, marketing managers can ensure consistency with any shared documents, including proposal templates.
Business Operations
It's essential that the proposal and sales process include anyone in the business who needs access to proposals, from sales, to marketing, to accounting. Our software helps everyone on your team to stay in the loop.
QuoteWerks is used by mom-and-pop shops and Fortune 500 companies alike.
QuoteWerks Features

QuoteValet
With QuoteValet, you can create an interactive experience for your customer without the need to create multiple proposals for the same job. Add options to proposals so that your customer can select their preference and the proposal will automatically be recalculated. You'll also be notified when changes are made, including when they view the proposal for the first time, select options, and more.

QuoteWerks Dashboards
Our dashboards enable sales teams and sales managers to gain insights into their sales and pipeline. QuoteWerks Dashboards provide a high-level overview of the total dollar amount and number of proposals from the current month, previous month, and even two months ago. Users can view key metrics for their sales opportunities as well as lost or won proposals in real-time on the dashboard.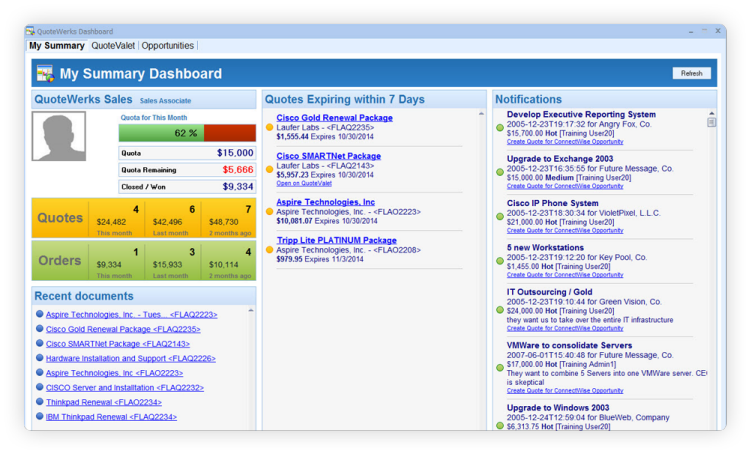 What Our Clients Say About Our Proposal Software
Seamlessly Integrate All of Your Systems
Our integrations allow you to work seamlessly within multiple systems without adding to your workload. Implement QuoteWerks into your current workflow and reduce your quoting and proposal time.
CRM & PSA
Accounting
Vendors & Distributors
Shipping Integrations