What is a CRM?
CRM, Customer Relationship Management, is a tool that brings your sales, marketing, and customer support together. It streamlines your process, strategy, and people in one platform. A CRM organizes customer information to create a complete record of clients and companies, so you can create a better rapport with clientele. A CRM system is used to manage day-to-day customer interactions, keeping everything organized and in one place.
CRMs help with…
Contact management
Finding new customers
Sales Funnels
Agent productivity
Manage customer relationships across the entire customer lifecycle
Customer service interactions
Organization
Communication
And more!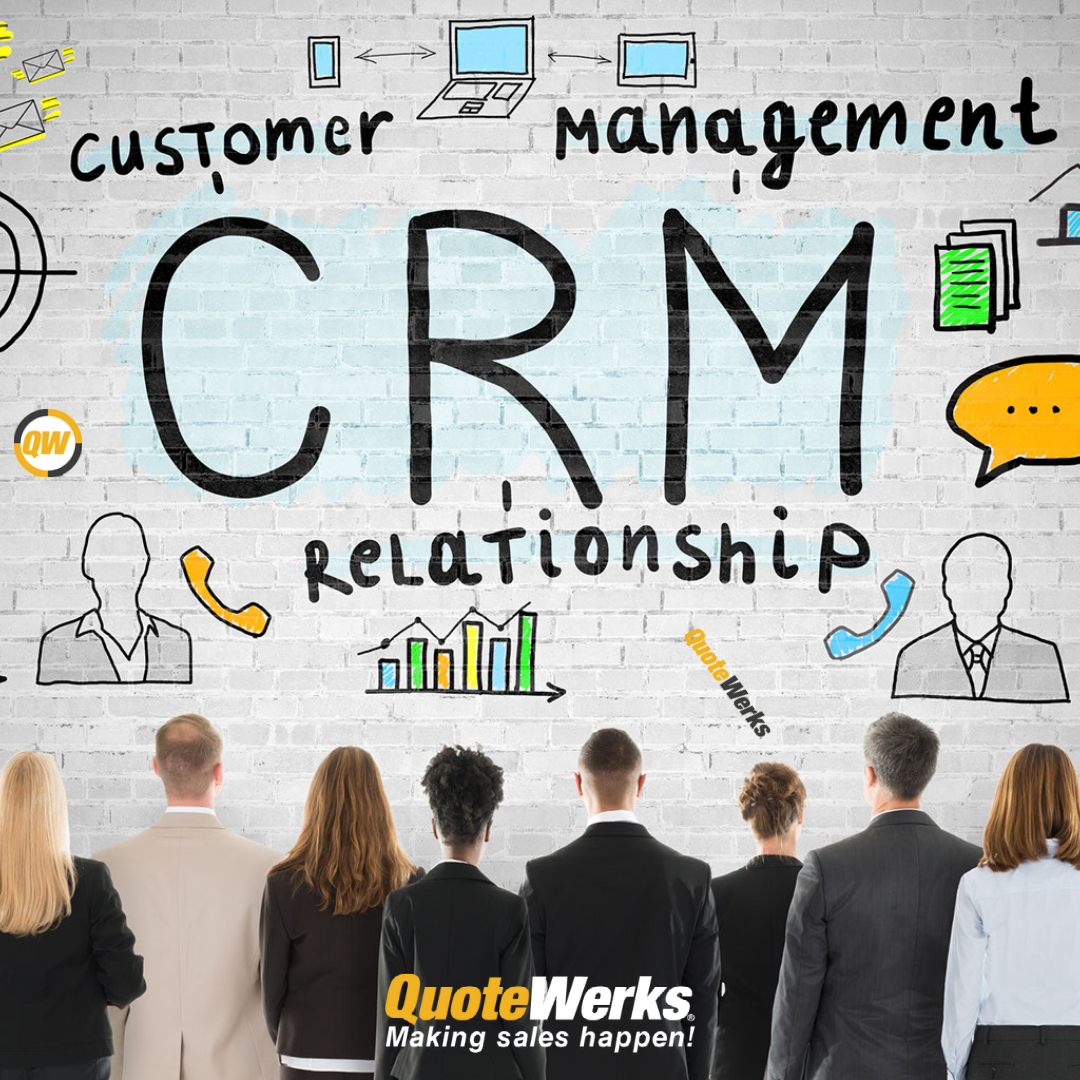 CRMs are a better way to manage the external interactions and are usually used for sales, customer service, business development, recruiting, marketing, or any other line of business.
Why does a Company Need a CRM?
Are you unable to keep up with lead flow? Is your data hard to locate? You don't know how your sales team is preforming? If you answered yes to any of these questions, it may be time to use a CRM. A company may use a CRM for many different reasons. A CRM can also be used for many different types of companies. CRMs help companies that have a long sales process or even companies that have a simple one, making life easier.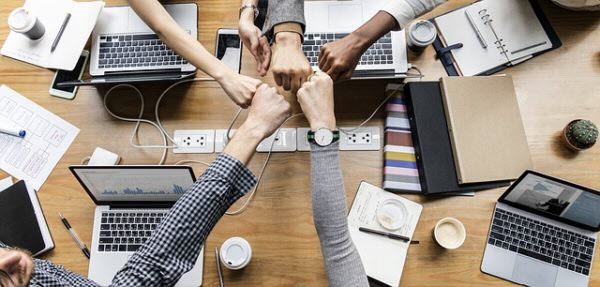 A good way to determine if a CRM is a good fit for your company is looking at what a CRM may be able to do to benefit your company:
Stores all of your customer's information such as name, email, address, phone number, and more. This could also include notes about the client and pain points for the company depending on the CRM.
Easy to track previous interactions with other employees from the company. CRMs usually will track pervious phone calls or emails between customer and employee which helps with communication between staff and customers.
A CRM can help you track the productivity of your employees, which can also help you establish a workflow or sales process.
Having customer information and interaction history easily accessible can help provide better and faster customer service and support.
Many CRM systems can integrate with other software, such as proposal software, calling software, and more!
This is just a short list of the many things a CRM may be able to do to benefit your company.
What Different Types of CRMs are there?
Now that we have established you need a CRM, let's take a look at the different types of CRMs that are available. Not every CRM will be the same and there may be a CRM that fits better for your company's needs.
On-premise CRM
An on-premise CRM means the hosting of the CRM software is done on the company's own server. This typically involves the business having to set up the complete back-end infrastructure and take care of maintenance, upgrades, as well as the licensing cost for the CRM.
Cloud-based CRM
A cloud-based CRM is CRM software where the application and data are hosted on the CRM providers' own servers and is accessed via an internet browser. Because it is accessible easily through any browser, a cloud-based CRM is often the most preferred option for businesses. Accessing a CRM through a web browser, allows for quicker operation and usage. Other added benefits…
Usually no maintenance or upkeep costs
You don't need any local servers to run the CRM system on
Greater and quicker accessibility to your data
Flexibility to scale up or down effortlessly
Industry-specific CRM software
An industry specific CRM is a CRM that is tailored to a specific industry. They're also known as vertical CRM software because they are specifically built to that unique trade. Here are some examples of what types of company's Industry-specific CRM software are made for…
Real-estate
Manufacturing
IT / MSP
Financial services
Media agencies
And more!
All-in-one CRM solutions
All-in-one CRM solutions are the most popular cloud-based CRM. They are the most popular because they are extremely customizable, powerful and integrate with a variety of business software. They have a large variety of integrations, however these integrations work together to help organize, gain potential customers and keep existing customers. All-in-one CRM solutions are great for companies that don't have industry-specific CRM available to them or a company that wants the ability to really customize their CRM without a lot of limitations.
What CRMs Does QuoteWerks Integrate With?
QuoteWerks is already a powerful tool on its own; however QuoteWerks seamlessly integrates with the most powerful CRMs. Some CRMS QuoteWerks integrates with includes; ACT!, ConnectWise Manage, GoldMine, HubSpot CRM, Salesforce.com, SugarCRM and Zoho CRM just to name a few. This enables you to easily and accurately transfer your important sales data directly into these software solutions for forecasting and reporting. View the full integration list here.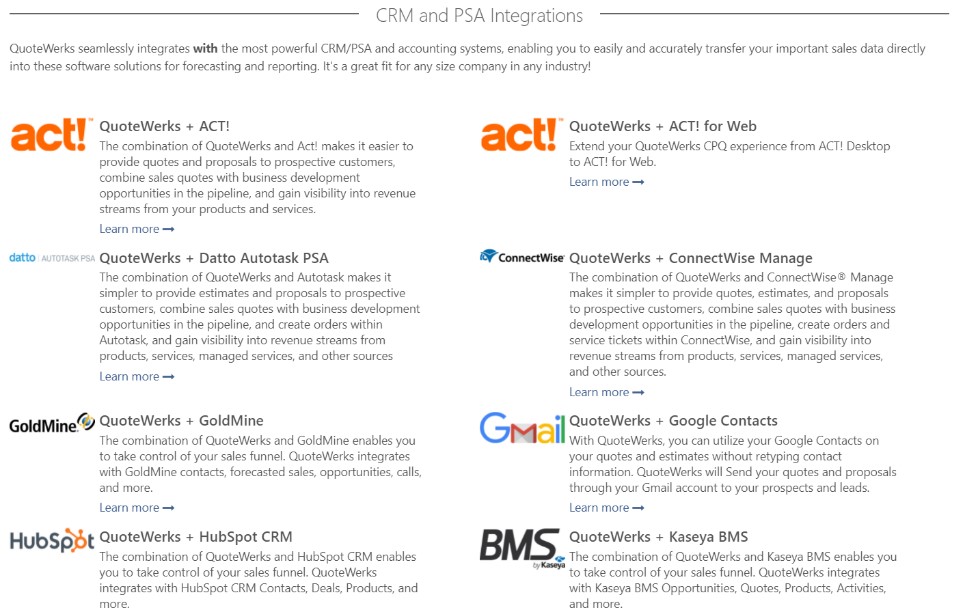 Here are some of the most common integrations available between QuoteWerks and CRMs:
Quotewerks leverages your existing CRM contacts
QuoteWerks can create and update activities, deals, opportunities and or quotes for specific CRMs
QuoteWerks can create service tickets for some CRMs
QuoteWerks can send line item information to some CRMs
QuoteWerks can attach PDFs to certain CRMs
And more!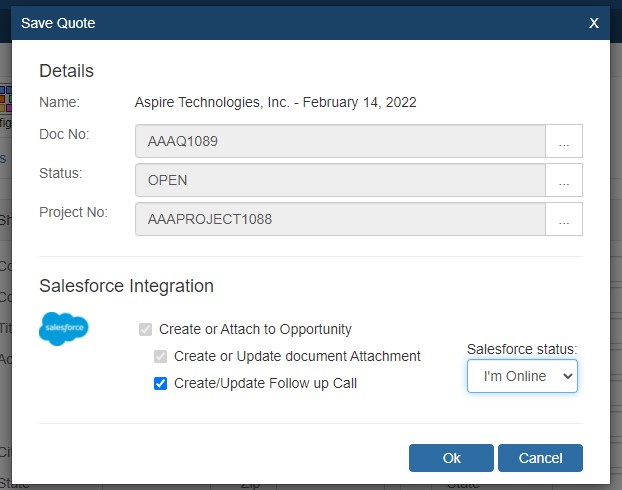 Each integration is going to be different depending on the CRM. A full breakdown of these integrations can be found on our website under Integrations.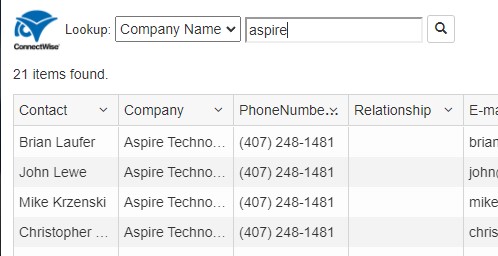 CRMs - A Conclusion
A CRM helps streamline sales, support, customer service, accounting, and the main goal is to help companies grow. The automation of a CRM helps save time, reduces human error, and expedites the sales process for companies. Now that you understand the importance of a CRM, it's time to choose the right CRM for your team to start growing and maintaining current sales processes.

comments powered by

Disqus
The views and opinions expressed on this page are those of the original authors and other contributors. These views and opinions do not necessarily represent those of Aspire Technologies, Inc. QuoteWerks is a registered trademark of Aspire Technologies, Inc. Other trademarks referenced are the property of their respective owners.
Please be advised that Aspire Technologies, Inc. is not your attorney, and this information is not legal advice. This information does not provide, does not constitute, and should not be construed as, legal advice. The information provided was accurate at the time of publishing, but may not be all encompassing. It is for educational purposes only and is not to be acted or relied upon as legal advice. The information does not constitute legal advice and is not a substitute for competent legal advice from a licensed attorney representing you in your jurisdiction.
©1993-2023 Aspire Technologies, Inc.
407-248-1481 (9am-5pm ET M-F)