Quote to Cash
Learn more about what quote to cash is, what the quote to cash process should look like, and how to streamline the process with quote to cash software.
While the meaning of quote to cash (Q2C or QTC) might seem indefinable for many businesses, this term is simply referring to the entirety of your sales process.
For many companies, this might bring to mind the multitude of tools you use throughout the sales process, including Word or Excel for quotes, a CRM for customer information, and yet another tool used for accounting.
The challenge many face is that they're using so many tools for quote to cash, which can result in errors, a longer sales cycle, and wasted time. Before we talk about the solution, here are a few things you should know about quote to cash.
Watch the QuoteWerks 4-minute Tour!
What is Quote to Cash?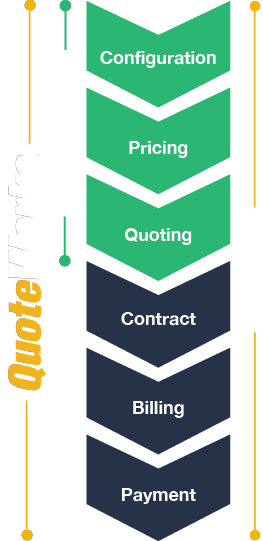 While many businesses refer to quote to cash (QTC) and configure price quote (CPQ) interchangeably, the truth is that the two terms represent different ideas.
QTC refers to the whole sales process, while CPQ refers to only one part of the larger QTC process. The quote to cash process looks like something above.
Once the CPQ stage of quote to cash is complete, the sales person typically moves on to research anything else the customer needs, negotiation with the prospect, then finalizes the quote or proposal. When the document has been accepted by the customer they can be invoiced and your company receives payment.
While simple in theory, this process requires a lot of work if you don't use a system that can help your sales team with each step of the quote to cash process.
CPQ software essentially makes the whole CPQ process easier. For companies selling a wide range of products or services, a CPQ tool can save you time by offering a central location for everything you need during the CPQ process.
Ultimately, when CPQ goes smoothly, your bottom line will benefit. With a streamlined selling process, you're able to quickly close more deals with prospects and current customers.
What is the Quote to Cash Process?
While every company's quote to cash process will look a bit different, the majority will reflect something similar to the steps below.
1
Configure
Find the best selection of goods or services to recommend to a customer.

2
Price
Determine the correct pricing and any incentives. This could include discounts, add-ons, price changes, and bundles.

3
Quoting
Typically not considered the final offer, the quote provided to a customer helps the sales team to continue the conversation.

4
Creating a Proposal
After an initial quote is sent and you receive any feedback from the customer, you can create the official proposal.

5
Contract Creation, Negotiation, and Execution
Once a customer accepts the proposal, you can move to the next step and create a contract, negotiate (if needed), and execute.

6
Order Fulfillment
The order has been received, processed, and delivered to the customer.

7
Invoicing
Sent once final calculations are done, the invoice is sent along with a billing schedule.

8
Renewals
A continuation of the quote to cash process, sales teams can look for opportunities to create recurring revenue and work toward customer retention.
Each of the steps above are an important part of the quote to cash process, but if any are delayed or contain an error, this could throw a wrench into the process. To prevent issues at any point in the process, sales should use a solution like quote to cash software.
Streamline the Process with Quote to Cash Software
Is your current quote to cash process complex, manual, and poorly defined? Are your customers unable to electronically accept contracts and make payments? If you answered yes to either of these questions, you could be exposing your business to errors and wasted selling time – but the good news is that quote to cash software is the perfect solution. A quote to cash solution can prevent inefficiencies and improves sales in the following ways.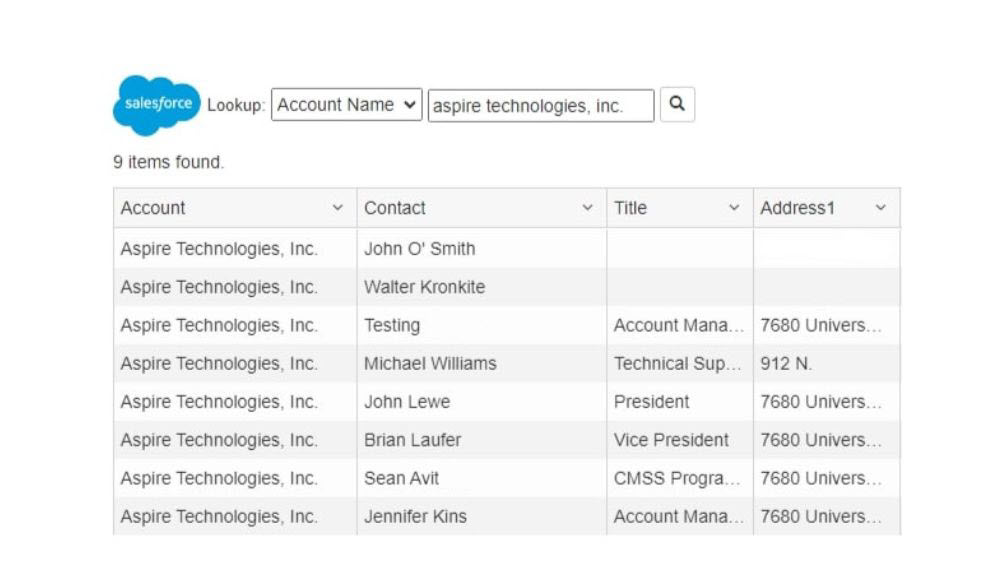 Improve communication with email and CRM
Quote to cash software allows you to integrate with your CRM, so you can easily track the most important areas such as daily communications, setting follow-up reminders, sending and replying to emails, sending out marketing emails, and tracking marketing campaigns.
Customize with a quoting system
A quoting system provides you with the ability to customize so you can create quotes for a customer's specific needs. In addition, it should integrate with inventory management to ensure everyone on your sales team is seeing the same information and to avoid any potential errors.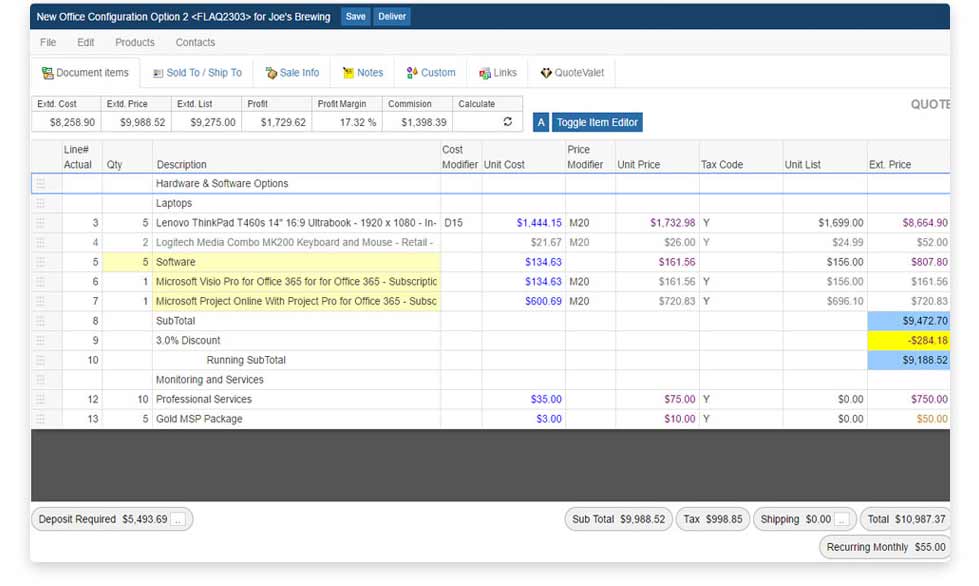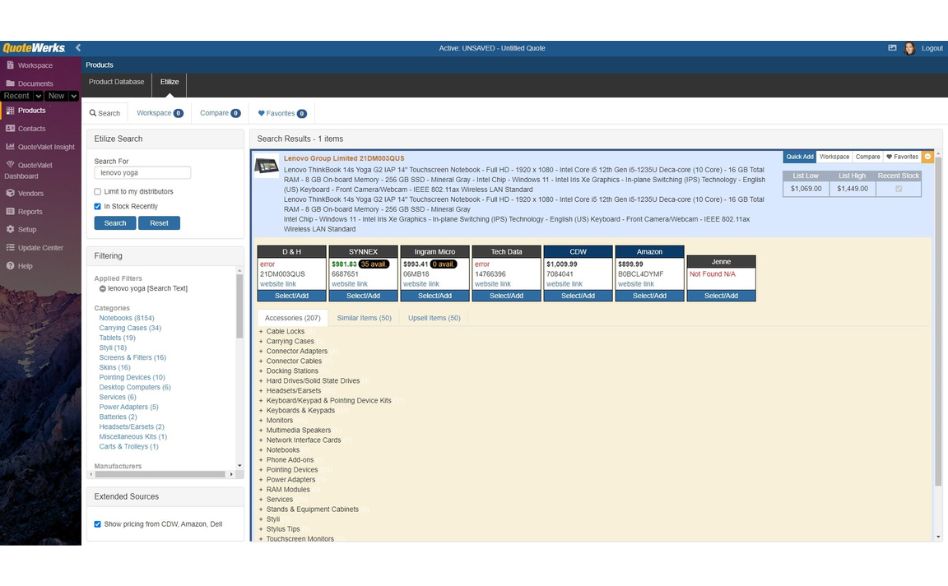 Improve your speed
Quote to cash software solves one major issue many companies have, which is offering accurate quotes quickly. Through the right solution, you'll be able to find all the information you need in one place, including products, services, prices, descriptions, and more.
Streamline accounting, CRM, and quoting
Finally, quote to cash software eliminates problems caused by sales teams utilizing several systems to manage accounting, customers, and quotes. Through integration you can streamline the entire quote to cash process with the right solution.
QuoteWerks streamlines the sales process so you can sell more – both quickly and easily so your team can proudly deliver the best customer experience.
Here are a few ways QuoteWerks quote to cash software helps companies:
QuoteWerks is used by mom-and-pop shops and Fortune 500 companies alike.
What Our Clients Say About Our Quote System
Additional Quote To Cash Resources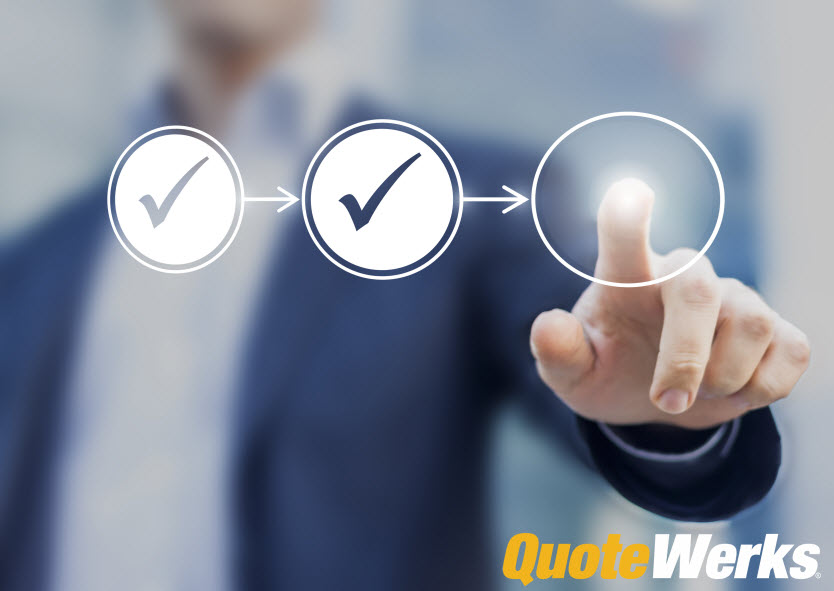 How to Streamline Your Quote to Cash Cycle
Businesses need to close deals more quickly to stay competitive...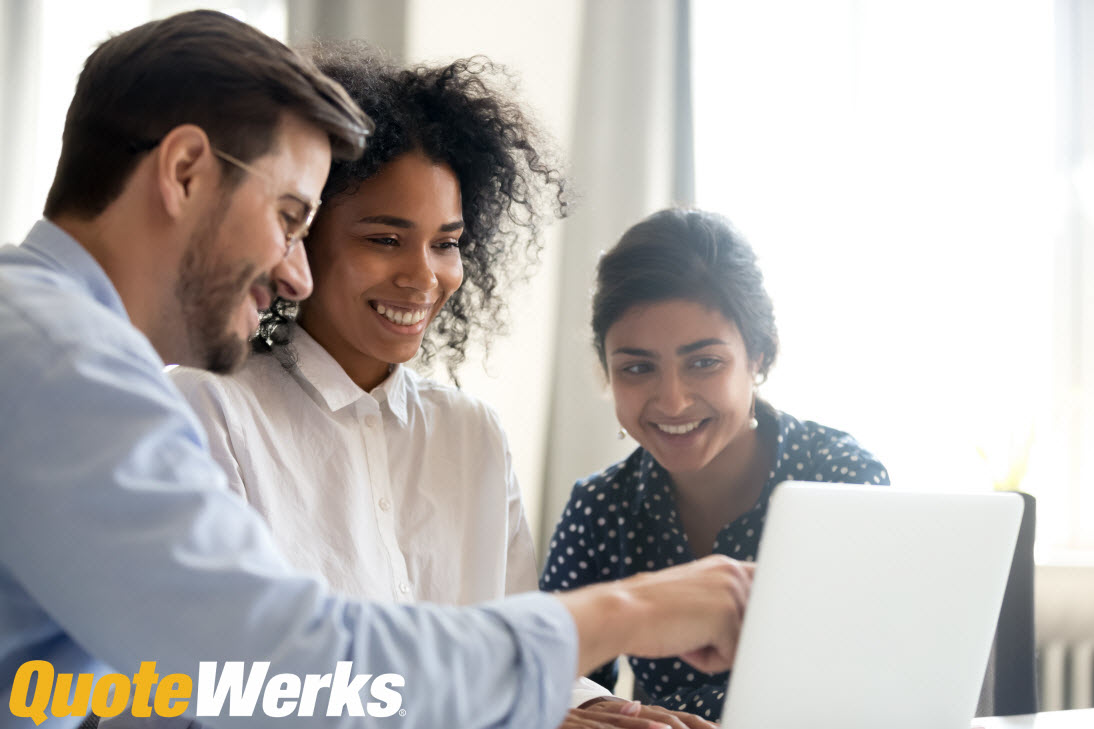 Everything You Should Know About Q2C
Is your quote to cash process preventing your company from growing?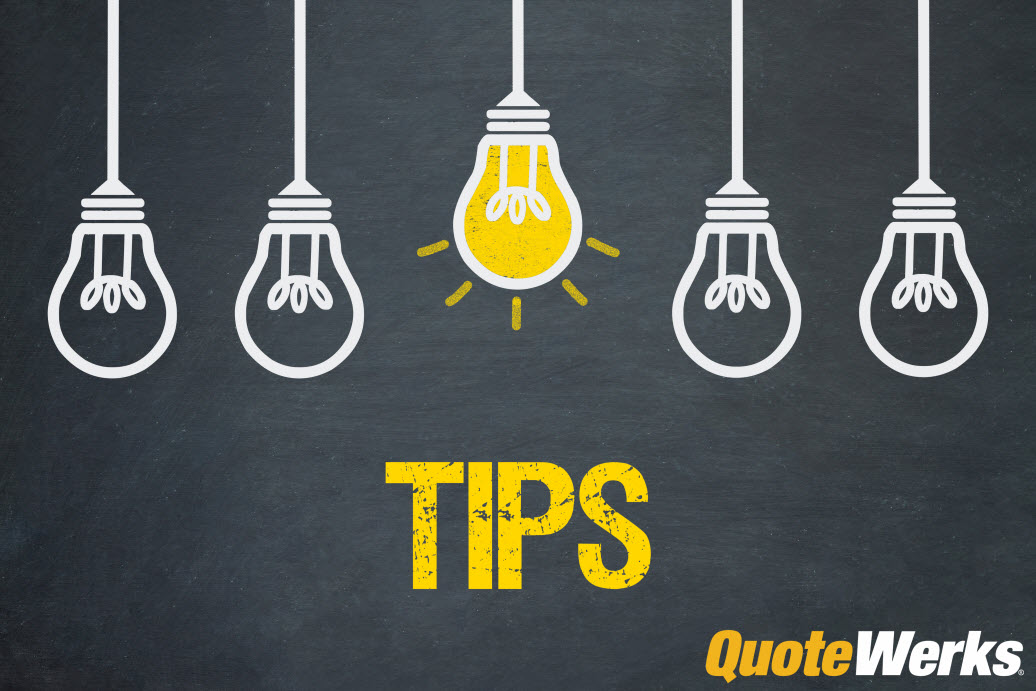 Tips for Quote to Cash Management
Here are 11 tips that will take your quote to cash solution to new levels.
Seamlessly Integrate All of Your Systems
Our integrations allow you to work seamlessly within multiple systems without adding to your workload. Implement QuoteWerks into your current workflow and reduce your quoting and proposal time. Learn more about each of our integrations.
CRM & PSA
Accounting
Vendors & Distributors
Shipping Integrations