VendorRFQ™
VendorRFQ enables customers to communicate with their vendors, discussing and negotiating pricing and details for goods and services, collecting and organizing this information from one or all of their vendors. Your purchasing team will be able to compare and find the lowest prices to purchase available specific goods and services, while knowing at any given time which vendors have received the request for quote, and which have responded. All purchasing and procurement information is available in a centralized location for your team.
Do you struggle with manually requesting pricing from multiple vendors?

Do you find it difficult to keep track of which vendors have responded to your pricing requests?

Do you manually negotiate pricing with your vendors?

Do you need a centralized place to organize and compare all the prices you've received?

If you answered yes to any of the above questions, VendorRFQ is the solution you and your team are looking for.


Gain an advantage over your competitors!
The QuoteWerks development team has been hard at work developing a new solution that no other quoting or proposal software has!
As a QuoteWerks customer your company will be able to competitively benefit from this innovation!
Here is where the new VendorRFQ solution comes into play...
VendorRFQ enables customers to communicate with their vendors, discussing and negotiating pricing and details for goods and services, collecting and organizing this information from one or all of their vendors.

See how easy it is to submit RFQs to multiple vendors and then select and award winning bids.
There are tens of thousands of vendors that our customers purchase from. Few of these vendors offer automated real-time pricing. Without these automations it becomes extremely time consuming and difficult to obtain pricing from multiple vendors by phone and by email, and to organize the pricing received to then determine which vendor to purchase each item from.

With one click you can easily request pricing from a single vendor, or as many vendors as you want! If you forgot to invite a vendor to bid, no problem, just a couple clicks and you can invite them too!
Access Vendor price bids from within QuoteWerks!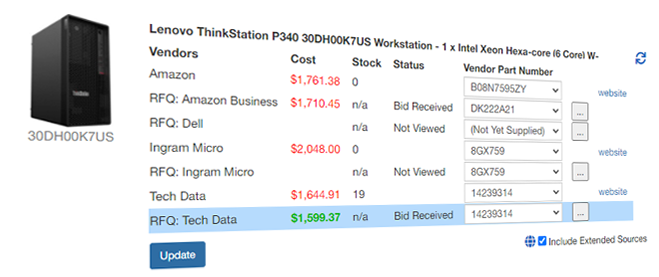 You probably already get your account based real-time pricing of products from TD SYNNEX (an IT Industry distributor), but that won't stop you from sending a VendorRFQ to your TD SYNNEX sales rep to get special pricing. In QuoteWerks you can do both and compare them easily. These automated real-time prices will be listed right next to prices you receive from the Vendor's RFQs that you've requested.
While we've used TD SYNNEX as an example, you will be able to send Requests for Quote's to any vendor in any industry.
With VendorRFQ, you are just a button click away communicating with your vendor sales rep about their price bid.
Stay on top of your Vendor Pricing Requests (Sales Rep View)
From your RFQ, for each line item, you can see all the vendors that you have requested a price from. You can see the current status of each vendor RFQ price request. You can see if they have submitted a bid, and you can also see if they have even viewed the bid request yet. Your vendor can submit questions to you about the item and pricing, and you can answer right here from within your RFQ.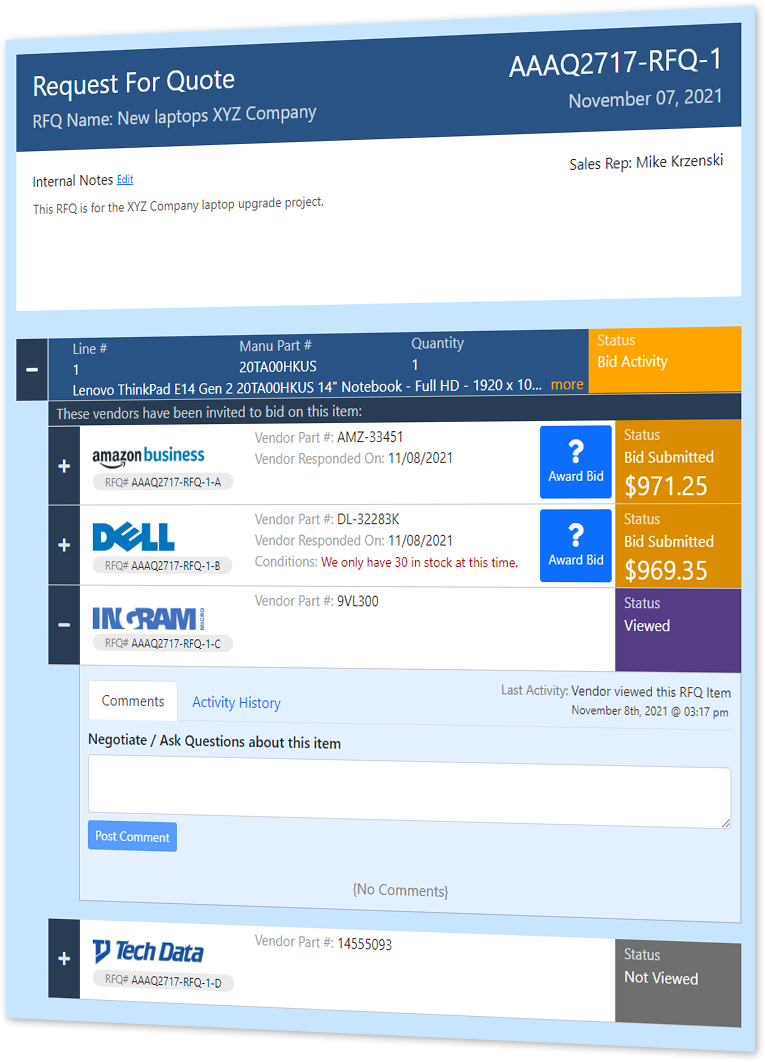 What does the RFQ look like from the Vendor's side? (Vendor View)
Your vendor will receive an invitation by email. This invitation will contain all of your contact information so that the vendor knows who you are and that this is an email from a known entity. Once they click on the link, the Vendor's sales rep will see the interface below that will enable them to easily supply you with a price and include price conditions. This is also where your vendor can ask you clarifying questions, or can negotiate pricing with you.
Easy for vendors to use! No Logins, no hassles, they just type in a price and click submit!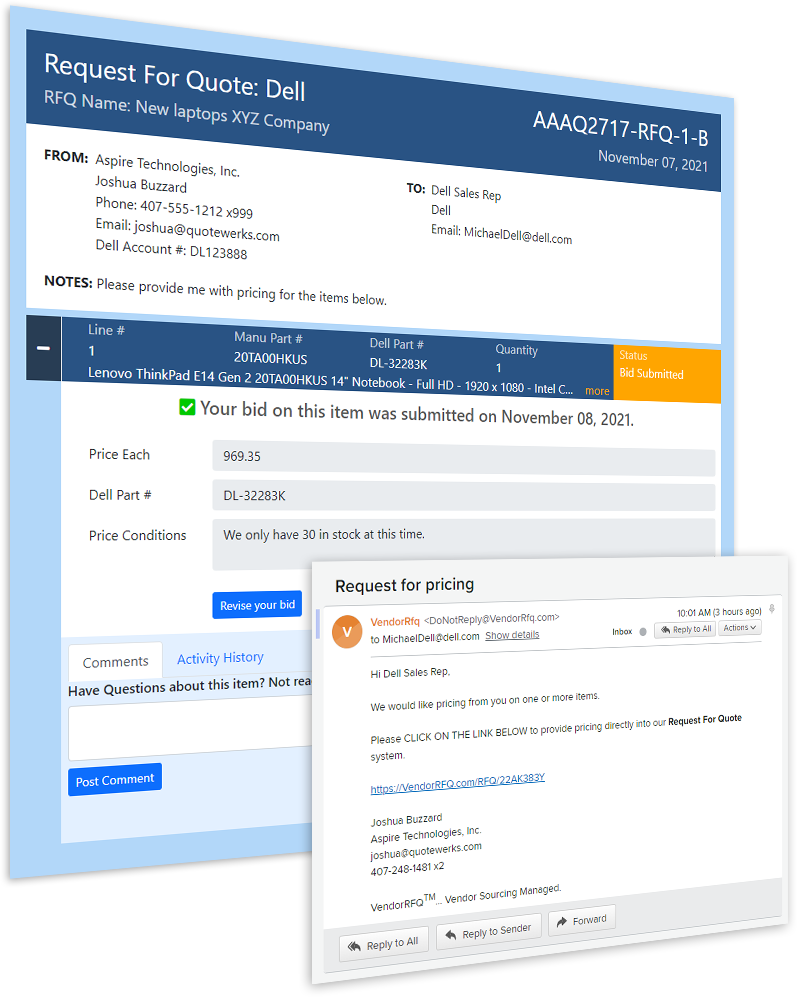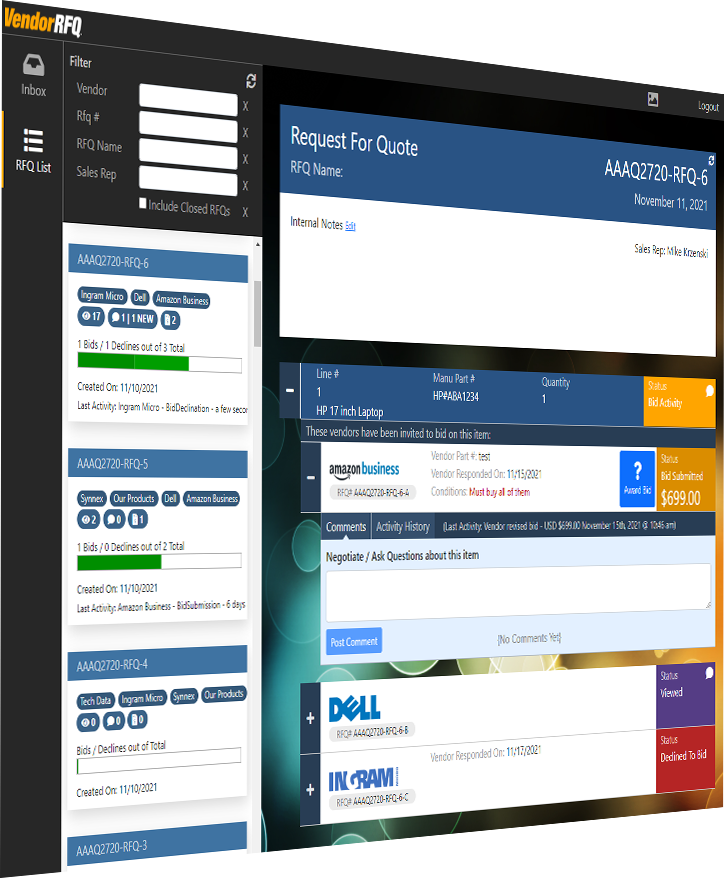 VendorRFQ Requirements
Configuration 1
QuoteWerks Desktop Corporate Edition
QuoteWerks Web
A VendorRFQ subscription.
OR
Configuration 2
QuoteWerks Desktop Corporate Edition
Rehosted to Aspire DB hosting
A VendorRFQ subscription.
OR
Configuration 3
QuoteWerks Desktop Corporate Edition
Rehosted to 3rd party or on premise SQL *
A VendorRFQ subscription.
* The SQL Database will need to be accessible by VendorRFQ
VendorRFQ Pricing
VendorRFQ is subscription based and costs $20 per month per user. The license count does not have to match your QuoteWerks license count.
The VendorRFQ licensing and pricing is based on the "reserved concurrency" model. Whenever a user uses VendorRFQ, a license is reserved for that user and is not released until the user exits QuoteWerks.
We encourage you to do a search and look for vendor RFQ software. You won't find many and when you do, the pricing is around $300 per user per month (or not listed at all). We are pretty excited to be offering VendorRFQ at this price point and we know it will save you way more than $20 a month of your time. What's your time worth?
VendorRFQ TM... Vendor Sourcing Managed.
QuoteWerks Raises the Bar of Sales Proposals and Quotes with VendorRFQ
VendorRFQ optimizes communication between MSPs, clients and vendors. From negotiating prices and sharing a multitude of product and services details to collecting and organizing that information for each account, this new QuoteWerks option brings order to the chaos. MSPs can also easily compare and identify the lowest prices and best-fit offerings. Best of all, procurement teams can monitor which vendors receive and respond to quotes in "real-time" from the central management console.
Read More
...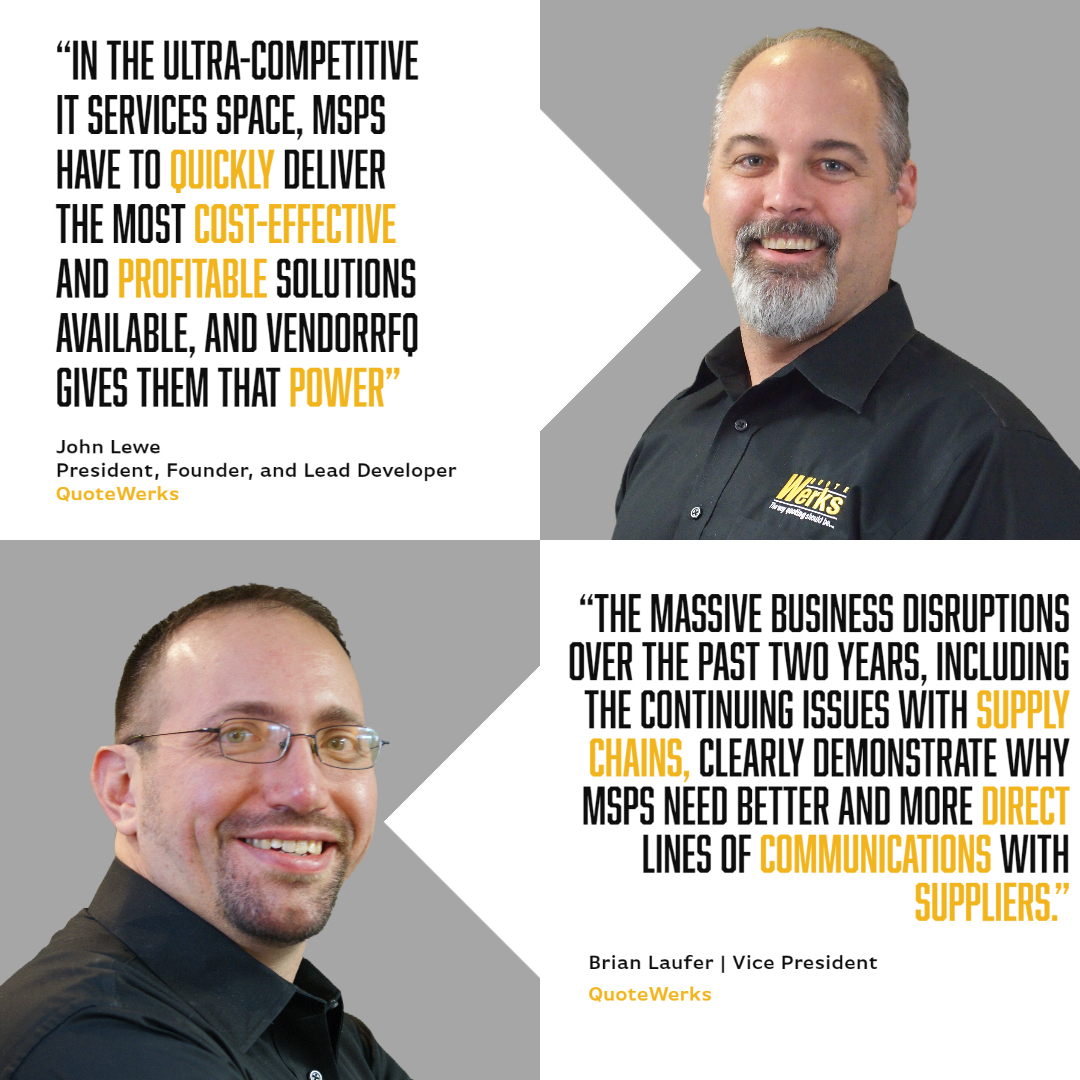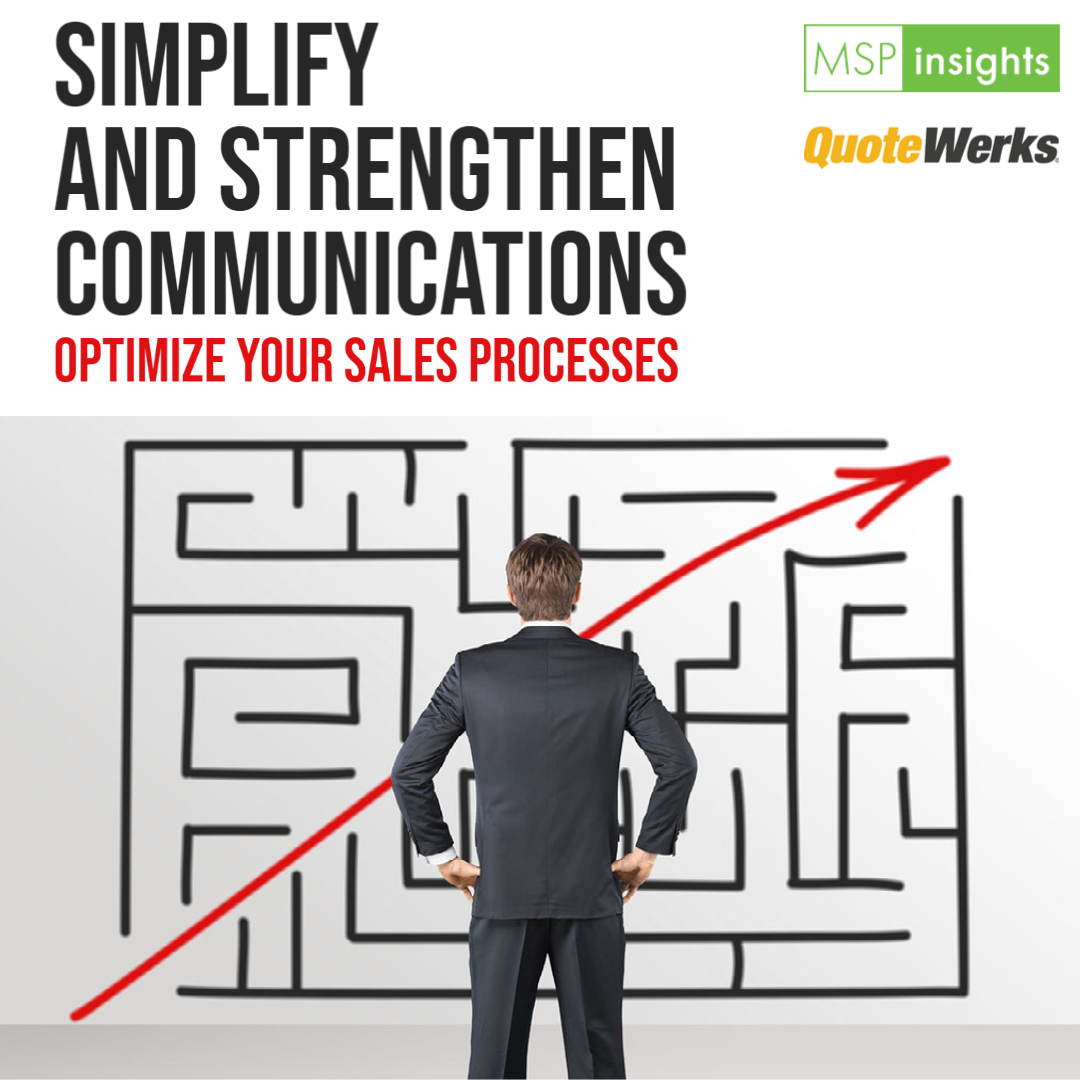 Simplify And Strengthen Communications To Optimize Your Sales Processes
Sales are the engine that fuels business success. That philosophy helps focus entrepreneurs and managers on the processes that most impact their profit/loss statements and critical activities for scaling their operations. Steady and strong growth is an imperative strategic objective, especially in the IT services industry, where scale drives efficiency, so a continual commitment to the sales process is mission critical.
Read More
...
RFI, RFQ, or RFP?
Request for Information (RFI) is used when you think you know what you want but need more information from your vendor or supplier. If the RFI is sufficient, it will typically be followed by an RFQ or RFP.
Request for Proposal (RFP) is used when you know you have a problem but do not know how you want to solve it.
Request for Quote (RFQ) is commonly used when you know what you want but need information from your vendor or supplier regarding cost, delivery date, or other item specific information.
Request for Price (RFP as well) is a request for a price of an item like for hardware, software or services to solve a specific problem. It is created by the customer and delivered to the vendor. Request for Price is similar to Request for Quote, but typically only involves a single product or service where as RFQ involves more products and services.
VendorRFQ focuses on the more efficient result oriented outcomes of the RFQ process and is also a valuable tool for the RFI process.
For more information, please contact our sales team at 407-248-1481 or email sales@quotewerks.com
©1993-2023 Aspire Technologies, Inc.
407-248-1481 (9am-5pm ET M-F)