Professional Quotes & Proposals
QuoteWerks enables you to create beautiful, professional looking quotes and stunning proposals that help you stand out from the competition.
With QuoteWerks, evolve your sales process so you can sell more, faster, easier, and deliver a customer experience your brand can be proud of and your team will stand behind.
Consistent Branded, Quotes and Beautiful, Professional Proposals
If your customer asks five different sales reps from your company for a quote, would they get the same numbers every time? Will the quotes all look the same or will they look like they came from different companies? QuoteWerks ensures consistent quoting across your company from pricing to branding.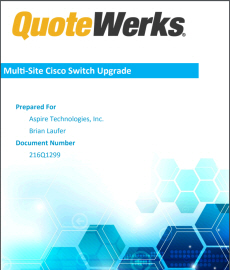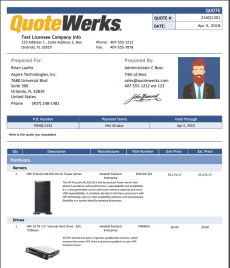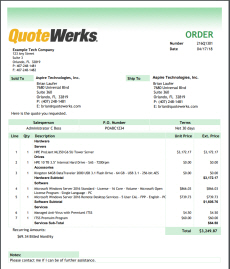 Include all Documentation
Include important sales documents such as SOW's, terms and conditions, contracts, and much more. Spec Sheets can be automatically attached to the quotes and proposals ensuring your sales reps do not forget attaching them. Send your Contract and Statement of Work along with your Proposal so you can get started on the job as soon as the customer accepts - no more waiting for them to approve another document.
Interactive Quotes, PDFs, or Hand Deliver
With QuoteWerks, you can deliver your Quotes and Proposals in person, email a PDF, or even create an interactive experience for your customer. You can use our built-in layout designer or Microsoft Word for Quotes delivered via Email or Printed. QuoteValet enables you to create an interactive experience for your customers in a browser. All of the sales quotes can be customized by you or you can work with our Porfessional Services team to develop branded quotes for your organization. Take a look at some free Quote samples.
Interactive Quotes
With QuoteValet, you can create an interactive experience for your customer. No need to create multiple quotes for the same job - Based on the options you extend to your customers ("Good-Better-Best" or "Add these"), your customer can select the different options and the quote will be recalculated and you will be notified. You will gain insight into your customer's quote to order behaviors. You will be notified the first time they view the quote, as they select options, accept, and pay for the quote.
©1993-2023 Aspire Technologies, Inc.
407-248-1481 (9am-5pm ET M-F)