Create quotes quickly and easily streamline your sales cycle and increase deal closure ratios with integrations to CRM, PSA, and Accounting Software using out quotation software for small and large businesses.
QuoteWerks' Quote Management System combines both an intuitive user experience with a robust integrated platform serving the needs of businesses of all sizes.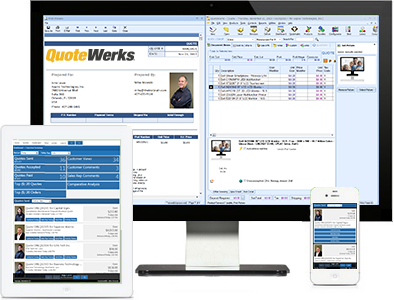 Quote Management For Sales Reps
Categorize quoted line items

Grouping capabilities for superior organization and readability along with the ability to add inline comments, heading, and summarizations for better detail.

Build quotes with greater efficiency

Drag and drop re-ordering and unmatched line item sorting capabilities.

Create professional looking quotes and proposals

Customize your Quotes and Proposals using our built-in editor. If you currently use Microsoft Word for your proposals or Quotes, you can still utilize these enhanced with QuoteWerks functionality.

Interactive Quotes

Deliver your quotes and proposals via PDF or create an interactive experience for your customers with QuoteValet.
Quote Management For Sales Managers
Approvals and Peer Review

Ensure your sales people follow your business approval process or establish a new approval and peer review workflow with QuoteWerks.

Greater Insight

As a business owner or sales manager, you need to have greater insight into your team or company's sales performance.

Get Paid Faster

Utilizing QuoteValet, accept Credit Cards, ACH / eCheck, Leasing integrations and more

Consistent Quoting

If your customer asks five different sales reps from your company for a quote, would they get the same numbers every time? Will the quotes all look the same or will they look like they came from different companies? QuoteWerks ensures consistent quoting across your company from pricing to branding.

Audit Trail

Meet compliance requirements. Know who and when changes are made.

Track and your Quote Margins

Quickly see margin for the current item, selected items, or the entire document. Ensure quotes do not get sent to customers if they do not meet your minimum required margins.

Configurations

Reduce training time and sales rep mistakes. Build complex quotes with options in record time.
Leverage your existing relationships and investments
Don't change your entire workflow! Simply add QuoteWerks into your current sales process to reduce your quoting and proposal creation time.
QuoteWerks seamlessly integrates with the most powerful CRM/PSA and accounting systems, enabling you to easily and accurately transfer your important sales data directly into these software solutions for forecasting and reporting. It's a great fit for any size company in any industry!
©1993-2023 Aspire Technologies, Inc.
407-248-1481 (9am-5pm ET M-F)