Kits, Bundles, and Groups
When you create quotes, many times you may quote the same group of products over and over. If you do, you should take advantage of QuoteWerks' bundling feature. Creating bundles allows you to specify a group of products to be added to your quote all at once without having to manually remember to add each product.
The powerful bundling feature adds groups of products to your quote with a single click. If you quote groups of products/services often, the bundling features in QuoteWerks will save you a tremendous amount of time. With bundles, you can specify which products/services are included in a bundle. Then, you can add that bundle to the quote and all the items that are in the bundle are automatically added to the quote. Using bundles also ensures that you will never forget to include an item in the quote. QuoteWerks has two types of bundles: Simple Bundles, and Grouped Bundles. With a Simple Bundle, the list of products/services that you specified in the bundle will simply be added to the quote when you select the bundle. With a Grouped Bundle, the list of products/services specified in the bundle will be "rolled up" into a single grouped line item. All the individual item prices will be hidden and automatically totaled and displayed in the single grouped line item. The individual item descriptions can optionally be displayed or hidden.
On-The-Fly Groups
QuoteWerks enabled you to create bundles for kits of items and services that are regularly sold together, but you can also group items on the quote enabling you to categorize your items into groups and create product kits with special pricing on-the-fly.
Recurring Groups
Grouped Bundles on the quote can be converted to a single recurring monthly revenue amount. All of the individual items in the bundle are totaled and then you can set an Annual Percentage Rate (APR) and a Term like 24 months at a 20% APR. This feature can be used for Hardware as a Service (HaaS) quoting.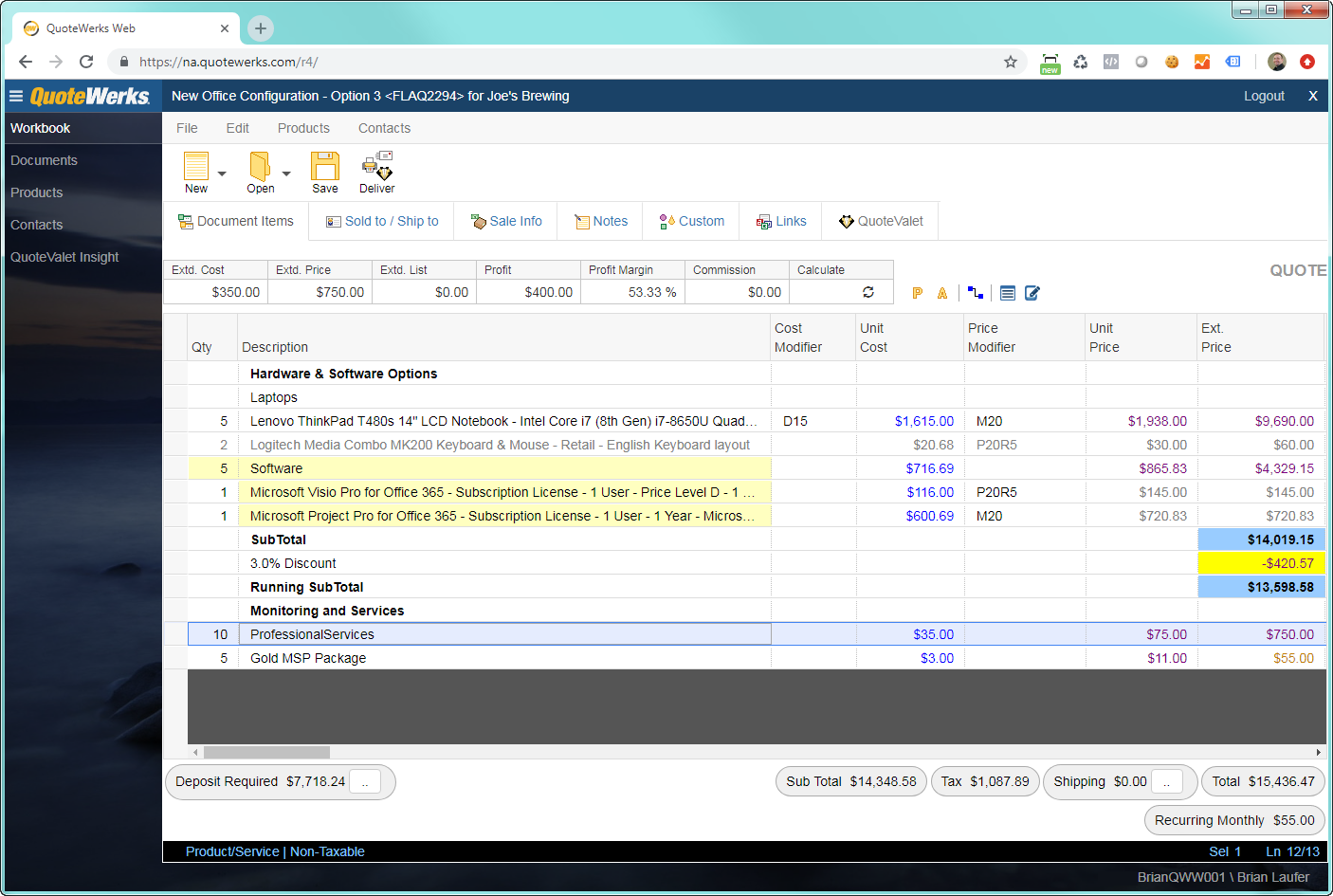 ©1993-2023 Aspire Technologies, Inc.
407-248-1481 (9am-5pm ET M-F)