Track quotes, orders, and invoices and monitor sales rep performance
QuoteWerks has a built-in reporting engine, dashboards, and enables you to integrate 3rd party tools (like Microsoft BI) to gain insight into your business.
QuoteWerks Dashboards
There are several different dashboards within QuoteWerks that enable both Sales Reps and Sales Managers to gain insight into their sales and the team's pipeline.
My Summary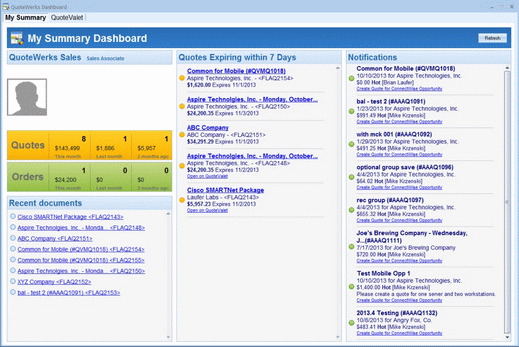 The QuoteWerks Dashboard gives a high-level overview of your total dollar amount and number of quotes and orders from the current month, last month, and two months ago.
Opportunities Dashboard
Opportunity Tracking has been around in CRM Software for a long time. Over all of the years, we have written many integrations that take the Quote opportunity data from QuoteWerks and translate that information into a format that the CRM software's limited opportunity capabilities can handle.
Really, all the information that you want to see in the opportunity is actually all contained in the quote.
The Opportunities Dashboard displays all of the metrics that we find important in analyzing our own sales opportunities here at QuoteWerks. The information displayed on this dashboard is read in real-time from the QuoteWerks database, which is the source of the information so it will always be accurate, up to date, and instant.
QuoteValet Insight
QuoteValet Insight is a browser-based solution that gives users insight into the progress of the company's documents that have been uploaded to QuoteValet anytime, anywhere, streamlining communication and simplifying sales management by bringing both high-level and detailed data to you in a format that's easy to view and collaborate on.
Insight Dashboards include:
Executive Dashboard
My Summary
Comparative Analysis
Status Board
Peer Reviews
Approvals
more...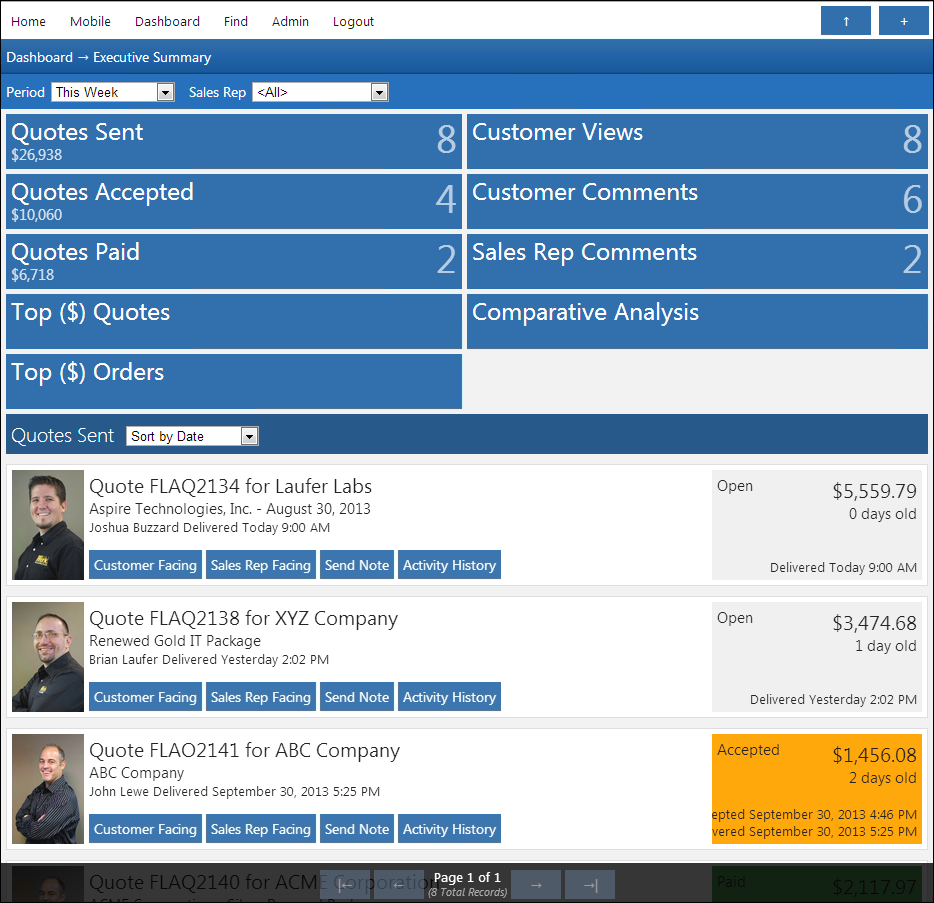 ©1993-2020 Aspire Technologies, Inc.
407-248-1481 (9am-5pm ET M-F)