How does QuoteWerks work with Shockey Monkey?
Shockey Monkey is the simplest and most effective IT Management Platform and Customer Relationship Management System: Unifying support, services, management, reporting, accounting, and sales activity under a completely free branded experience that you can leverage to streamline your business operations!
Requirements
QuoteWerks integrates with Shockey Monkey via a free
add-on
developed by QuoteWerks Development. The integration is available in all QuoteWerks editions.

Searches Shockey Monkey for Contacts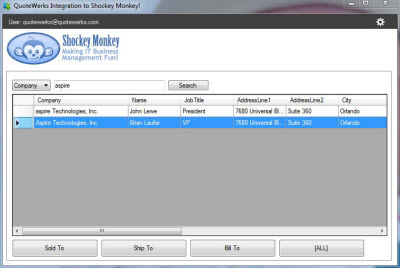 From our Sold To / Ship To tab of the QuoteWerks quote workbook, you can search the Shockey Monkey contact database for a contact by name or company name. QuoteWerks will fill in the contact information in the quote by pulling the contact information from the contact that you searched for. You will never have to re-type your customer information.

Creates/Updates Sales Opportunities in Shockey Monkey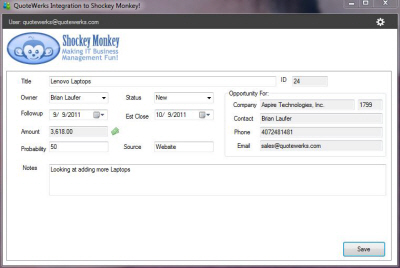 When saving a quote, the QuoteWerks add-on automatically creates an Opportunity in Shockey Monkey. When you are in Shockey Monkey, you will see the sales opportunities and their sale amounts for each quote you have created for this contact. The Opportunity feature is very useful in determining your projected cash flow.
Installation and Support
Support for the Shockey Monkey Add-on is not covered under standard QuoteWerks support.

FAQ
Where can I download the Shockey Monkey add-on? The free add-on can be downloaded here.
How do I install the add-on? Installation is very simple. The instructions are in the instructions.txt file in the installation ZIP.

How do I obtain support for the add-on? The add-on includes free limited email support.
©1993-2023 Aspire Technologies, Inc.
407-248-1481 (9am-5pm ET M-F)