QuoteValet® — Modern Quote Delivery™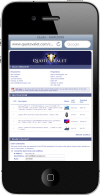 QuoteValet is the online quote delivery and acceptance vehicle for QuoteWerks. QuoteValet is a more robust way to deliver quotes to your customers and prospects.
Rather than attaching a PDF file to the quote and emailing it to your customer (where spam filters strip it out), QuoteValet will create a personalized web page to present the quote on quotevalet.com
The advantage of using QuoteValet is that you will actually know when your customer has received the quote. You will know when they have viewed the quote and how often they review the quote.
Your customer will be able to change quote options dynamically and ask you questions through the customized quote page — keeping all communication together. Most importantly, they will be able to electronically accept and sign the quote!
You can then collect credit card payment from your customer that is directly deposited into your checking account. These payments are synchronized with QuickBooks.
To date, our customers have used our QuoteValet subscription to quote over 22 BILLION dollars, and close over 6 BILLION dollars worth of their products and services.
Modern Quote Delivery™... and more:
Know when Quotes are Viewed and Accepted

Know every time your customer views the quote, selects options, has questions, and when they electronically sign and make payment.
Approval and Peer Review

Supervisors can use QuoteValet to approve quotes while out of the office through their web browser. Peers can submit peer review feedback while out of the office through their web browser. In QuoteWerks, you can set approval requirements for your sales reps that require them to obtain approval before a quote can be sent.
Collect Credit Card Payments from Customers

The QuoteValet subscription also allows you to collect deposits, progress payments, balances, and even export payments to QuickBooks. We support over 80 gateways including QuickBooks Merchants, Authorize.net, ConnectBooster/BNG, and PayPal.
Collect ACH / eCheck Payments from Customers

The QuoteValet subscription also allows you to collect deposits, progress payments, balances, and even export payments to QuickBooks. Your customers can now pay by entering in their checking information into the QuoteValet Payment page in addition to credit card and PayPal.
QuoteValet Mobile

QuoteValet Mobile enables you to create Quotes-On-The-Go with your iPad or any HTML5 compatible tablet or browser.
Shopping Cart

Create online order forms with the QuoteValet Shopping Cart . Use them to automate customer re-orders or receive paid orders from a promotional email blast.
DELIVER, COLLABORATE, CLOSE with QuoteValet!
QuoteValet - Modern Quote DeliveryTM

QuoteValet is a more robust way to deliver quotes to your customers and prospects. Ever wonder what happens to your quote after you sent it? With QuoteValet, instead of emailing a PDF of your quote, it creates an interactive web page where your customer can selection options, ask questions and even sign and pay electronically.

Use Payment Options on your documents to easily collect payments from your customers through QuoteValet. By utilizing Payment Options you can simplify how customers can pay you and offer a variety of payment options.
Deliver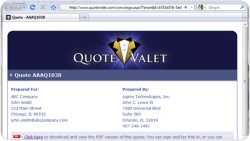 Know when your quotes are actually received and viewed
Avoid spam filters stripping out your proposal PDF attachments
Avoid email servers rejecting large PDF proposal attachments
Extend your company brand with a specialized quote delivery webpage
Collaborate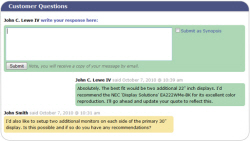 Interactively refine the elements in your quote with your customer through QuoteValet's collaboration features
Customers can view the quote, select options, and ask questions
Your peers can review your quote offering valuable feedback
Managers can approve quotes before they are submitted to the customer
Close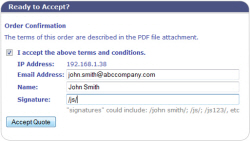 Get customer signatures electronically - no more signing and faxing
Capture your customers' signature graphical or text based signature
Customers can view and accept your quotes from their mobile devices
Receive SMS text notifications on your phone when large quotes are accepted!
Automatically receive an email notification when your customer accepts the quote
QuoteValet is Template Driven and Customizable
Extend your company brand and image. QuoteValet is a turn-key solution that enables you to be up in running within 3 minutes. You can also customize QuoteValet website templates so that QuoteValet can look like it is part of your own website.
A QuoteValet Quote can include both the interactive elements (like selecting options) on the web page and/or a PDF quote/proposal attachment.
If you prefer, the template can simply show a non-interactive image of each page in your PDF file allowing the customer to review and electronically sign.
View an enlarged screenshot of an interactive QuoteValet quote.

QuoteValet is Cross Browser Compatible
QuoteValet works in all web browsers (including mobile devices) ensuring your customers have a smooth and pleasant experience.
QuoteValet Supports YouTube Videos - "Say it" with a Video
QuoteValet supports videos for any document uploaded to QuoteValet. Your YouTube videos can be displayed on the QuoteValet document. Single or multiple videos can be displayed for a document as well as videos for individual line items. QuoteValet also supports default videos for every type of document (quotes, orders, invoices) created in QuoteWerks so users do not have to remember to manually include videos on documents. Watch a Video to learn more about QuoteValet Videos.
The QuoteValet Dashboard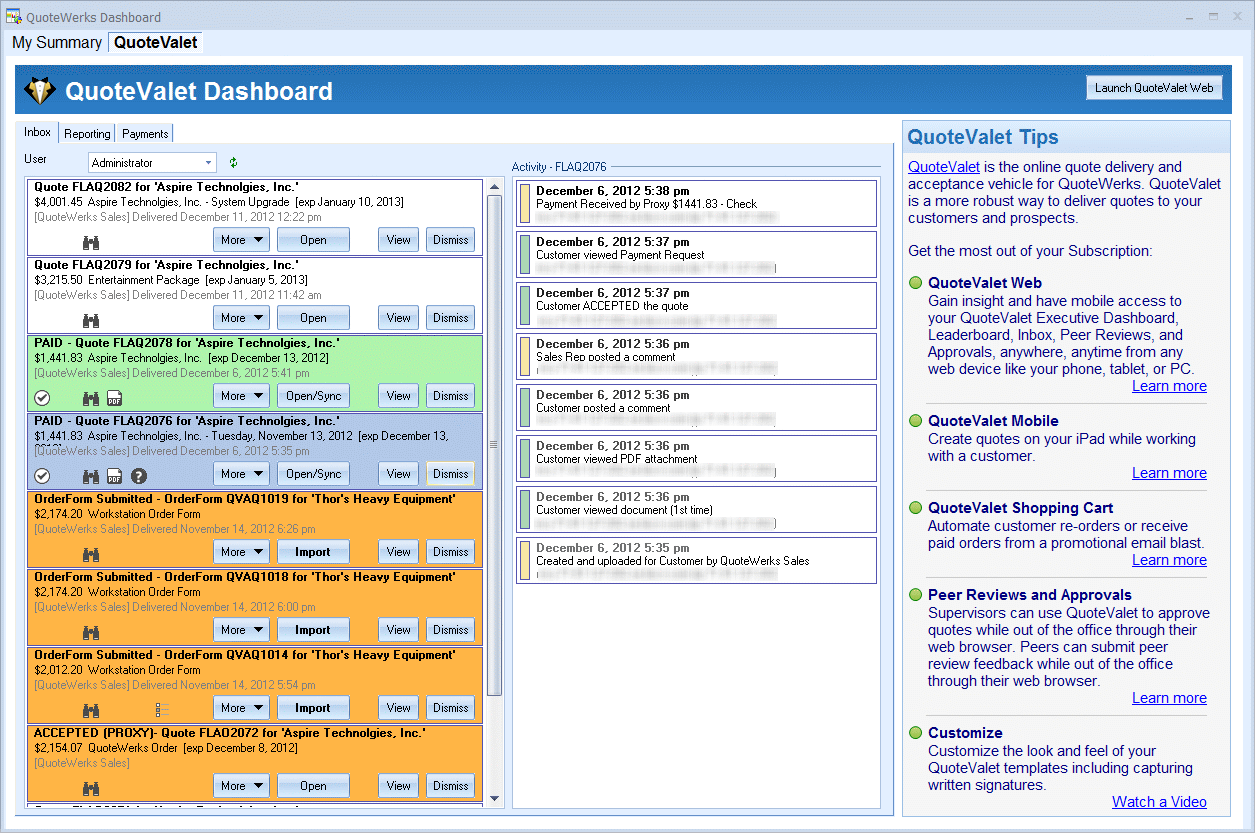 The QuoteValet Dashboard is designed to help you stay on the top of all your pending quotes by providing one place to see all new notifications. The QuoteValet Dashboard is divided into the Inbox, Reporting, and Payments.
Subscription Based
QuoteValet is subscription based. Available in a monthly subscription - billed monthly, no commitment required, and also in a discounted Annual Subscription. Find out more about QuoteValet pricing.

To request more information, please email sales@quotewerks.com.
The QuoteValet Subscription is an additional module and requires a current UMP. As QuoteWerks updates are released, QuoteValet will also be updated. As such, subscribers will need to apply the latest QuoteWerks updates/upgrades as needed.

©1993-2019 Aspire Technologies, Inc.
407-248-1481 (9am-5pm ET M-F)