Management Reports
No need for external reporting systems. With the built-in reporting system, you can filter your data and visually design the output.
Tracking the sales process can pose a number of different challenges for management. Customizable management reports help users understand and track the entire sales process. QuoteWerks has numerous reports that can be customized to display diverse information such as profits, all quotes, services quoted, or create new reports to report on just about any data you would want.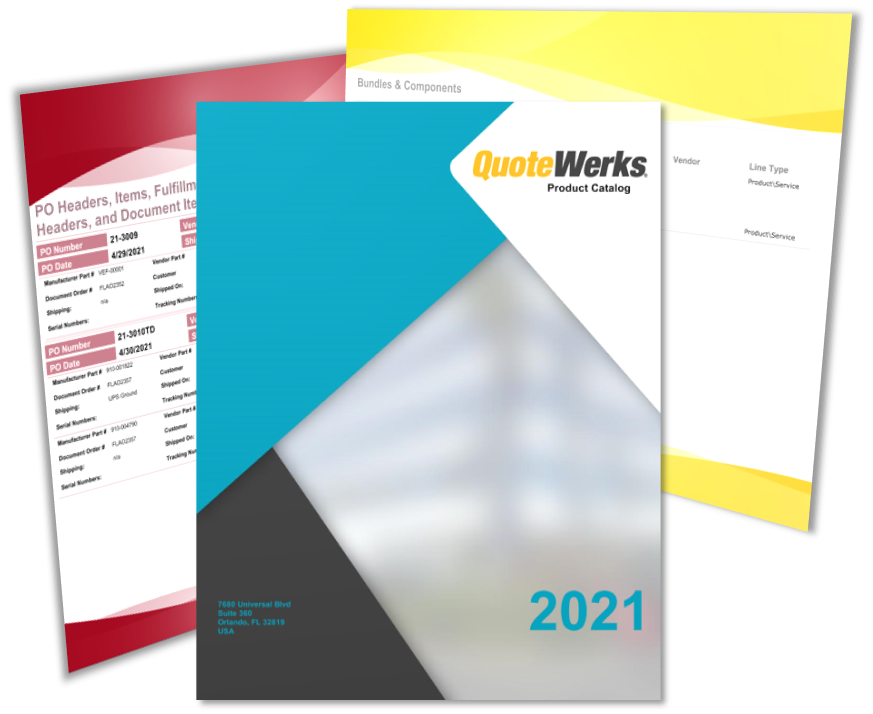 Existing sample reports can be quickly customized to your specific needs and used to quickly gain a picture of how sales are proceeding. Reports can also be created from scratch allowing for ultimate flexibility. Some typical reports would include:
Forecasted sales reports
Purchase Orders (purchasing)
Payments
Commission reports
Outstanding quote reports
Reports on Orders for the day, week, month, year, etc.
Product catalog reports
Configurations
Vendors
and more!
The built-in reporting function simply gives management another feature to utilize in QuoteWerks. It can help expedite decisions on pricing, new product ideas, and overall tracking of the sales process, after all, QuoteWerks retains the history of all products you have quoted and whether or not each quote became an order or a lost sale. Being able to actually quantify results enables management to make informed decisions that help shape future approaches and strategies, helping steer sales efforts in the right direction.

You can find out who your most productive sales person is, what your most profitable product is, which is your highest selling product/service, etc. Create reports based on regions or territories, etc. The flexibility of our report designer allows you to create just about any report you can imagine. You can also create product/price catalogs for your customers (which can include customer specific pricing), and detail reports on your product lines, inventory, etc.

All QuoteWerks reports are editable and can be customized to look a variety of ways. Administrators can also place user restrictions on the reports, enabling only administrators or management to view the reports.
Q: What can you customize in the reports and how do you do it?
A:
You can use the built-in visual report designer to visually customize your print layouts. You can insert pictures, lines, labels, data fields, and set each of their fonts, formats etc. In most cases, you will be able to replicate any format that you currently use. Additionally, the powerful visual report designer supports formulas which means that you can create specialized functionality such as lease payment schedules which are very useful for companies that offer leasing. You can easily create reports on commissions, forecasted sales, and even product catalogs to name a few of the many reports that you can create in QuoteWerks.
Related Topics
©1993-2023 Aspire Technologies, Inc.
407-248-1481 (9am-5pm ET M-F)