Looking for an alternative to ConnectWise Sell (formerly Quosal)
?
Switch from ConnectWise Sell to QuoteWerks and enjoy a faster, better supported, more integrated solution, for less money.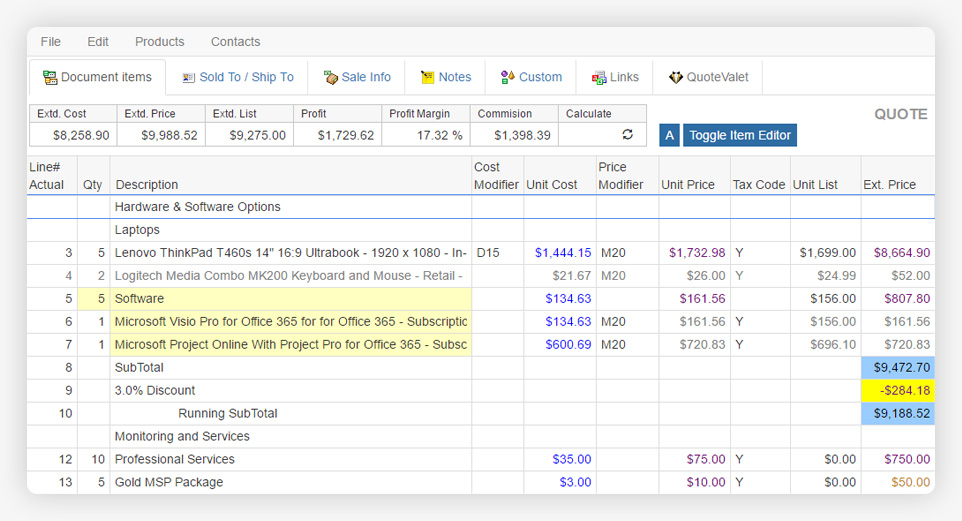 Comparing ConnectWise Sell (formerly Quosal) with QuoteWerks
The ConnectWise® Community has rated QuoteWerks® with the most 5 stars on the ConnectWise Marketplace, more than ConnectWise Sell 1.
When evaluating ConnectWise Sell, it is important to recognize that they are part of the ConnectWise Suite of Products 2. This isn't a bad thing unless of course you do not already use a ConnectWise product. If you use a competing CRM/PSA to ConnectWise Manage (like Autotask, Continuum, Kaseya, and SolarWinds) you should expect to get calls from your sales rep trying to get you to switch to "their" solution.
When speaking to people evaluating ConnectWise Sell (Quosal) as a quoting software, they are told by ConnectWise Sell sales reps that "Sell is more tightly integrated with ConnectWise Manage." This is factually untrue, and customer reviews do not support this 3. ConnectWise Sell uses the same public APIs that other developers use to integrate with ConnectWise Manage.
When speaking to people that are using ConnectWise Sell, we hear that "Sell [and OrderPorter] are very slow" 4.
We also hear that the setup is complicated and requires a mandatory implementation usually costing $3000, and often takes months before you can receive this scheduled required implementation.
In contrast, people evaluating QuoteWerks, say that it was easy to setup themselves 6 and were up and running in an afternoon. QuoteWerks is a Turn-key Solution - No waiting months for implementation.
We also hear from people that QuoteWerks is easy to learn and easy to use whereas you hear that ConnectWise Sell is "The most confusing quote tool ever" 7
QuoteWerks licensing is based on concurrent user licensing, and ConnectWise Sell licensing is based on Named User licensing. If you have 5 people that need to be able to create quotes, but only 2 people are creating quotes at the same time, with QuoteWerks you only need to purchase 2 licenses, with ConnectWise Sell you need to purchase 5 licenses.
ConnectWise Sell Premium Edition
Not
Published*
a month per
named user
QuoteWerks Corporate Edition
with Realtime Pricing & Availability, Etilize, QuoteValet, and QuoteWerks Web
$89*
a month per
concurrent user
With ConnectWise Sell there is no published pricing 8 on their website. That usually means it is so expensive, it is not in their best interest to show pricing. The ConnectWise Sell Premium edition is comparable to the QuoteWerks Corporate Edition with Realtime Pricing & Availability, Etilize, QuoteValet, and QuoteWerks Web which costs $89 per concurrent user per month 9.
All editions of ConnectWise Sell include the "Secure Online Quote Delivery" 8. With QuoteWerks, you can subtract that if you usually hand deliver your proposals, which reduces the QuoteWerks cost down to $62 per concurrent user per month.
Better Support
Your purchase of QuoteWerks comes with a package of 45 minutes of phone support. After that, additional phone support is available for $1 a minute. At QuoteWerks our philosophy is to have customers pay for only what they use, that is why we do not offer unlimited phone support, and it is also why we offer add-ons that customers don't have to buy if they don't need (which is the above example reduced the QuoteWerks monthly price from $89 down to $62).
Often there are complex integration configurations that can be quickly resolved in an instantly bidirectional phone conversation. If you have to submit an email or a ticket and wait for responses back and forth, the resolution takes painfully long to achieve, and is a bad customer service experience. That is why we offer phone support, because we care about our customer's experience. Phone support is costly to provide, but our customers are worth it.
ConnectWise Sell in contrast does not offer phone support. They only offer ticket and chat support, along with documentation 10.
When you're in the middle of your day and encounter some kind of problem, it is just unacceptable to have to send an email for support and just wait indefinitely for help that may never come. You need to be able to access your software support by phone.
More Integrations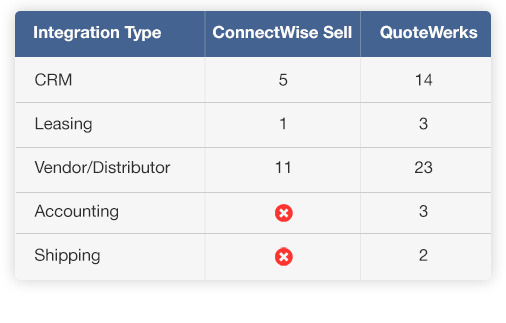 QuoteWerks has 14 CRM integrations while ConnectWise Sell only has 5 CRM integrations 12. QuoteWerks has 3 leasing integrations, ConnectWise Sell has 1 leasing integration. QuoteWerks has 2 shipping integrations, ConnectWise Sell has no shipping integrations. QuoteWerks has 23 Vendor/Distributor integrations, ConnectWise Sell has 11 Vendor/Distributor integrations. QuoteWerks has 3 accounting integrations, while ConnectWise Sell has no accounting integrations, it requires ConnectWise Manage for accounting integrations. QuoteWerks supports over 80 payment gateways for accepting Credit Cards or ACH payments, while ConnectWise Sell supports only a few.
Procurement Capabilities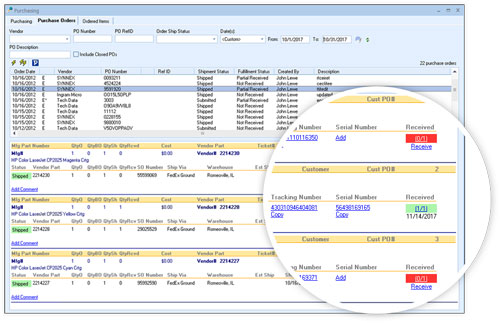 QuoteWerks has built-in purchasing capabilities to allow you to see all the items that need to be ordered from your quotes you have won. This enables you to place single orders that contain items from multiple orders, create Purchase orders for them and place the order electronically. After the order is placed, in QuoteWerks you have real-time order status shipping updates, tracking numbers, and serial number updates and can mark the items as received once you receive them.
ConnectWise Sell can only place an electronic order for an individual order that you have open, and then it needs to use ConnectWise Manager to view and track order status 11.
Hear from ConnectWise Sell Customers
[ConnectWise Sell] Support is poor and if you want to do anything outside the box their professional services are slow (we have a project currently which has been running for 11 months)
[ConnectWise Sell] Tech support after the training is horrible, seconds to get a auto response and days to get a human being to talk to you. Every time i did get someone to talk to me they acted like they were doing me a favor, then after a few calls i was told i needed to purchase more training to help me with me product needs which were VERY basic. Im still using Quosal and doubt ill be able to get any money back but the whole operation in my opinion is sloppy, my credit card processing has not worked in months and there is NO PHONE NUMBER to call these people for support. You must open a ticket up and talk them into calling you which is a huge pain. If im paying 200+ a month for something i should be able to pick up the phone and get some support. I feel ripped off and would highly recommend avoiding this company due to bad service after the sale.
We've been trying to implement ConnectWise Sell for 5 months and they keep asking for more money to implement. It feels like an overly complicated system that requires their consultants in order to make it work for us.
QuoteWerks: The Total Package
As you have seen, there are many compelling reasons to switch from ConnectWise Sell to QuoteWerks. Don't delay, switch today!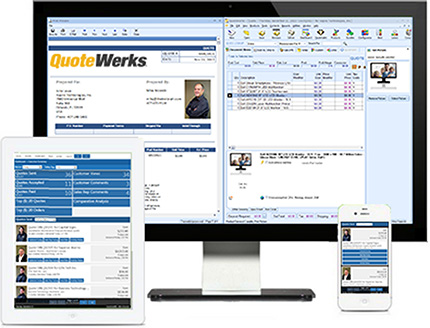 References:
3 https://www.trustradius.com/reviews/connectwise-sell-formerly-quosal-2018-09-29-08-14-44
4 search for "slow" on this page https://www.trustradius.com/products/connectwise-sell/reviews
5 search for "complicated" on this page https://www.trustradius.com/products/connectwise-sell/reviews
8 https://www.connectwise.com/software/sell/pricing
10 https://www.connectwise.com/services/support#tab2
11 https://www.connectwise.com/software/sell/electronic-orders
12 https://www.connectwise.com/software/sell/integration