Capture Written Signatures with QuoteValet
Did you know that you can capture Pen or Finger signing with QuoteValet?

QuoteValet enables you to create and edit multiple customer facing templates. To ensure QuoteValet is a Turn Key solution, we have provided you with several standardized templates which requires no modification for you to start using. This video shows you how to use the CustomerFacingWrittenSignature Public Standardized Template.
Send Selected QuoteWerks Products to your TechData.com Shopping Cart
By customizing a QuoteWerks menu, you can send selected products from the QuoteWerks Workbook to your TechData.com Shopping Cart. This is helpful for calculating shipping from Tech Data based on the items on your quote.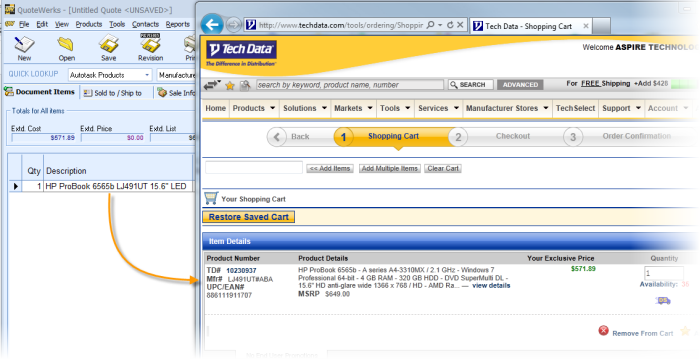 read more...
Select Tools from the QuoteWerks Menu and choose the Customize Menus option.
Select the Tools Menu from the Customizing Menus list and choose Define Menu Items, then select New. (You can use any menu)
Once the Edit 'Tools Menu' Item menu appears add the 'Export to Tech Data Shopping Cart' to the Caption section. From the Actions drop down select Open Web URL.
In the Command Section enter - https://www.techdata.com/tools/Ordering/OrderLinesloader.aspx?Prt1=&DI_VendorPartNumber,&DI_QtyTotal
Check the box for 'When multiple items selected, run for each item option'. This will enable you to select multiple QuoteWerks products at the same time to send to Tech Data.
Select Ok, then select Close, then select Close again.
Once returned to the QuoteWerks Quote Workbook, make sure that you are logged into Tech Data through the online portal, add the line items to the quote you would like to see exported and select them by holding down the CTRL key, and select Tools from the tool bar, then select the 'Export to Tech Data Shopping Cart' option and it will open a browser with the items exported to Tech Data (please note it will open multiple tabs, this is normal, please select the last tab and it will have all of the items from your quote exported to your Tech Data shopping cart), where you will now see Tech Data's shipping cost estimates for all of these items.
©1993-2020 Aspire Technologies, Inc.
407-248-1481 (9am-5pm ET M-F)