Download the Demo Version of QuoteWerks
QuoteWerks is a hybrid solution with both Desktop and Web components - combining the power of the Desktop with the portability of the Web.

Below you can download the installer for QuoteWerks Desktop to begin exploring QuoteWerks.

qw5setup.exe
Click the link to begin downloading the installer file, and then when completed, open it to begin the desktop installation.
Free Support
We'll provide free phone support (407-248-1481) and email support during your trial, plus a 30 day money back guarantee once you purchase.
Even better, all the data you enter into your demo version will be preserved when you purchase a License Key to activate it.
If you are looking for something in particular that you can't find, don't waste any time hunting for it, wondering if it exists, just give us a call!
What to do after you download the demo
After downloading and installing the QuoteWerks demo version, you may be asking yourself, What do I do next? This video will demonstrate how to get started and set up QuoteWerks. It will show you how to set up a contact manager, import a product database, customize a quote layout, and create your first quote.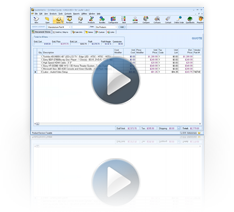 Limitations of the Demo Version
The demo version of QuoteWerks only differs from the registered version in three ways. This allows you the freedom to fully evaluate the product in your environment before you make a purchase. That's the QuoteWerks way… The demo version limits the maximum number of quotes in the database to 8, each with a maximum of 20 line items. We provide you with a 30 days to evaluate our solution. If you need longer, our sales team, can extend this trial period. The demo version can be converted to a fully registered version simply by applying a License Key.
Unlocking the Demo Version
Note: The demo version can be converted to a fully registered version simply by applying a license key. This allows you to keep all the data you enter into the demo. As such, we recommend that you install the demo of QuoteWerks where you would install it if you where purchasing it, instead of installing it in a temporary location which is a common practice. This way, when you decide to purchase QuoteWerks, you do not have to figure out how to move your temporary demo installation, you can simply enter a License Key and you will be up and running.
©1993-2019 Aspire Technologies, Inc.
407-248-1481 (9am-5pm ET M-F)