Looking for an alternative to PandaDoc?
Switch from PandaDoc to QuoteWerks and enjoy a more powerful, more integrated solution, for less money.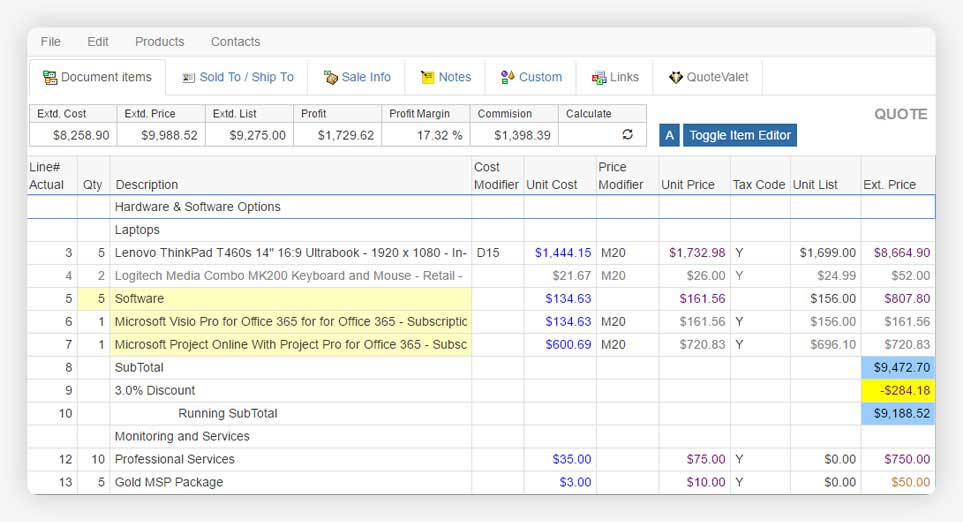 Comparing PandaDoc (pandadoc.com) with QuoteWerks
PandaDoc competes more with Google Drive, DocuSign, and HelloSign rather than traditional CPQ competition as PandaDoc is more of a document generator that lets you pick paragraphs of text to insert into the document that you are building. Evidence of this is that "cost and margin calculation" is not a baseline capability in all their editions. Just take a look at their product tour,1 and you can easily see this.
There is no "cost and margin calculation2" unless you are in their 3rd level of editions called the "Business Edition" which is their "recommended" edition. PandaDoc's CRM integrations are only included in the Business Edition or higher. PandaDoc's ability to calculate grand totals is only available in their Business Edition or higher.3
Only at the PandaDoc Business Edition level can PandaDoc be compared with QuoteWerks.
Better Pricing
PandaDoc
Business Edition
$59*
a month per
named user
*Includes e-signature and analytics. Does NOT include salesforce.com integration.
QuoteWerks
Professional Edition + QuoteValet Add-on
$47*
a month per
concurrent user
*Includes e-signature, analytics, AND salesforce.com integration.
The PandaDoc Business Edition is $59 a month4 per named user, which includes e-signature and analytics. The QuoteWerks Professional Edition with e-signature (QuoteValet) is $47 a month per concurrent user, which includes e-signature and analytics. If you don't need e-signature, then QuoteWerks Professional Edition is only $20 a month per concurrent user. At QuoteWerks, we don't believe in making everyone pay for add-on features they don't need. PandaDoc just lumps in all features that customers may not need and then charges everyone a higher price, promoting this as "streamlined pricing," not requiring "extra add-ons." Any talk about the cost of "extra add-ons" is disingenuous, as the total price with of QuoteWerks with "extra add-ons" is still less expensive than PandaDocs "standard" Business Edition price.
Another note on cost is that the PandaDoc integration with salesforce.com is only available for an additional charge4 in the Business Edition. It's included in their Enterprise Edition, for which their website does not list a price.
Better Support
Your purchase of QuoteWerks comes with a package of 45 minutes of phone support. After that, additional phone support is available for $1 a minute. Quickly resolve complex integration configurations in an instantly bidirectional phone conversation. Waiting on the back and forth of emails or tickets extensively delays resolutions and is a terrible customer experience. That's why we offer phone support, because we care about our customer's experience. Phone support is costly to provide, but our customers are worth it.
PandaDoc, in contrast, writes a cute article titled "Why we don't offer phone support5" trying to spin how a lack of phone support is a good thing, but we are not falling for it. What we find to be an obvious flaw in their spin is that they assert that you can't do a web meeting during a phone support call to visually see the issue…which is something we often do.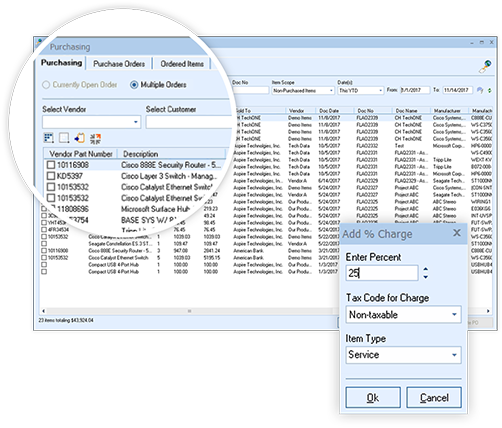 More Powerful
PandaDoc has a simple product "catalog" with only a part number, name, description, and fixed price.6 It doesn't even have what you would describe as the basic product fields of taxable, item type, or manufacturer, let alone vendor, vendor part number, spec sheets, among others. QuoteWerks product supports nine different pricing methods, including markup, discount, gross margin, volume- based, list, formula, fixed, customer price levels, and customer/ product price matrix. PandaDoc only supports the fixed price method.
The list goes on and on. Some of the many capabilities that QuoteWerks provides that PandaDoc does not are: bundles, a configurator, required item definitions, optional item definitions, price comparison features, line item quantity linking, links to external pricing data sources, and more.
Better Integrations
Not all integrations are the same! A Ferrari and a VW Bug are both cars. They can both claim to be cars, and they both have the basic elements required to be a car; however, the robustness of their components are wildly different. The same concept applies to quoting and proposal software.
As an example, the PandaDoc integration to salesforce.com simply pulls in salesforce.com's contact information and existing salesforce.com opportunity and opportunity line item information.7 It does not create a salesforce.com contact, salesforce.com opportunities, nor does it create additional salesforce.com opportunity line items. QuoteWerks creates and updates salesforce.com opportunity and opportunity line items, schedules and updates follow up calls, and even creates new contact records in salesforce.com.
The PandaDoc integration to QuickBooks Online uses the 3rd party Zapier API,8 so it is not a direct integration to QuickBooks Online. The QuoteWerks integration to QuickBooks Online is a direct integration which again enables it to have more robust, advanced capabilities. PandaDoc supports five payment gateways9 for accepting Credit Cards or ACH payments. QuoteWerks integrates with over 80 payment gateways.
Lastly, PandaDoc is not a good fit for the IT industry, as it does not have integrations with Autotask or ConnectWise, the two most popular CRMs (PSAs) in the IT space. PandaDoc has no real-time pricing and availability for IT industry distributors like Tech Data, Ingram Micro, D&H, and SYNNEX.
More Integrations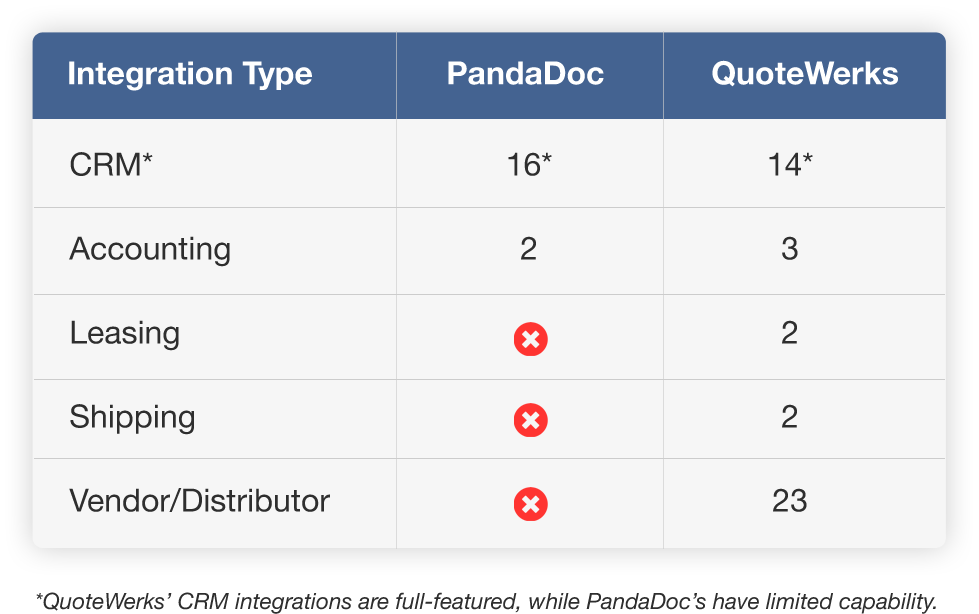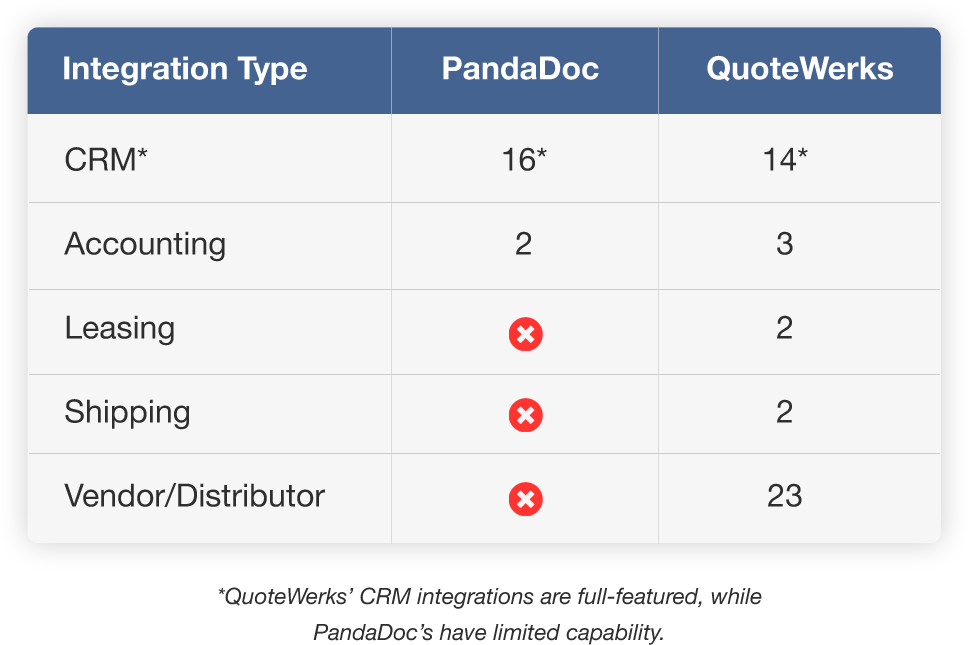 QuoteWerks has 14 full-featured CRM integrations while PandaDoc has 16 limited capability CRM integrations.10 PandaDoc has two accounting integrations, while QuoteWerks has three accounting integrations. PandaDoc has no leasing integrations or shipping integrations. PandaDoc has no Vendor/Distributor integrations while QuoteWerks has 23 Vendor/Distributor integrations. QuoteWerks beats PandaDoc in the total number of integrations.
Procurement Capabilities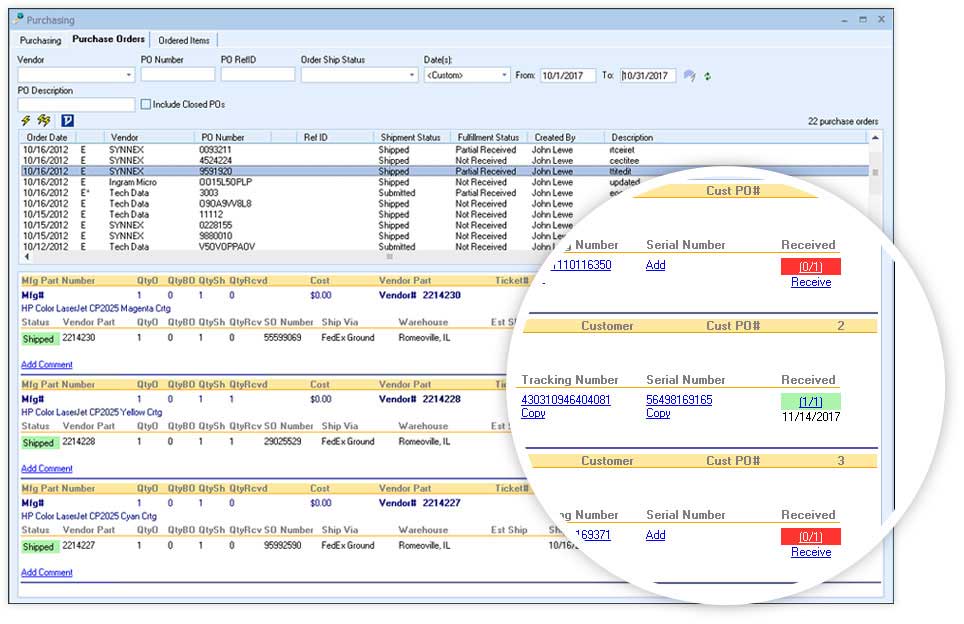 QuoteWerks has built-in purchasing capabilities that allow you to see all the items you need to order from the quotes you have won. These capabilities enable you to place single orders that contain items from multiple orders, create purchase orders for them, and place orders electronically. After you place an order, QuoteWerks will show real-time order status shipping updates, tracking numbers, and serial number updates and can mark the items as received once you receive them. PandaDoc has none of these capabilities.
Hear from PandaDoc Customers
Even though you can modify documents/proposals [with PandaDoc], I still found the process to be a bit clunky and time-consuming when I'd have a new proposal to create. It was hard to copy/cut and paste from other docs (Word/PDF etc) into PandaDoc - The design/layouts seemed limited."
— David K. | Read the Full Review on TrustRadius
QuoteWerks: The Total Package
It would appear that PandaDoc's core is textual document generation with simple item price insertions, while QuoteWerks' core is complex, itemized line item quote calculation, inserted into larger combined macro based textual documents.
In summary, QuoteWerks is less expensive, more calculation robust, more tightly integrated with popular CRM and accounting, and is the clear choice over PandaDoc unless you only need to assemble and deliver word processor style documents with simple itemized prices inserted.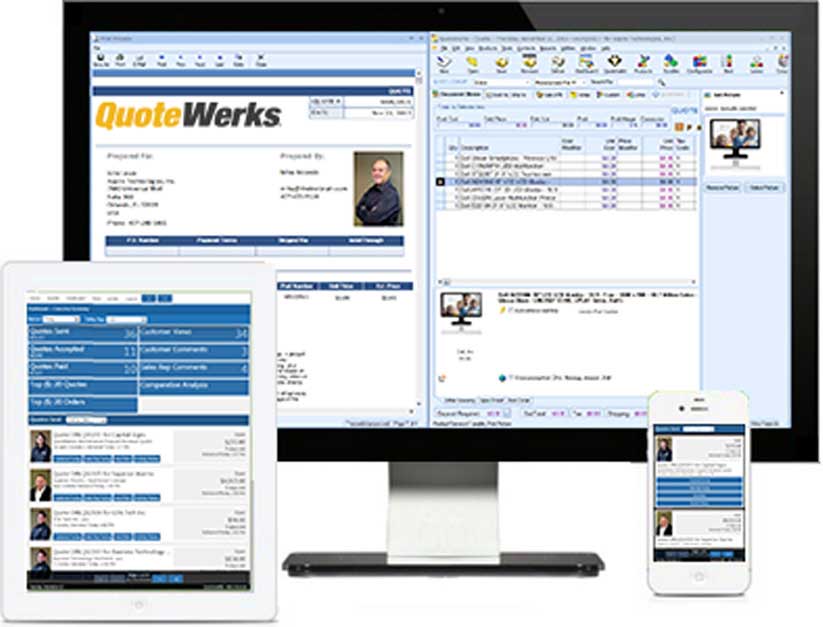 References:
1 https://www.pandadoc.com/tour
2 https://www.pandadoc.com/pricing
3 https://updates.pandadoc.com/product-update-cpq-enhancements-will-closing-quotes-no-time
4 https://www.pandadoc.com/pricing
5 https://support.pandadoc.com/hc/en-us/articles/360017311873-Why-we-don-t-offer-phone-support
6 https://support.pandadoc.com/hc/en-us/articles/360038963353--Editor-2-0-Product-Catalog
7 https://www.pandadoc.com/integrations/crm/salesforce
8 https://www.pandadoc.com/integrations/zapier/quickbooks-online
9 https://www.pandadoc.com/integrations/payment
10 https://www.pandadoc.com/integrations
Disclaimer: Parties other than Aspire Technologies, Inc. (QuoteWerks) may provide products, services, recommendations, or views on QuoteWerks' site ("Third Party Materials"). Aspire Technologies, Inc. is not responsible for examining or evaluating such Third Party Materials, and does not provide any warranties relating to the Third Party Materials. Links to such Third Party Materials are for your convenience and does not constitute an endorsement of such Third Party Materials. QuoteWerks is a registered trademark of Aspire Technologies, Inc. Third Party Materials may not be associated with Aspire Technologies, Inc. in any way and their trademarks are only used here for comparative purposes.