The following feature was added in QuoteWerks 4.5 Build 1 that was released on 12/15/2009.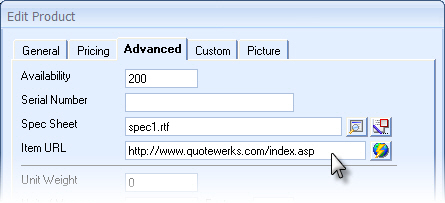 There is now an Item URL field on the Advanced tab of the Edit Product window for native product databases. With this you can specify a website page to associate with this product. When searching for the product, you can right click on it and choose 'View Item URL' to have QuoteWerks open this URL in your default web browser.
©1993-2019 Aspire Technologies, Inc.
407-248-1481 (9am-5pm ET M-F)