The following feature was added in QuoteWerks 4.0 Build 35 that was released on 04/04/2008.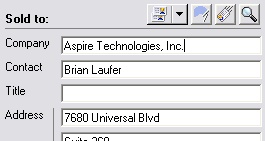 On the Sold To/Ship To tab, added "Copy" buttons to the Sold To, Ship To, and Bill To fields. These are very useful if you have manually typed the customer information into any one of the Sold To, Ship To, or Bill To fields and want to copy that information into any other area.
©1993-2020 Aspire Technologies, Inc.
407-248-1481 (9am-5pm ET M-F)