QuoteWerks Classes

Are you new to QuoteWerks or simply wanting to be more effective in the way you are using the software? Join us at the QuoteWerkshop to maximize your effectiveness of using QuoteWerks. Our seasoned staff members will walk through QuoteWerks from top to bottom. Starting from your QuoteWerks Workbook, CRM/PSA integration, creating and delivering a quote, accounting integration to purchasing your services and products! Find out how to better automate your business at this one day workshop.
The training will be demonstrated on the latest release of QuoteWerks. We highly recommend attendees to update their current version of QuoteWerks to the newest release. To download the latest version of QuoteWerks, you will need to be current on your Update Maintenance Program. Call our office at (407) 248-1481 ext. 2 to see if you are current on maintenance.
When
TBD Call 407-248-1481 to Register
8:00 am - 5:00 pm

Where
QuoteWerks Corporate Headquarters / Aspire Technologies, Inc
7680 Universal Blvd Suite 360
Orlando, FL 32819
Cost
The QuoteWerkshop is $299 per person. Breakfast, lunch, drinks and snacks are included in the cost of registration. Attendees are responsible for hotel and travel costs. Prices do not include applicable taxes.
Hotel Accommodations
Please note that hotel accommodations are not included in your QuoteWerkshop registration. Please make hotel reservations at your convenience.
Crowne Plaza (Located next to QuoteWerks office building)
7800 Universal Blvd.
Orlando, FL 32819
(407) 355-0550
QuoteWerks discounted rate available at Crowne Plaza
Click here to reserve your room at the discounted rate
Other nearby hotels:
| | | | | |
| --- | --- | --- | --- | --- |
| WestGate Resort Palace | | (407) 996-6000 | | 0.3 miles from QuoteWerks (5 min. walk) |
| Stay Sky Suites | | (800) 228-2027 | | 0.5 miles from QuoteWerks (10 min. walk) |
| Comfort Inn & Suites | | (407) 351-7000 | | 0.6 miles from QuoteWerks (12 min. walk) |
Local Airport Information
The Orlando International Airport (MCO) is a major airport located approximately 20 minutes from QuoteWerks Corporate Headquarters. Major airlines including Southwest, Delta, US Airways, United, JetBlue, AirTran and Spirit fly into MCO. Shuttle busses, taxi and other public transportation are also available at the airport. Please check with your hotel to see if shuttle busses that take you to and from the hotel are offered.
Required Items
Laptop with QuoteWerks installed (electricity and internet will be provided)
Who should attend?
Users and consultants that would like to maximize the effectiveness of QuoteWerks.
Additional Information
Class size is limited and is offered on a first-come, first-served basis. Please register early to secure your spot in the training class. If the minimum number of attendees is not met, the class may be rescheduled. Please note that training classes may be video and audio recorded by Aspire Technologies, Inc.
If you have any questions, please contact Jessie Devine, Community Coordinator, at jdevine@quotewerks.com or 407-248-1481.

Tentative Class Agenda
Time
Topic
8:00 AM
Attendees check-in
8:15 AM
Introduction and an overview of the day
8:30 AM
Options Menu: Chapter 3 (Options)
My Preferences: Chapter 6 (Setting Personalized Preferences)
9:00 AM
Contact Management Integration: Chapter 10
9:30 AM
Break
9:40 AM
Products & Service Management: Chapter 11
10:00 AM
Quote Workbook: Chapter 4
10:30 AM
Break
10:40 AM
Looking up and Adding Items to a Quote: Chapter 12
11:10 AM
Working with Document Items: Chapter 5
Sales Tax & Shipping: Chapter 10
Refreshing Items & Comparing Prices: Chapter 13
12:00 PM
Lunch catered by Panera Bread Co.
1:00 PM
Quotes, Orders, Sales Orders, Purchase Orders, and Invoices:
Chapter 8
Document Management: Chapter 7 (Saving Quotes)
Document Management: Chapter 7 (Templates)
1:30 PM
QuoteWerks Dashboard (My Summary)
QuoteWerks Dashboard (Opportunities)
2:00 PM
Email Features: Chapter 15
2:15 PM
Break
2:30 PM
QuoteValet: Chapter 17
QuoteValet Web
Peer Reviews & Document Approval: Chapter 18
3:00 PM
Purchasing: Chapter 19
4:00 PM
QuickBooks Accounting Link: Chapter 27
4:30 PM
User Maintenance & Security: Chapter 16
Printing & Customizing Document Layouts: Chapter 14
Management Reports: 20
Exporting Data/ Open Export Module: Chapter 29
Utilities: Chapter 24
5:00 PM
Farewell
QuoteWerkshop Cancellation/Refund Policy
Full refunds will be honored if a cancellation request is received 30 days before the training date. In the event an attendee must cancel between 7 and 30 days before the training date, a full refund will given if a replacement attendee can fill your spot. If your spot is not replaced, we will not be able to provide a refund. Refunds are not available within 7 days of the training date.
All cancellation requests must be sent in an email to jdevine@quotewerks.com.
If the minimum number of attendees is not met, the class may be rescheduled. If the class is cancelled, a full refund will be issued to registered participants or applied to a future training date.
Training Class Videos
We record these classes to benefit not only the classroom attendees, but also the entire QuoteWerks community. Each class covers the same material outline, but different questions are asked which can direct the content to go more in depth or cover even more information. See the Recordings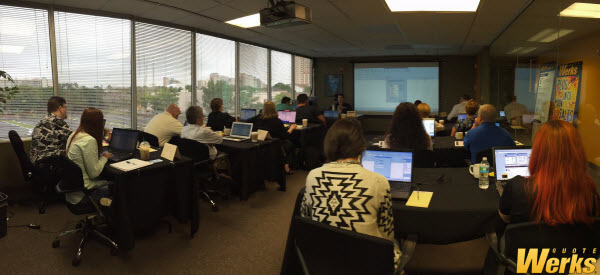 ©1993-2021 Aspire Technologies, Inc.
407-248-1481 (9am-5pm ET M-F)