QuoteWerks Integrates with VAR Dynamics
This video demonstrates the QuoteWerks Add-on integration with VAR Dynamics Pricing.
VAR Dynamics enables partners to offer private label software as a service under their brand, their domain, and their pricing, for a recurring revenue and more robust solution for the end customer.

Requirements
QuoteWerks integrates with VAR Dynamics via a free
add-on
developed by QuoteWerks Development. The integration is available in all
QuoteWerks Editions
.
Searches VAR Dynamics for Products and Services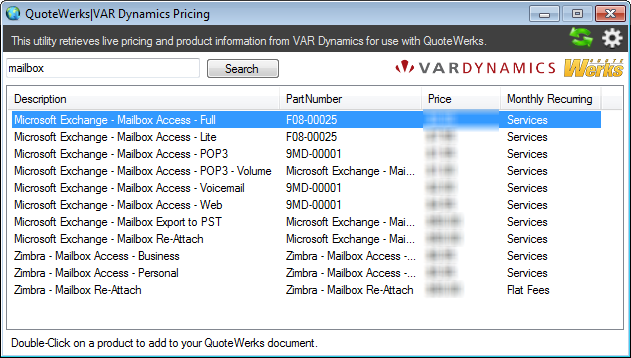 When you launch the VAR Dynamics Add-on, you will have access to all of the Products and Services that VAR Dynamics offers. You can search through the products and services with the search box. To add a product or service to the quote, just double-click on the item. Services that are recurring will be added to the QuoteWerks document as monthly recurring using the settings that you configure.

Customizing is Easy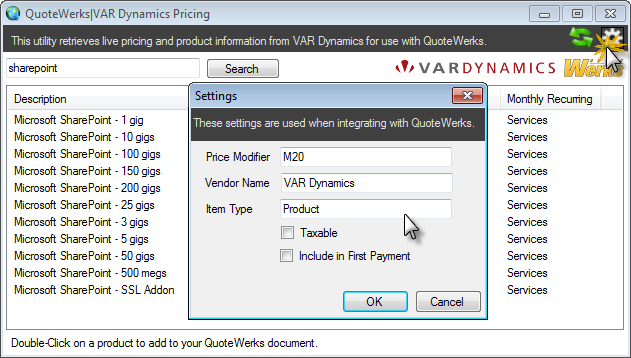 The add-on for VAR Dynamics pricing provides you with the ability to control the PriceModifier, Vendor Name when sending over the product, Item Type, Taxable, and recurring properties.
Installation and Support
Support for the VAR Dynamics Add-on is not covered under standard QuoteWerks support.

FAQ
Where can I download the VAR Dynamics add-on? The free add-on can be downloaded here.
How do I install the add-on? Installation is very simple. The instructions are in the instructions.txt file in the installation ZIP.

Does QuoteWerks need to be running? Yes, to use the add-on, QuoteWerks must be running.
How do I obtain support for the add-on? The add-on includes free limited email support.
©1993-2020 Aspire Technologies, Inc.
407-248-1481 (9am-5pm ET M-F)