Executive Summary
The Executive Summary provides an overview of open quotes and orders submitted through QuoteValet. Quickly see how many quotes have been sent, accepted, and paid for; how many customer views are on the quotes; and how many customer and sales-rep comments have been left, as well as do a Comparative Analysis.
Clicking Quotes Accepted, for example, will display only accepted quotes. You can adjust the date range for quotes and orders by selecting Today, Yesterday, This Week, Last Week, This Month, Last Month, Two Months Ago, This Year, or Last Year from the Period drop-down box.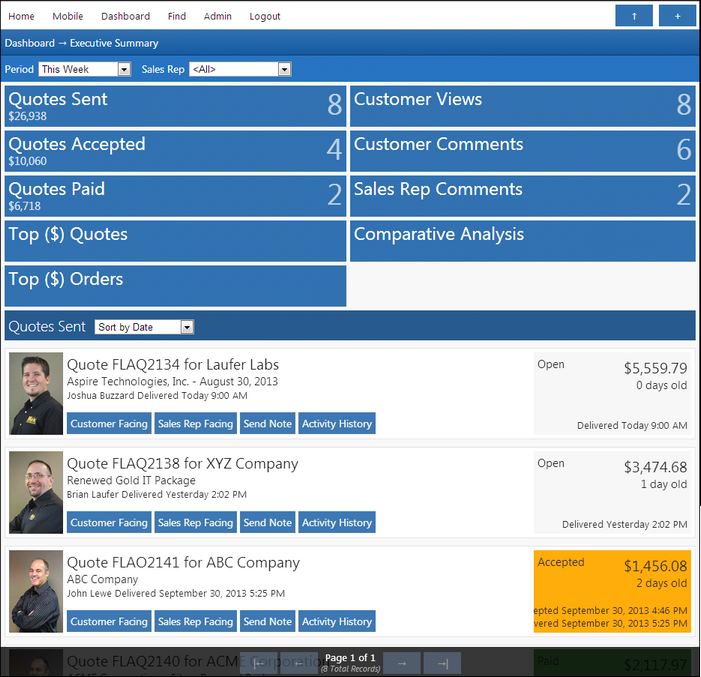 The Executive Summary view provides sales managers/admin users with an easy way to review the sales activities of all their reps in one location. Users can quickly change the settings for basic reporting of the documents being created within QuoteWerks.
Comparative Analysis
The Comparative Analysis allows sales managers/admins to view the number and dollar amounts of quotes and orders by sales rep. This view can be adjusted by timeframe from the Period drop-down box, including Today, Yesterday, This Week, Last Week, This Month, Last Month, Two Months Ago, This Year, and Last Year.
The Comparative Analysis allows managers to gather a quick snapshot of each rep's sales progress, as well as compare it to that of their peers.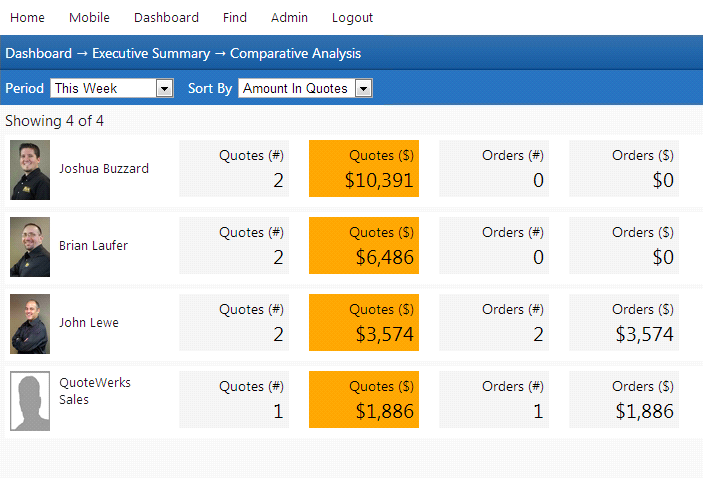 My Summary
The My Summary screen is similar to the Executive Summary. The main differences are that the My Summary will only show your (the logged-in user's) documents, and doesn't include the Comparative Analysis available in the Executive Summary. You won't be able to view and other users' documents on this screen.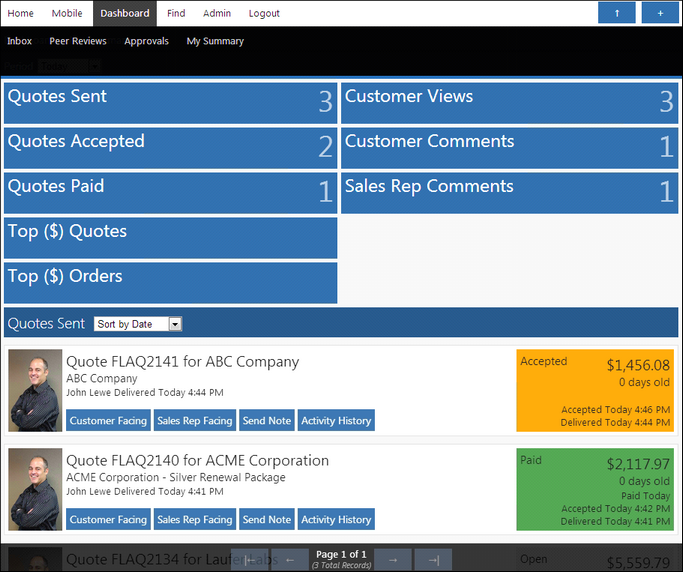 My Summary is a great place to check the status of your own documents quickly without having to look in QuoteWerks. From this screen, you can view how many quotes you've sent that day, how many were accepted and/or paid, how many customer views your quotes have, and number of customer and sales-rep comments they have.
All these categories are live links; clicking on them will automatically refresh with the documents that reflect that selection. For example, if you click Quotes Paid, the My Summary screen will only list the quotes that you've received payment for; clicking Top ($) Quotes will show only your top-dollar quotes.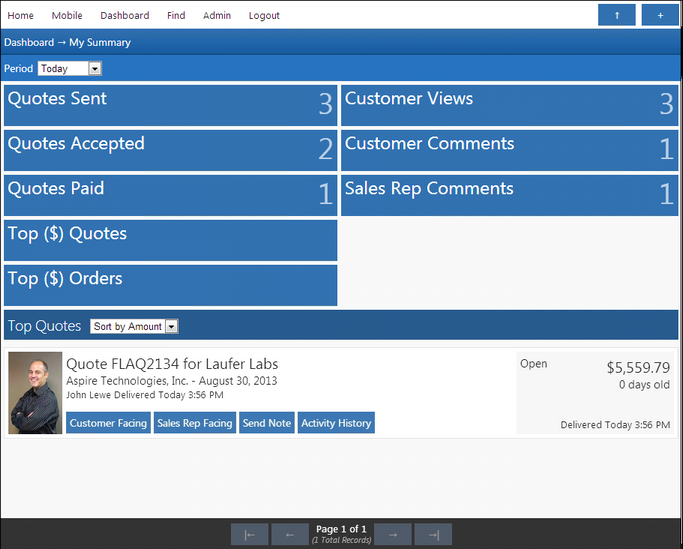 Quote Links
Each quote has links the user can click to view specific features in the document:
Customer Facing: Displays the customer's quote in QuoteValet. This is the internal view of the document and does not register a view on the activity history.
Sales Rep Facing: Displays the sales-rep side of the document so you can reply to any comments the customer posts.
Send Note (shown below): Launches a note that enables you to send a comment to other QuoteWerks sales reps about that particular document. You can also CC users on the document, and a copy will automatically be sent to the you (the initiator).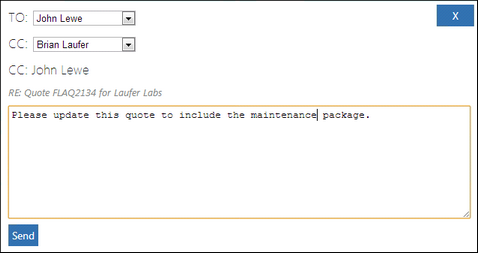 Activity History: Opens the document's activity history.
Related Topics:
•QuoteValet Insight Peer Reviews and Approvals
•QuoteValet Insight Executive Summary and My Summary