QuoteValet is the online quote delivery and acceptance vehicle for QuoteWerks. It enables users to send QuoteWerks documents to their customers without a PDF attachment in the email. QuoteValet creates a personalized web page on QuoteValet.com and automatically creates a link to the web page and inserts it into the email being sent to the customer. When the customer clicks on the link in the email, their quote will be opened in their web browser and an email will be sent to the QuoteWerks user notifying them that their quote has been viewed. Customers can also electronically accept the quote in their browser and submit questions on the document without having to navigate away from their quote. Notifications will also be sent via email when questions are submitted or the quote is approved. Credit card payment can also be accepted for the order. QuoteValet is an optional add-on subscription for QuoteWerks.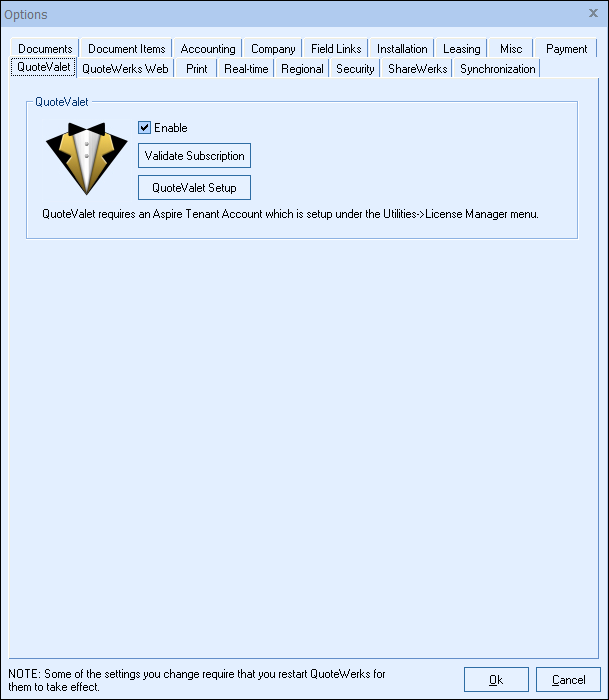 QuoteValet Features Include:
•Email notifications for major events which include first view, first view after a re-upload, comments, accepted, payments, and expired views.
•Dashboard notifications for every event including views, option changes, viewing the PDF attachment, posting a comment, acceptance, expired view, and payments
•Auto-reminder emails
•In-depth reporting via QuoteValet Insight
•Approval and Peer Review support
•QuoteValet Mobile
•Shopping cart pages
•Support for optional, mutually exclusive options, and quantity changes on documents
•Processing credit card payments
•Customizable document and email templates
Related Topics:
•Anatomy of a QuoteValet Quote