To re-host the QuoteWerks Desktop (with Access backend) to the QuoteWerks Database Hosting Service follow the steps below.
| | |
| --- | --- |
| Note: | The following steps will only apply to you if you have signed up with QuoteWerks for the QuoteWerks Database Hosting Service. There are credentials that a QuoteWerks Representative will send you in order to set this up properly. If you have not received these credentials, contact your QuoteWerks Account Manager before proceeding. |
| | |
| --- | --- |
| Tip: | Click here to review the video on how to rehost to the QuoteWerks Database Hosting service. |
Step 1: Open QuoteWerks Desktop and click the Utilities -> Rehost Backend to SQL menu. The Welcome window will appear: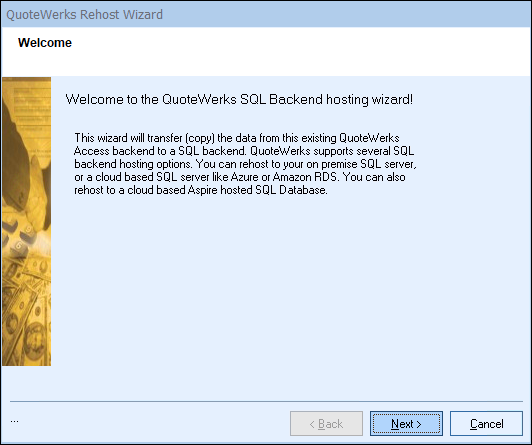 Important: The Utilities -> Rehost Backend to SQL menu may not be enabled. For it to be enabled, the following three conditions must be met:
1.QuoteWerks must currently be using the Access backend.
2.A Corporate Edition License Key must be entered in this installation.
3.The user who's logged in to QuoteWerks must have QuoteWerks Master Rights.
Click on the [Next] button to start.
Step 2: On this window you will be prompted to use the QuoteWerks Database Hosting, click "Yes".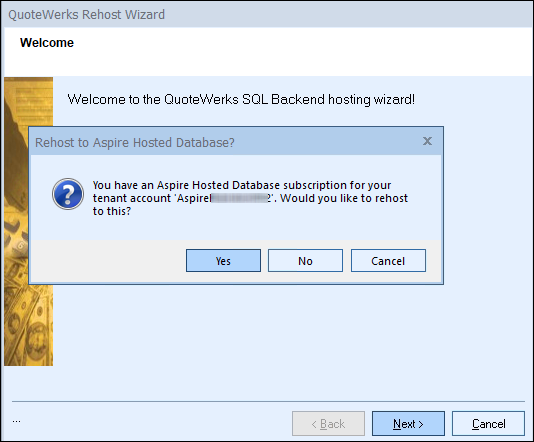 Step 3: On this window, your QuoteWerks Database Hosting credentials will automatically populate. You should not have to change any settings or fill anything in on this window. Simply click on the [Next] button. If those fields are still blank, your Database Hosting subscription is not active and you will need to contact the QuoteWerks Sales team.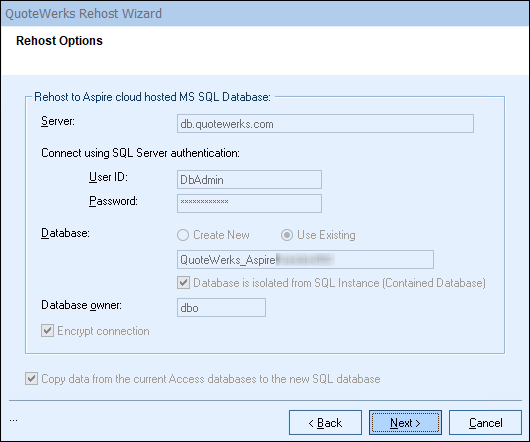 Step 4: On this next window, simply click on the [Next] button to start the re-host process.
Important: Once you start the Rehost process, you will need to wait until it completes before using QuoteWerks. Most companies will be able to rehost in just a few minutes, but if you have a large database, this process can take up to multiple hours. Be sure you have allotted enough time for it to complete.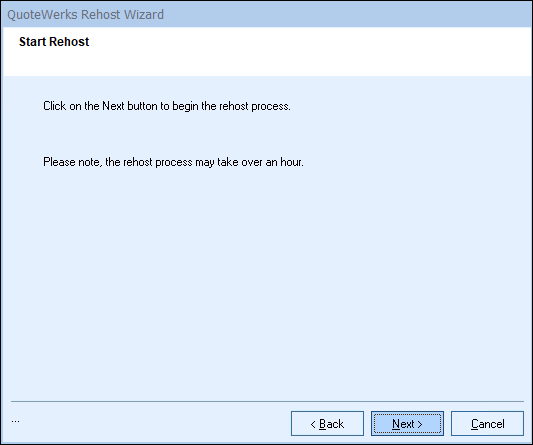 Step 5: A progress monitor displays during the re-hosting process.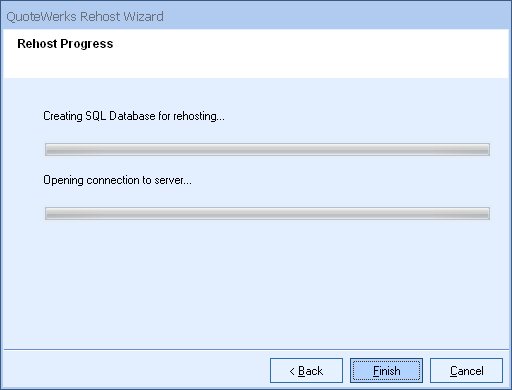 This step may take anywhere from a few minutes to a few hours, depending on how much data your QuoteWerks installation contains. Please be patient.
Step 6: On the final window a message will display letting you know the process has completed and that you will need to close QuoteWerks and restart for the changes to take effect. Click on the [Close] button to finish the rehost wizard.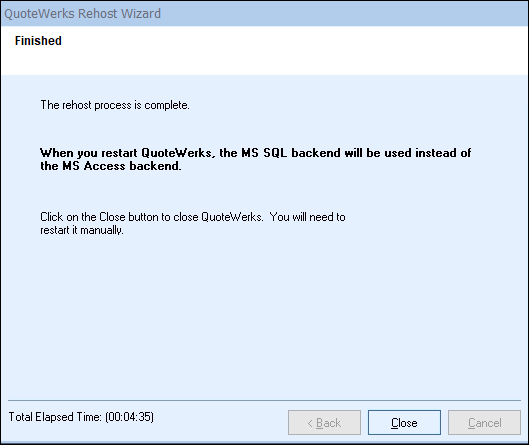 Step 7: After you close QuoteWerks and restart, continue to the final steps of setting up QuoteWerks Web.