Setup
Select the Contacts -> Setup Contact Manager menu to choose your contact manager. Select the Salesforce.com option. Enter your salesforce.com login credentials under the Username and Password fields and click the [OK] button.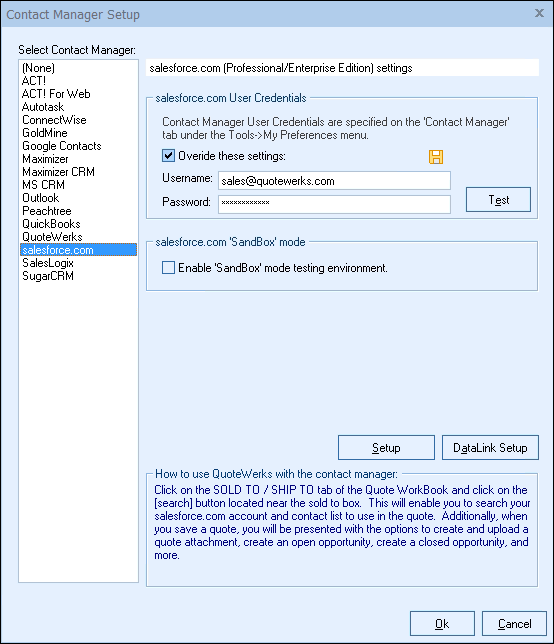 Enable 'SandBox' mode testing environment
The salesforce.com Sandbox provides the ability to create a fully replicated, scalable on-demand customer replica environment for customization, integration, testing, development and training purposes. When this option is checked, QuoteWerks will integrate with your salesforce.com 'SandBox' data, not your live salesforce.com data.
Salesforce.com User Credentials
QuoteWerks needs your salesforce.com login ID and password to log into and integrate with salesforce.com. These credentials can be specified for the currently logged in user on this setup window as shown above, OR the Contact Manager Tab of the user's Tools -> My Preferences menu.
Note: If you receive an error message when attempting to either set up the salesforce.com integration and test the credentials or use the salesforce.com integration, you may need to supply a Security Token. See Salesforce.com Security Token for more information.
Click on the [Setup] button to begin setup.
Important: If you have enabled the "My Domain" feature in salesforce.com GovCloud, please contact support for proper setup of linking QuoteWerks to your salesforce.com URL.
| | |
| --- | --- |
| Note: | Salesforce.com requires all SOAP queries to be sent using the TLS 1.1 protocol or higher. QuoteWerks supports this, however the TLS 1.1 protocol or higher is not available on Windows XP machines. Any users that wish to use QuoteWerks (or any other software) to interact with salesforce.com services will need to be running the software on Windows 7 or higher. Additionally TLS 1.1 or higher requires that the Microsoft .NET framework version 4.5 be installed and Internet Explorer (IE) 11 or higher needs to be installed. In Microsoft Internet Explorer(IE), TLS 1.1 or higher must be enabled. To enable, click on the Gear/Settings button in IE and select Internet Options from the menu. Go to the Advanced tab, and under the Security section, make sure that TLS v1.1 or higher is checked. The QuoteWerks integration to salesforce.com also automatically supports the TLS 1.2 protocol. For more details visit: https://help.salesforce.com/apex/HTViewSolution?id=000221207 |
For more information on salesforce.com integration, please see:
•Salesforce.com Security Token
•Salesforce.com Opportunity Setup
•Pulling Salesforce.com Account/Contact Information into QuoteWerks
•Writing Information Back to Salesforce.com
•Starting a New Quote from Inside Salesforce.com