Placing Amazon Business Orders (USA Only)

Important: Users will only be able to place orders through Amazon by sourcing the items from the Amazon Product Source integration. This feature requires the Corporate Edition of QuoteWerks and the Product Content Subscription (Etilize).
Important: In addition to sourcing the items from Amazon, users need to have an Amazon Business account and have integrated the account with QuoteWerks. Click here to view the instructions on setting up the integration.
Placing the Order
1.First, you will need to convert your QuoteWerks quote with the Amazon items to an order (File-> Convert to Order).
2.Click on the [Purchasing] icon in the toolbar or click on Tools-> Purchasing menu option to launch the Purchasing window.
| | |
| --- | --- |
| Note: | Amazon Business Online Ordering is only available in the USA. |
3.From the "Select Vendor" drop-down menu, set Amazon as the vendor. Failure to set Amazon as the vendor will disable the option to place the online order.
4.Click on [Place Online Order -> Create PO] button which will open the Amazon Online Order Form window.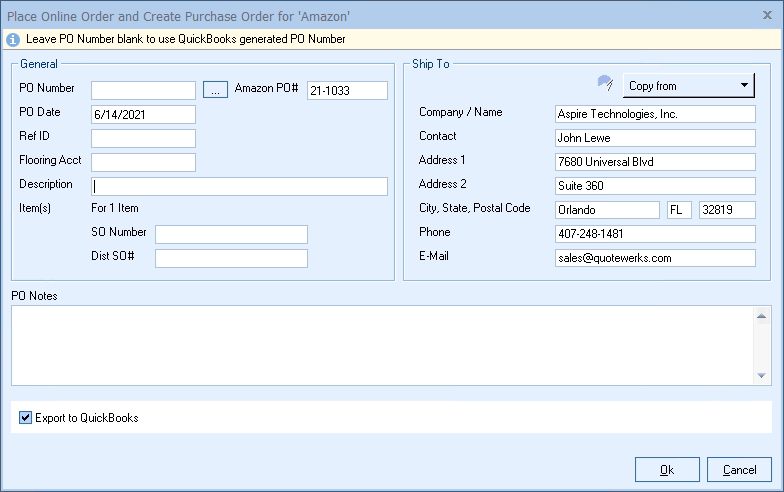 5.From this screen users can set the PO Number, PO date, the PO Description and PO Ref ID (the last two fields will be referenced in QuoteWerks only).
6.The payment method you have set when you setup the Amazon Business Online Ordering integration will be used when submitting this order.
7.Set the Ship to Location by clicking on the drop-down menu under the Ship to section. Users can select the Sold to, Ship to, Bill to contact information from any item on the online ordering form. Additionally, users can set the Sales Rep our Our Location' as the ship to and/or bill to fields as well.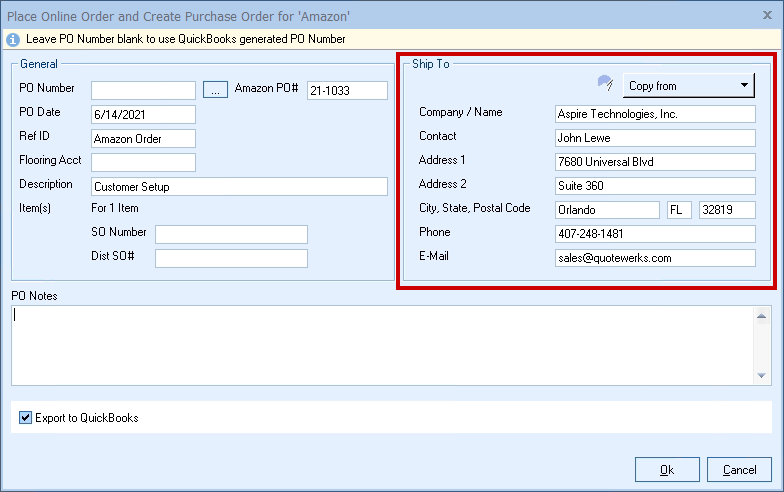 8.After setting the Ship To location, you can also choose to have QuoteWerks export the order as a Purchase Order to any of the supported Purchasing Orders integrations. In this example, we are using QuickBooks.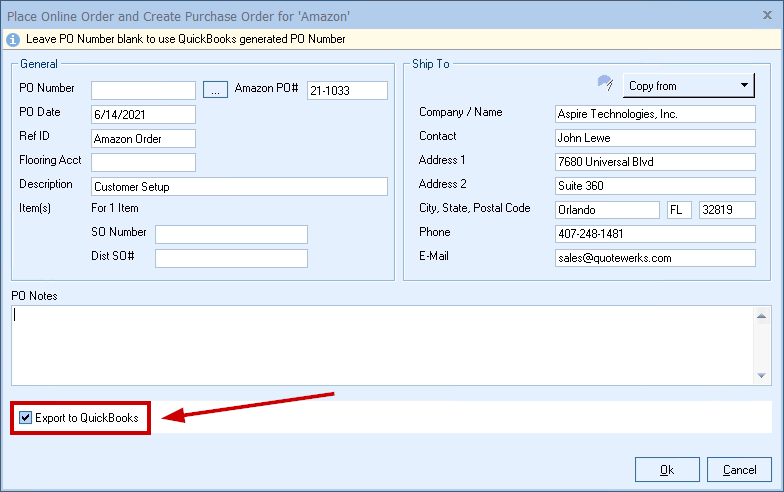 | | |
| --- | --- |
| Note: | Exporting POs to QuickBooks from QuoteWerks has the option to retrieve the next QuickBooks PO number. To use this feature you can leave the QuoteWerks PO Number blank but you will need to Fill in the Amazon PO# field. |
9.Once you have completed the Ship to fields, click on the [Ok] button to place the order and you should receive a confirmation message that the order has been placed.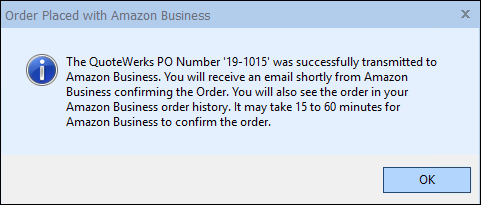 10. If you are exporting the document to QuickBooks, Sage 50 (US Edition), Autotask, or ConnectWise, you will see the normal integration windows.
11. After the order has been completed, Amazon Business will send you a confirmation email within 60 minutes of the order being placed. You can also log into your Amazon Business account to check the status of the order.
12. You can click on the Purchase Orders tab to view the PO in QuoteWerks.

View the Amazon Business Online Order FAQ's for commonly asked questions about the integration.
Other helpful topics:
•Setting Up the Amazon Business Integration
•Looking Up Items from Amazon Business